Last Updated on July 11, 2023
Ridgid 18V Cordless Heat Gun Takes Butane Out Of The Equation
A heat gun is one of those tools that when you need it, there many reasonable substitutes. The R860435B Ridgid 18V Cordless Heat Gun hits the market with some upgrades over the previous butane-fueled model (R860434). Should you upgrade? Let's take a closer look.
Editor's Note: Check out our Best Cordless Heat Gun article to see our top picks.
Ridgid 18V Cordless Heat Gun Performance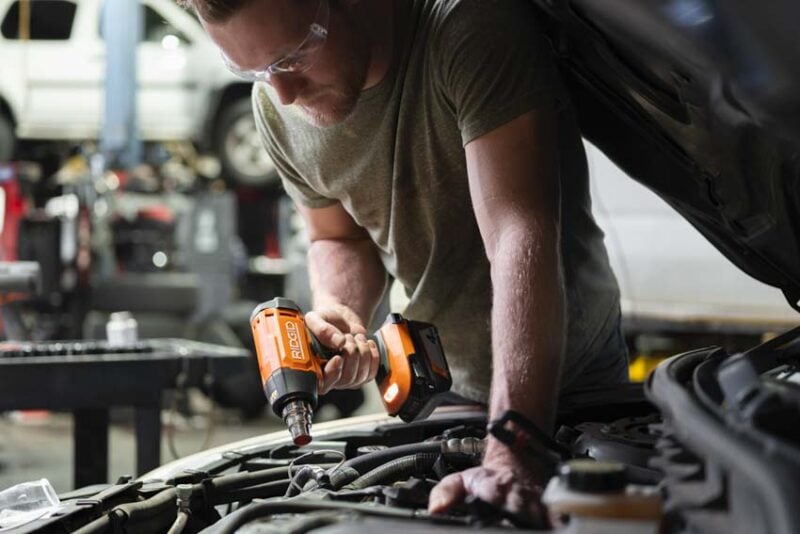 For many people, a corded heat gun works well, but the hassle of pulling out the cord and locating an outlet makes cordless convenience awfully attractive.
For the R860435B version, the Ridgid 18V cordless heat gun moves away from butane and instead relies solely on its 18V battery system to produce heat. While there are runtime consequences, it's a drastic improvement for the simple fact that you don't have to keep extra butane on hand.
Once you pull the trigger, the heat gun reaches working temperature in about ten seconds. The max heat output you can get is 900° F and 1100 BTU's. This is 200° less than its predecessor and about 100° less than some of its competitors. If that heat level is still enough for your application, the convenience is completely worth it. Unlike the previous model, the R860435 does not have a temperature control dial.
Heat generation takes a lot of power, which is why Ridgid's original design used a battery to run the fan and butane to produce heat. Using a 4.0Ah Max Output battery, we were able to run continuously for 14 minutes and 50 seconds. Considering the 15 minutes of butane capacity the previous model holds, that's effectively a wash. Better yet, it's higher than what most other cordless gas-free heat guns are getting.
Ridgid 18V Cordless Heat Gun Design
Ergnomics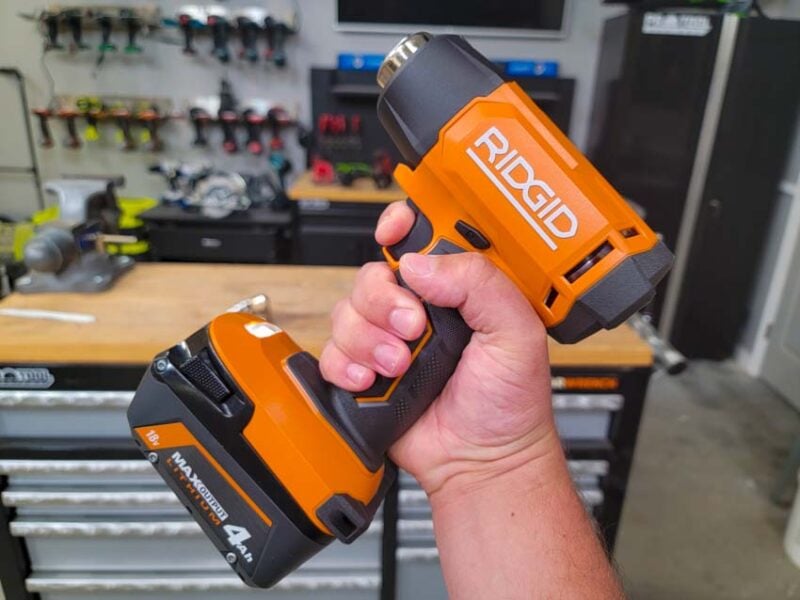 As far as heat guns go, the Ridgid R860435 is reasonably compact. From end to end it measures 6.25 inches and it stands just over 7 inches tall without a battery. As far as weight goes, it only weighs 3 pounds with a Ridgid 4.0Ah Max Output battery.
This heat gun features a pistol grip design similar to Ridgid's drills and impact drivers. The grip has a textured rubber overmold that easily channels sweat and provides a secure hold. As we expect, it's bottom-heavy and that's a good thing for hands-free use.
Controls
The trigger features a safety switch to help prevent accidental activation during transport. There's also a lock-on switch to use for hands-free heating. The tool is stable standing on its battery or pointing nose-up, opening up plenty of options.
Ridgid 18V Cordless Heat Gun Price
You can pick up the Ridgid R860435B for $119 online or at your local Home Depot. It comes with a concentrator nozzle as well as a deflector nozzle. Ridgid backs it with a Lifetime Service Agreement if you register within 90 days of purchase.
The Bottom Line
While the Ridgid 18V cordless heat gun dropped down from the max temperature of the previous butane-fueled model, we're impressed that the runtime is effectively the same. Unless you really need temps over 1000° F, we see no reason for Ridgid users to look to other platforms for their cordless heat guns.
Click here to see what's new from Ridgid.
Ridgid 18V Cordless Heat Gun Specifications
Model: Ridgid R860435B
Power Source: Ridgid 18V battery
BTU Rating: 1100 Btu
Max Temperature: 900° F
Air Flow: 6 CFM
Motor Type: Brushed
Weight: 1.44 lbs (bare), 3 lbs (with 4.0Ah Max Output battery)
Dimensions (L x W x H), 6.25 x 3 x 7.75 in.
Warranty: Lifetime Service Agreement with registration within 90-days of purchase
Price: $119 (bare tool)