Save Big on Like-New, Factory Reconditioned Tools
Acme Tools is now stocking and selling reconditioned EGO tools. Why might someone opt for the factory-reconditioned version of a tool over the brand new model? That's easy: savings! And, in this case, those savings can be pretty significant. Why pay more for a (basically) new tool than you have to?
Reconditioned EGO Mowers
One of the best places to save a significant amount is in the lawn mower department. Take the EGO LM2102 21″ Self-Propelled Mower Kit, for instance. This kit, which comes with a 7.5Ah battery and rapid charger, would normally run you $549. With the reconditioned equivalent, you're looking at $399, and that's before any other discounts.
In this case, you've saved $150, and you still get a 1-year warranty on the mower.
But, you're not just limited to this one mower. Acme has EGO push mowers, self-propelled mowers, kits, and bare tools available so you can save on what you actually need.
Reconditioned EGO String Trimmers
Acme is also a treasure trove of string trimmer models. We like the ST1521S (very similar to the ST1520 model we had in for testing, but newer). The carbon shaft keeps things lightweight, you'll feel minimal vibration, the brushless motor has plenty of muscle, and you'd be hard-pressed to find an easier-to-use string loading system.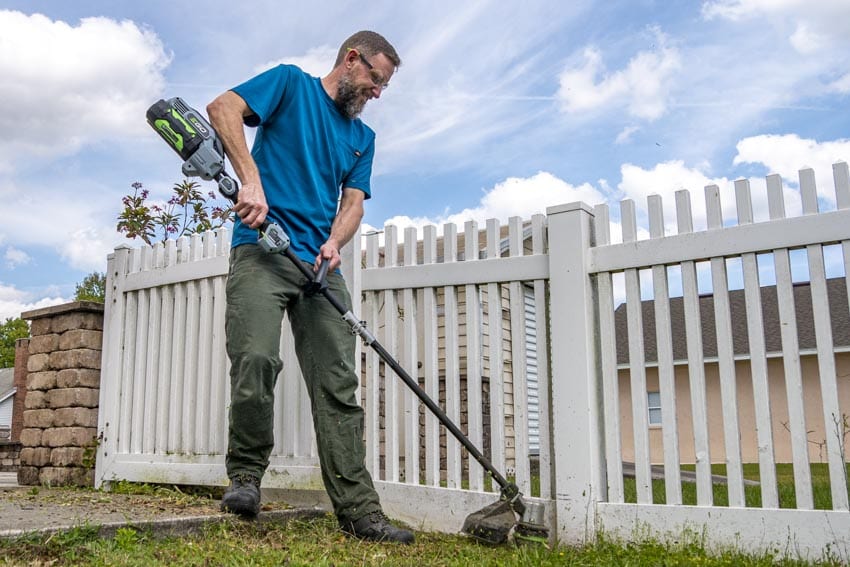 Right now, you can expect to pay around $229 for the kit, which includes a 2.5Ah battery and a charger. The reconditioned option, which comes with the same accouterments, only retails for $159.
Of course that's only one example. Acme has other reconditioned string trimmers available, some kitted with batteries and chargers, some bare options, and even some combo kits that include other lawn care tools.
Select Reconditioned EGO Blowers
Again, Acme also has your EGO blower needs covered as well. Though you have plenty of options available, let's look at the LB6002 Turbo Backpack Blower. Both retail and reconditioned versions offer a comfortable harness that distributes the weight of the battery across your back. Both options offer 3 speeds that max out at 600 CFM and up to two hours of runtime on the kitted 5.0Ah battery. But one of them retails for $319, and the other retails for $199.
Other Discounted EGO Tools
It's not just reconditioned mowers, blowers, and string trimmers that Acme Tools offers. They something from just about every genre of OPE tool that EGO makes. You have deep discounts on reconditioned hedge trimmers, snowblowers, chainsaws, power inverters, and even some combo kits.
All of the EGO reconditioned tools also come with a 1-year warranty to provide peace of mind.
Additional Discounts
In addition to the savings available through the reconditioned tool program, Acme will also run promotions on select reconditioned tools to save you even more money.
For instance, at the time of this writing, Acme is offering an additional 10% off of select reconditioned equipment. That's a pretty good way to kick off summer!