Gerber Prybrid Knife Combine 8 Tools in One
If you think that the Gerber Prybrid Utility Multi-Tool knife's main claim to fame revolves around its integrated pry bar, well…well… well, you'd be right. But, if that's the only thing you think makes this a unique tool/EDC knife, you'd be selling it short. Gerber has managed to include 8 tools in a $30 package that's more compact than most utility knives.
Pros
A ton of functionality with 8 tools in one
Rock-solid build
Compact
Inexpensive
Cons
Editor's Note: Check out our best utility knife article for our top picks in this category.
Both Ends of the Gerber Prybrid are the Business End
The Gerber Prybrid Utility tool is really a tale of two sides. With its dual-ended design, it packs a lot of functionality into one easy-to-carry tool.
Using the Utility Blade Knife End
On one end, you have the slide action cutting blade knife. This is your standard size utility blade, so it's easy to find replacement blades as needed. That means you always have a perfectly sharp knife at the ready. It has three blade positions: closed, open, and exchange. To replace the blade, simply push the blade all the way out and unclip it from the slide.
We found we had to wrestle with this a bit, but with a little perseverance, we got the new blade in place simply enough.
The "sharp" end of the Gerber Prybrid knife also includes a cord-cutting notch. With the slide lock in the closed position, you can still use the notch to quickly cut through twine, wire, and smaller cords.
Using the Prying End
On the other end of the tool is where we see the innovation. The Gerber Prybrid Utility Tool features an angled pry bar that eliminates the need to find a claw hammer or flathead driver for prying open containers. It also saves you from potentially damaging tools not purpose-built for prying, like, say, your pocket knife blade. Our editor-in-chief recently snapped the tip off a Zero Tolerance 0460 knife…we feel the pain.
However, the pry bar has even more functionality. It has a notch that lets you dig under and around nail heads, or even strip wire. You can also use the pry bar as both a small and large flathead driver.
Obviously, the claw end of your hammer will make an easier job of pulling nails, an actual screwdriver will fit slots with less wiggle, and a dedicated wire stripper will provide cleaner cuts on wire casing. But, for a compact multi-tool, we found that the Gerber Prybrid tool could capably do all of these jobs in a pinch.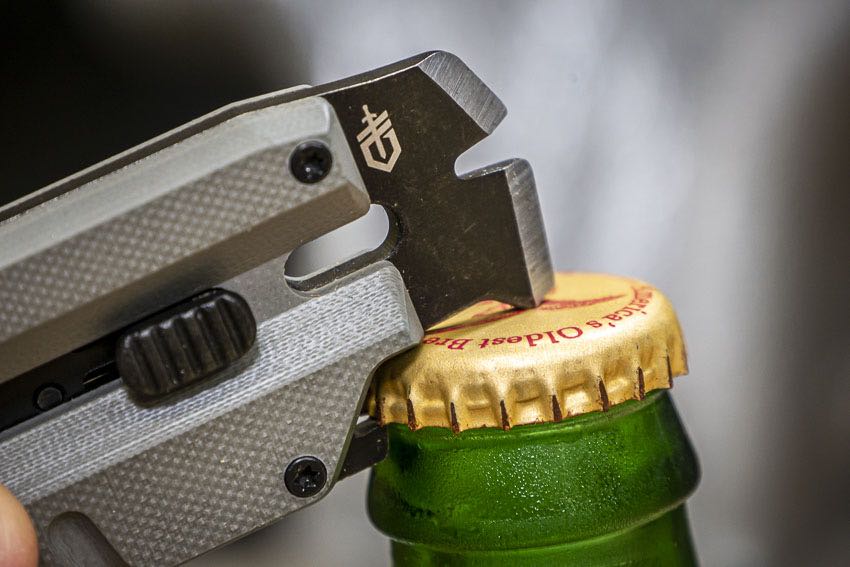 Finally, Gerber has also included a bottle opener for when the day is over and it's time to crack open a cold one.
Tough and Compact
The Gerber Prybrid Utility Tool and knife features rugged G-10 scaling that provides a secure grip, even with damp hands. Overall, the whole build quality feels rock-solid, like you could run it over with a truck and it wouldn't mind.
For all its handy functionality, the Prybrid tool doesn't take up a whole lot of space. It measures just 4.25″ x 1.25″ and weighs less than 3 oz. Not only does it tuck away nicely into a pocket, but a tethering hole lets you attach it to a lanyard or a key chain.
It does lack a pocket clip, however. It's small enough to fit comfortably into that weird flat pocket on the right side of your favorite jeans (fun fact: this pocket was originally designed to hold a pocket watch, and though we've all moved on to wristwatches and cell phones, the design has stuck around). However, anyone sporting a pair of Dickies might prefer to have the option of securing the Prybrid to the pocket seam, rather than letting it bounce around with keys or your phone. A minor issue for some, no doubt, but we would definitely prefer to have it.
Gerber 31-003745 Pricing
You can pick up the Gerber Prybrid Utility Multi-Tool (31-003745) in one of two flavors, tactical grey or OD green. Either option will cost you just $30 or so. It comes with a limited lifetime warranty.
Recommendation
Apart from the minor annoyance of not having a pocket clip, there really isn't much to complain about with Gerber's Prybrid Utility tool. It packs a ton of functionality into a really minimal amount of space without sacrificing durability. It's got your sharp end for slicing and cord-cutting, and its back end provides prying, screw driving, wire stripping, and bottle opening. It's basically like carrying around a toolbox if your toolbox could fit in your pocket.
Gerber Prybrid Utility Tool Specs
Product Number: 31-003745
Width: 1.25 in.
Length: 4.25 in.
Weight: 2.9 oz.