Back in 2017 after Hurricane Irma ran through central Florida, we quickly realized how the importance of electric wheelbarrows. Back then, the model we used got its power from a lead-acid battery. Now, the Greenworks 60V electric wheelbarrow sips power from a 4Ah lithium-ion battery pack. And the same pack that powers this Greenworks 60V electric garden cart also runs its entire line of 60V outdoor power tools.
Some Assembly Required
Lest you think Greenworks Tools ships this electric wheelbarrow ready to roll out of the box, you would be mostly correct. Aside from attaching the handle and inserting a battery, this 60V garden cart came ready to work. I've taken longer to assemble old-fashioned wheelbarrows in years past.
After perhaps several minutes of making sure I routed the power wiring correctly so it didn't pinch, we were ready to begin testing and using the Greenworks electric wheelbarrow.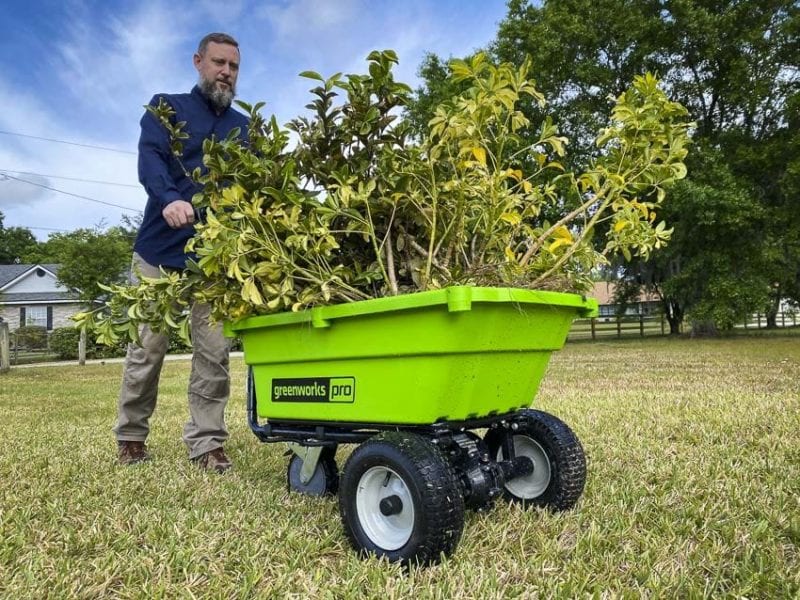 The two front "flat-free" pneumatic 12-inch tires are connected by a monstrous axle that gears into the electric 60V motor.
The treads are grippy, but not so much that you can't turn the wheelbarrow without decimating your turf. Overall, Greenworks went with a solid design.
Greenworks 60V Electric Wheelbarrow Usability and Controls
To get the Greenworks 60V electric wheelbarrow started I actually had to crack open the manual. As it turns out, Greenworks put a safety button that protects against this 102-pound electric garden cart from taking off on you accidentally.
Step one in starting the electric wheelbarrow involves inserting a battery. We used a 4Ah battery pack—and Greenworks sells this only as a bare tool, so you need to BYOB (bring your own battery). There's a red safety key that disables the garden cart if you remove it. Make sure that's inserted beside the battery pack.
Next, you turn on the system, set the speed, and flip the switch to either the Forward or Reverse direction. To start the garden cart the first time, press the grey safety button just above the trigger. After this, you can press the throttle to use the machine. You don't have to press the safety button again if you use the throttle within 30 seconds. After that, the cart times out.
It's Also a Dump Cart
One feature I found extremely helpful was the pneumatic-assist dump cart. Grasp the "brake" handle at the base of the Greenworks 60V electric wheelbarrow bucket and lift.
With ease, the cart lets you dump contents out, and then re-secure the bucket for the next load. It's a simple feature, but one we got a lot of use out of throughout the course of several work days.
Using the Greenworks Electric Garden Cart
We started using the Greenworks electric garden cart as part of a church workday. It helped us carry heavy loads of landscaping felt to a dumpster. We also found it handy for numerous other tasks that saved us from having to carry around materials by hand.
Later I used it to transport heavy 50-pound bags of Play Sand. It was only after I had loaded up the Greenworks electric wheelbarrow that I realized its maximum capacity was 220 pounds. With five 50-pound bags of sand per load, I was running it at 250 pounds with no difficulties.
We also moved an entire pallet of mulch, five 2.0 cu. ft. bags at a time for some landscaping. We really experimented with both High and Low speeds during this process and ended up settling on High for most of the work. Even after transporting 65 bags of mulch around the property, we still had 2 bars left on our 4Ah battery!
Low speed feels like it prioritizes torque, but since it doesn't actually adjust the gears, we also found High speed perfectly acceptable for moving around heavy items. This even proved true on uneven terrains like grass, mulch, or dirt. High speed moves the cart a bit faster, and I found that a better fit for packed dirt or grass. The cart, even at High speed, is by no means "speedy". I typically found myself so grateful it was doing the heavy lifting, however, that I rarely complained.
Conclusion
Overall, this Greenworks electric wheelbarrow (or garden cart as they call it) really hits the mark. That goes double for the $699.99 price—which beat most similar products in the market.
For home users doing landscaping, it will save your back. If you want to carry higher capacities, you may need to opt for something from Overland Carts. Those models support up to 750 pounds and have a bit more ground speed. They also run, for now, on 12V lead-acid batteries.
For the rest of us, however, we recommend saving the $1,700 and going with this Greenworks Pro 60V model. Your back will thank you.
Check out our best garden hose recommendations next!