Last Updated on July 11, 2023
Greenworks 60V CrossoverZ Zero-Turn Lawn Mower Available at Tractor Supply
We initially saw prototypes for the Greenworks Pro 60V zero-turn lawn mower and its lawn tractor cousin a few years ago before its initial launch. We were able to test a final production model and see how it's all come together.
Pros
Confident cutting
Cuts up to 2 acres on a charge
Has gas-like acceleration characteristics
Charges get all six batteries back to 100% In 90 minutes
Simple controls are easy to get used to
Uses the same batteries as other Greenworks 60V tools
Additional app-based features are available
Bagging kit available
Cons
No onboard charging option/requires three dual-port chargers
Greenworks 60V CrossoverZ Zero-Turn Lawn Mower Performance
Cutting
Greenworks has been in the battery-powered zero-turn space for years, starting with commercial-grade models. That experience trickles down to the development of the homeowner-focused 42-inch model.
One of the big differences is that the Greenworks 60V zero-turn mower starts with a completely different power source: 60V batteries. They're the same 60V batteries that power their 60V string trimmers, chainsaws, and other lawn equipment. Even though you can run with one battery (we strongly discourage this), the kit comes with six 8.0Ah batteries and that's the best way to run this mower.
With the gas equivalent of a 24 horsepower engine, the twin blades turn confidently at 3000 RPM and do not bog down as easily as battery-powered walk-behind mowers. It is possible to get the blades to bog, though, and the mower is best for lawns that you regularly mow rather than constantly tackling overgrowth.
Runtime
Greenworks rates the runtime at 1 hour. To test the claim, we kicked the drive and blade speeds to high and started cutting. Thanks to recent rain, it was a medium-heavy cut, taking 2 – 4 inches off in most sections. After 52 minutes and 5 seconds of continuous cutting, the mower went into limp mode when the batteries hit 5%. In our conditions, we mowed 1.5 acres.
Based on the deck size and what speed you're able to run (bumpy ground and overgrown areas are going to be slower), Greenworks' estimate of 2 acres is on point and some folks might even be able to cut a little more than that. Driving and running the blades at low speed can help extend your runtime if you need more.
Charging
Charging your batteries has some give and take. We prefer onboard charging, but that's not the direction Greenworks is going right now. They include three dual-port chargers in the kit. You might raise your eyebrows at that, however, it actually gets all six batteries back to a full charge in just 90 minutes. That's significantly faster than your other options.
Keep in mind these are 10-amp fast chargers. If you plug all three into one power strip, it's not going to work.
Greenworks 60V CrossoverZ Zero-Turn Lawn Mower Field Notes
Transitioning to Battery Power
Greenworks is conscious that the switch from gas to battery power is a big step and they're doing a couple of things to make it feel more natural.
They added a spring-loaded key start that acts just like the spring-loaded ignition on your gas model. It's a little odd not hearing any startup sounds the way you do on an engine, but it's helpful to have that action built in so you know you've turned it on.
The design team also dialed in the acceleration in the lap bars to feel similar to a gas residential zero-turn mower. You can typically get faster acceleration if you want from electric (ever ride in a Tesla?), and we like the extra attention here.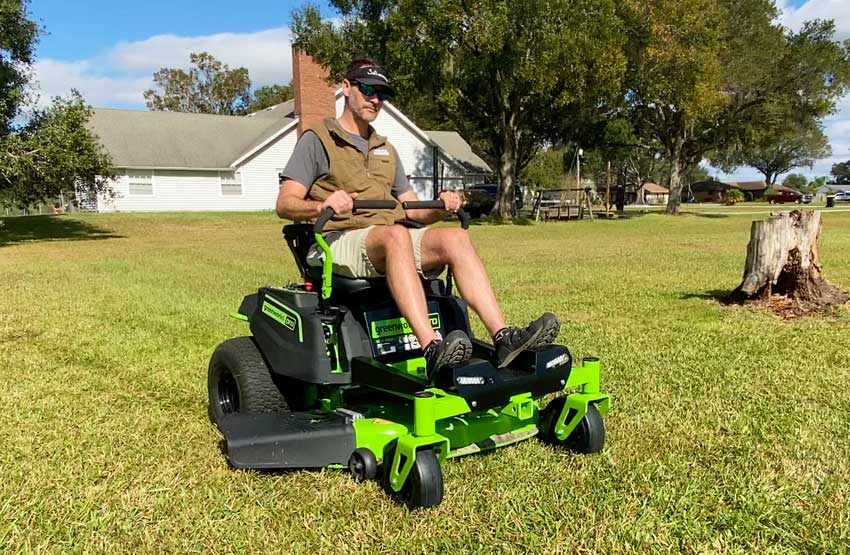 Overall, it took about 5 minutes to get used to driving. Once you get a feel for the lap bars and turning, it's a very easy transition.
There's an App for That
You can operate the mower just fine without the app, but for the complete experience, there are some added features. Start by scanning the QR code on your quick start guide, download the app, create an account if you don't already have one, and pair the mower using the serial number and pairing code. It sounds more complicated than it is and takes less than 10 minutes to get started. There's a step-by-step guide in the manual if you need more details.
Once you're dialed in, here's what the app adds:
Fault codes (codes also appear on the mower's LCD screen)
Speed
Battery power
GPS location the last time the mower was connected
Additional Highlights
Reinforced stamped 12-gauge steel deck with hose adapter for cleanout
1.5 to 4.5-inch deck height
Rear bucket can haul up to 200 pounds in addition to rider weight
Tows up to 300 pounds
7.5 MPH maximum forward speed, 3 MPH maximum reverse speed
20-inch rear wheels and 15-inch front wheels
Suitable for hills up to 15°
Simple LCD screen readout with battery charge status and fault codes
Dual LED headlights offer additional light for mowing in dark conditions or additional safety
Accepts front and rear universal attachments
Optional bagging attachment (model number 42BAG2B, $499.99)
Greenworks 60V CrossoverZ Zero-Turn Lawn Mower Price
Tractor Supply carries this Greenworks zero-turn lawn mower (and its lawn tractor cousin). The kit includes six 8.0Ah batteries and three dual-port chargers for $3999. At that price, it's one of the best values available in the battery-powered zero-turn space. That's $1000 off its original launch price. The warranty period is the shorter of 4 years or 200 hours of operation.
The Bottom Line
Greenworks' strengths are in the simplicity of its controls, the ease of helping you transition from gas ZTs, the cross-compatibility of its batteries, the speed of its charging, and its bonus rear hauling bucket. There are some trade-offs to consider compared to other options, but our overall impression of the Greenworks Pro 60V CrossoverZ Zero-Turn Lawn Mower is that it's a success.
Check out the entire Greenworks 60V line here.
Greenworks 60V CrossoverZ Zero-Turn Lawn Mower Specifications
Greenworks CRZ 426
Power Source: Greenworks 60V batteries (six x 8.0Ah recommended)
Deck Size: 42 inches
Blade Speed: 2400/3000 RPM
Towing Capacity: 300 pounds
Hauling Capacity: 200 pounds
Max Forward Speed: 7.5 MPH
Max reverse Speed: 3 MPH
Warranty: 4 years or 200 hours
Price: $3999.00