So you're at the hardware store looking for a new cordless drill and you see a couple of options that look almost the same. The only difference you can see is that one is called a hammer drill, or a hammer drill driver to be more precise. In fact, looking closely at the hammer drill vs drill comparison reveals that these two tools remain very similar. In fact, many look identical except for the internal hammering mechanism.
It's that hammer drill mechanism that makes this tool differ from a drill. It might justify why you would want to spend a little extra to get it.
10-Second Summary
A hammer drill adds a mechanism to give the drill a chipping motion while drilling and adds very little weight and length. For an extra $10–$20, you get some 25% faster drilling in concrete based on our tests.
You may also want to check out our articles on hammer drills vs impact drivers and rotary hammers vs hammer drills for even more information.
Hammer Drill vs Drill: Physical Differences
To make a hammer drill, most manufacturers start with a drill driver and add a hammer mechanism behind the chuck. In most cases, it adds a small amount to the overall length and a few ounces to the overall weight. Looking at the two side-by-side, you might not even be able to tell the difference.
Modern drills and hammer drills have clutch settings and drill settings. When you look at a hammer drill, it has an additional hammer mode you can switch into.
Some models have the mode changes separate from the clutch collar and others keep them all on one collar. Regardless, the hammer mode is almost always right next to the drill mode. Even on hammer drills with electronic settings, the clutch, modes, and gearbox are still mechanical switches and collars on the head.
The hammer mechanism introduces a forward and back chipping motion, similar to a rotary hammer's action. In the best hammer drills, that action can happen more than 30,000 times per minute!
Hammer Drill vs Drill: Performance Consequences
The time to engage the hammer mechanism is when you're drilling a hole in concrete or masonry. It's possible to drill without it and still make good progress. In our testing, hammer drills run about 25% faster on average.
We recently ran a test using a 1/4-inch multipurpose bit in our Milwaukee M18 Fuel hammer drill. In standard drill mode, it took about 8.5 seconds to drill to our desired depth. Kicking it into hammer drill mode, it only needed about 6.5 seconds.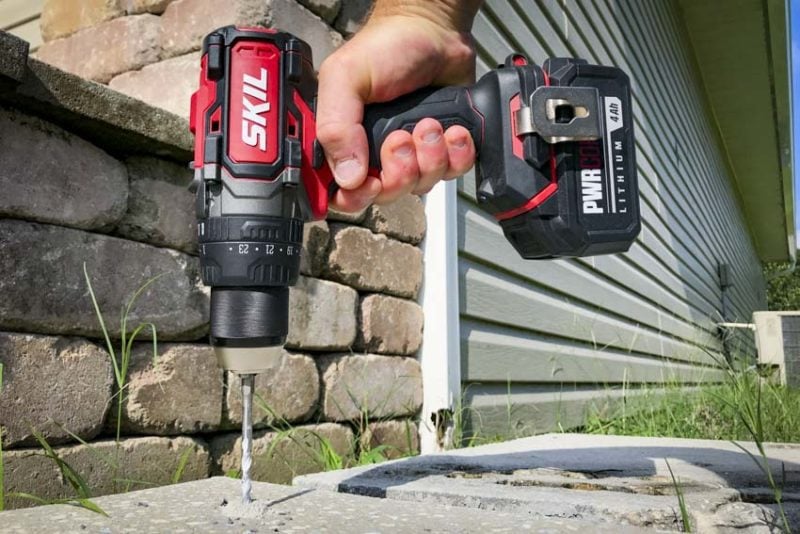 2 seconds may not seem like a big deal. However, when you use larger bits or you have a lot of holes to drill, it makes a big difference.
You'll also notice a big difference in sound when you're drilling in hammer mode. In addition to the sound of the bit, there's a fast buzzing sound from the hammer mechanism working.
You should never use hammer mode when you're drilling in wood, metal, plastics, or other materials. The chipping motion doesn't help drill any faster in those materials. In some cases, it slows you down and adds a lot of vibration to the experience.
Final Thoughts
Most hammer drills only charge a $10–$20 premium over the drill driver model. Even though you might not do a lot of concrete drilling, it's a handy feature to have for the times you do come across it. Since there's hardly any weight or size penalty (anymore), we recommend you go ahead and spend a little more to get it.
Like the look of the hammer drill that we used in the photos? It's the Skil PWRCore 20 brushless hammer drill. Pick up the kit on Amazon for ~$150.