Bracket Your Size And Power Needs With Hilti Nuron Cordless Impact Wrenches
Impact wrenches are handy for a variety of construction applications, but there's no one-size-fits-all solution. So when you're reaching for a Hilti Nuron cordless impact wrench, which one is the best? It all depends on what you're working on and Hilti brackets those needs with a range of choices.
Hilti Nuron Compact Cordless Impact Wrench
The Hilti SIWAT-22 is the most compact and lightest model in the Nuron line. It also has the fastest top speed. It's the only Nuron model currently to offer three modes, giving you a wider range of control, especially on the low side.
This model does its best work when you're working with smaller fasteners that the larger impacts are likely to over-torque or you want higher speed. Setting large fasteners into wood, bolting metal with fasteners up to 1/2 inch, and setting Hilti's smaller HUS anchors in concrete are all good candidates for this model. Of course, it's also the easiest to use when you're working in tight spaces.
One thing to note is that even though this model has a 1/2-inch drive like the others, this is the only one to use a pin detent rather than a friction ring for socket security.
In terms of battery selection, go with the compact 2.5Ah or 4.0Ah battery for this model. The others begin to make the tool feel bulkier in hand, which defeats the purpose of a compact model.
Price: Starts at $234.00 (8.00/month with Fleet Pricing)
Numbers to Know
Model: Hilti SIW 4AT-22
Drive: 1/2-inch pin detent
Max Speeds: 1000/1500/2300 RPM
Fastening Torque: 66/100/157 ft-lbs
Max Nut-Busting Torque: 249 ft-lbs
Max Impact Rate: 3500 IPM
Length: 6 inches
Bare Tool Weight: 2.3 pounds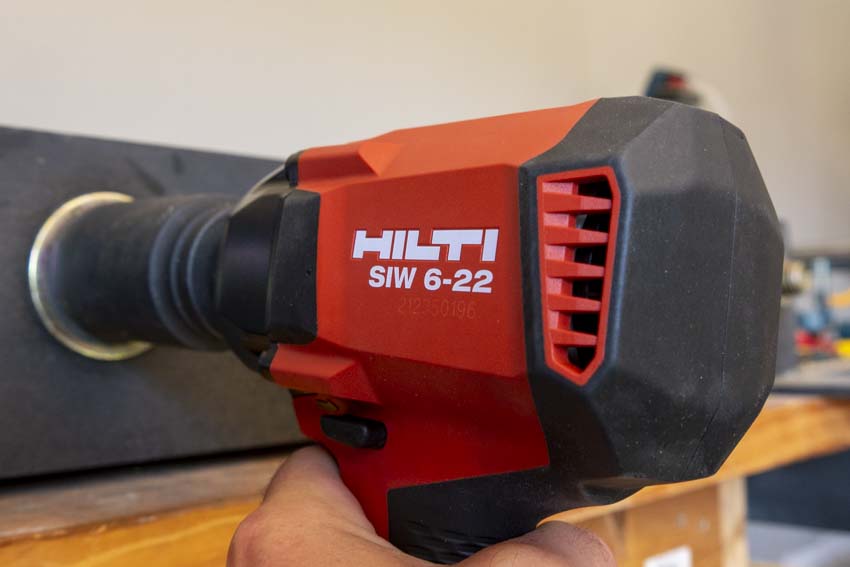 The Hilti SIW 6-22 sits in the middle of the Nuron lineup in both size and performance. It's a 2-speed model that picks up where the compact model drops off in power.
Many of the same fastening materials are on the menu, but this model has a larger capacity and we start to see effective fastening in structural applications. You can work with large lag screws in wood fastening and bump up to M20-size fasteners in steel. For concrete anchoring, use this model on diameters up to 5/8-inch on the top end.
The big thing to remember is that the SIW 6-22 has 221 ft-lbs of torque on the low end and 332 ft-lbs in high gear. It can be easy to over-torque smaller fasteners, so consider switching over to the compact model for those.
We like the 4.0Ah battery on this tool to keep the weight in check but still provide relevant runtime. You can get away with stepping up to the 8.0Ah pack, but you're moving well over the 6-pound mark with it.
Price: Starts at $329.00 ($9.50/month with Fleet Pricing)
Numbers to Know
Model: Hilti SIW 6-22
Drive: 1/2-inch friction ring
Max Speeds: 1550/1750 RPM
Fastening Torque: 221/332 ft-lbs
Max Nut-Busting Torque: 479 ft-lbs
Max Impact Rate: 3500 IPM
Length: 7.2 inches
Bare Tool Weight: 4.0 pounds
The highest power level belongs to the Hilti SIW 8-22 and it packs a big punch. With 738 ft-lbs of max fastening torque and more than 1200 ft-lbs of nut-busting, it's your go-to for the largest fasteners.
For metal fastening, it's rated to bolt up to M24. It can handle concrete anchors up to 3/4-inch. Even monster 3/4-inch diameter lag screws are within range.
It's far easier to over-torque smaller fasters with this model than the mid-torque. It may not seem like a big deal, but even just a few impacts at full power can snap heads or damage material.
While this is the heaviest impact wrench in the Nuron line, its head weight makes using a larger battery easier thanks to the balance. The two mid-size batteries (4.0Ah and 8.0Ah) are the way to go. The 2.5Ah pack drains pretty quickly when you have a lot of fastening to do and the larger 12.0Ah battery is still a bit much for a pistol grip tool.
Price: Starts at $389.00 ($11.25/month with Fleet Pricing)
Numbers to Know
Model: Hilti SIW 8-22
Drive: 1/2-inch friction ring
Max Speeds: 1250/1500 RPM
Fastening Torque: 443/738 ft-lbs
Max Nut-Busting Torque: 1217 ft-lbs
Max Impact Rate: 2950 IPM
Length: 8.1 inches
Bare Tool Weight: 5.3 pounds