Hilti Nuron Cordless Jigsaw Gives You The Control You're Craving
Cordless jigsaws have been a part of our lives for years and have really come into their own as full corded replacements. We got our hands on the Hilti Nuron cordless jigsaw to see how it compares to the other major players in this space.
Pros
Excellent cutting speed
Outstanding vibration control
Three orbital action modes plus off
One-hand bit insertion
Spring-loaded blade eject
Low shoe friction
D-handle (tested) and barrel grip options are

available

Includes splinter guard, dust shield, and vacuum port attachment
Available onboard dust collector
Cons
Bevel adjustments require a tool

No onboard tool storage
Hilti Nuron Cordless Jigsaw Performance
Power Plant
Not every tool on the Nuron platform is brushless. The Hilti Nuron cordless jigsaw is among the brushed models, but don't let that make you shy away from it. Considering professional corded models tend to be in the 7-amp range, this is a tool that doesn't need a brushless power plant to reach the same performance.
It's able to churn out up to 3000 SPM with a 1.1-inch stroke length. Combine that with the three orbital action settings and you've got an extremely capable and competitive jigsaw.
Under the handle, there's a variable speed dial to control your maximum speed. There's also a lock-on button for the trigger. When you're making long cuts, it's a very handy combination to have.
There's plenty of power for jigsawing, even when you're cutting material on the fringes of what most people consider "typical" use. Here's are Hilti's cut capacity recommendations:
Wood: 5.9 in.
Mild Sheet Steel: 0.39 in.
Aluminum: 1.0 in.
As part of Hilti's Nuron lineup, this jigsaw uses 22V Nuron batteries. While all of them are compatible, some are a better fit than others. We recommend the 4.0Ah B 22-85 for the best performance and runtime. The 2.5Ah B 22-55 is also a good option for a bit less weight and size.
Vibration
Active Vibration Reduction technology helps to reduce handle vibrations compared to traditional models. When we put it to the test out in the shop, we couldn't believe how little vibration we felt in our hands. There are several cordless models that do a great job in vibration control, and Hilti tops them all in our opinion.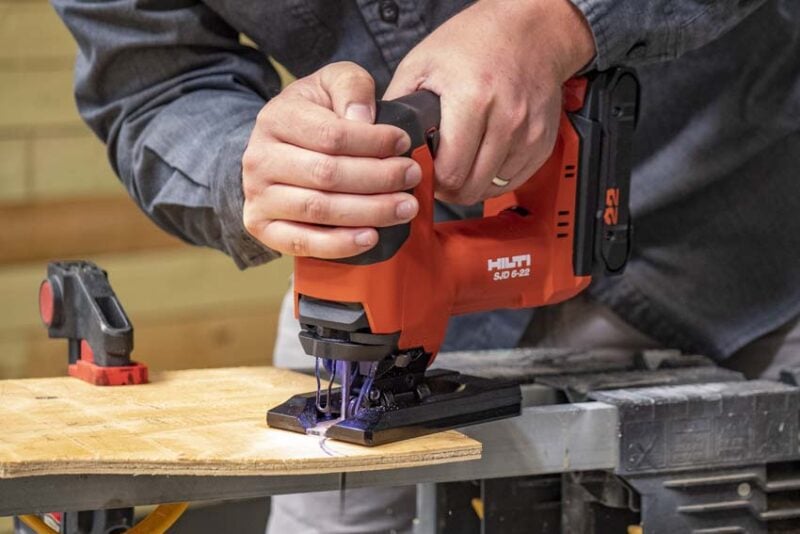 Visibility and Dust Collection
Hilti has a very good sight window to the blade while the cutline blower and LED light do a great job of keeping your line visible.
Visibility is still excellent when you add the splinter guard. Like every jigsaw we've tested, when you add the dust shield, it's more challenging to keep as good an eye on the line.
Hilti offers a couple of ways to collect dust. They include a dust port attachment that pulls air from both sides. Low-CFM vacs don't do a lot good with this (but it is better with the dust guard on). Stick with a vac that has at least 100 CFM for the best results.
We didn't get a chance to test it, but there's also an attachable onboard dust collection system. The SJD 6 DRS installs where you see the electrical connections on the base of the motor housing. It has an automatic on/off function tied to the trigger pull and it eliminates the need for a hose dragging behind you.
Hilti Nuron Cordless Jigsaw Design Notes
Ergonomics
As a bare tool, the jigsaw weighs 4.9 pounds. Using a 2.5Ah battery brings it up to 6.1 pounds and the 4.0Ah pack puts it at 6.6 pounds. That's heavier than some of the options out there, but some additional weight isn't a very big deal. In fact, the weight working with the low-friction shoe can help stabilize your cut and give you more control.
The contoured D-grip top handle, low weight, and slim profile make this cordless jigsaw more comfortable to guide through complicated cuts. Looking at it from the side, it's not quite as tall as some other jigsaws and that lets you get a little closer to the cutting surface.
If you prefer a barrel grip, Hilti has you covered. Just look for the SJT 6-22 instead.
Bevel Adjustments
Hilti sticks with a standard bevel adjustment system, however, it's not tool-free and the tool doesn't store on the tool. You need to use a hex wrench to loosen the bolt before sliding it to your desired angle.
The only detent on the shoe is at 0°. However, there are markings on the shoe at 15°, 22.5°, 30°, and 45° to help you dial in angles for your bevel cuts.
Blade Changes
Blade changes are super-easy thanks to Hilti's spring-loaded design. To install a blade, just push it into the clamp. You don't even need to flip the lever. When it's time to remove the blade, pull the lever out and a spring actively ejects it.
Additional Features
Compatible with T-shank blades

Tether-ready using the handle
Hilti Nuron Cordless Jigsaw Price
This jigsaw retails for $269 as a bare tool. Hilti allows you to customize your kit by selecting your batteries and chargers based on your needs. If you happen to be on Hilti's Fleet Management service, the tool is only $8.50 per month and includes regular maintenance, no-cost repairs, and world-class customer service.
The tool carries a 20-year warranty and a 2-year free service agreement.
Compatible Batteries
2.5Ah (B 22-55): $99.75 each (best for the lightest weight)
4.0 Ah (B 22-85): $136.00 each (best for balancing size and weight with performance and runtime)
8.0 Ah (B 22-170): $207.00 each (compatible but not recommended due to size and weight)
12.0 Ah (B 22-255): $243.00 each (compatible but not recommended due to size and weight)
The Bottom Line
Hilti does so many things right with the Nuron jigsaw's performance and design that it's easy to give it a pass on the minor areas for improvement. If you're looking for a strong cordless jigsaw that offers low vibration and outstanding control, the Hilti SJD 6-22 is for you!
Hilti Nuron Cordless Jigsaw Specifications
Model: SJD 6-22
Power Source: Hilti Nuron battery
Speed: 3000 SPM
Stroke Length: 1.1 in.
Blade Type: T-shank
Blade Change: Keyless
Orbital Settings: 3
Speed Settings: 6
Max bevel: 45° left and right
Weight: 5.06 lbs. (bare), 6.25 lbs. (with B 22-55 battery)
Dimensions (L x W x H): 10.25 in. x 3.12 in. x 8 in.
Dust extractor diameter: 1.08 in.
Warranty: 20 years
Price: $234.00 (bare tool), $7.50/mo. (fleet pricing)