Wondering how to buy a dust extractor at the Pro level? You've opened up a pretty big can of worms, my friend. We'll walk you through it with this dust extractor buying guide. The first thing you need to decide is what you need your dust extractor to cover. There are the large units you find in shops that you create a custom piping layout for and there are portable units. Most tradesmen on the jobsite are looking closely at portable units and that's what we're focusing on here.
Related Content
Dust Extractor Buying Guide for Concrete Use
Whether or not you're working with concrete is a much more important question than it was a year ago. OSHA silica dust regulations require certain CFM ratings along with an auto filter cleaning mechanism and, in some cases, a HEPA filter. No dust extractor buying guide that fails to deal with the issue of OSHA guidelines will help you on the jobsite. We cover this below when talking about suction and how much power you need for the job.
Pro Pick: Grab an OSHA-compliant dust extractor even if you're only working concrete on rare occasions. It's not worth the headache and fine if you get caught.
How Much Capacity Do You Need?
Portable dust extractors typically run in the range of 8 – 14 gallons. If you don't mind emptying the extractor every day or you don't have a lot of dust to contain, smaller is usually better for moving around the site. However, buying a larger dust extractor keeps you from having to empty it as often. As a result, you'll go through fewer collection bags.
Pro Pick: We like smaller capacity on the jobsite and larger capacity in the shop.
How Much Suction Power Should You Get?
CFM (Cubic Feet per Minute) Determines Volume
When we created this portable dust extractor buying guide we realized you have a wide range of CFM ratings to choose from. These are a measure of the air volume pulled through the filter. On the lower side, you'll see some as low as 50 CFM for a cordless unit with more powerful units running to the 150 CFM range. If you want to spend $1500, Hilti has a model that pulls 300 CFM with its twin-turbine design! There are legitimate applications across the board at each of these levels. So again, it depends on what you're doing.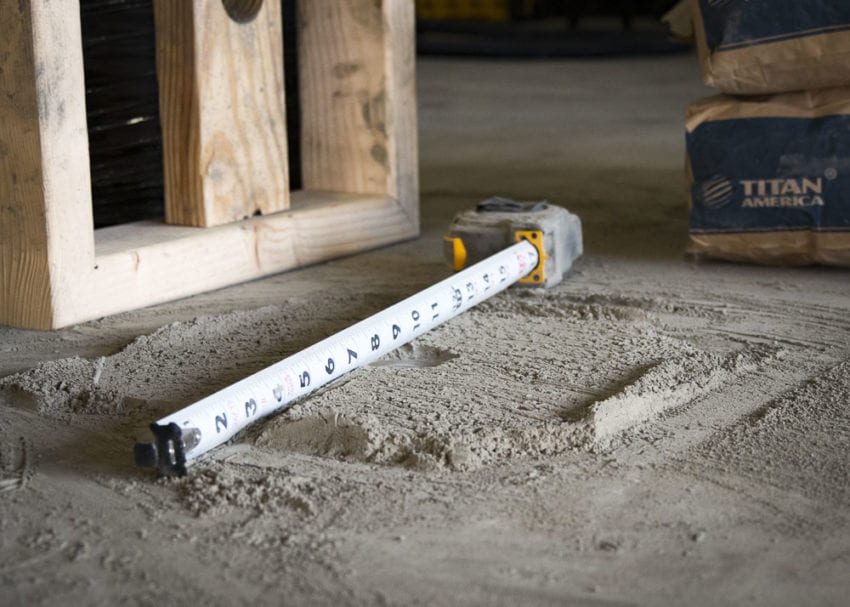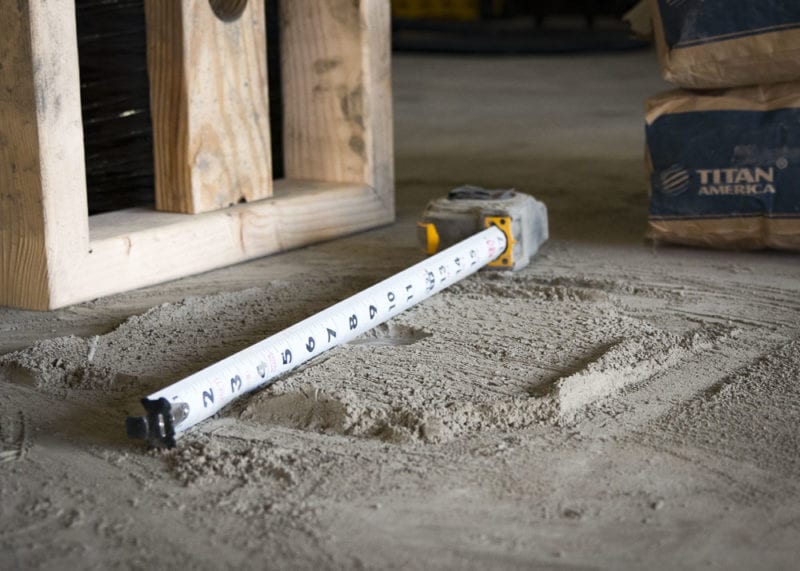 Pro Pick: How much power you need varies. However, dust extractors that give you 130 – 150 CFM will be good all-around models for most applications.
Water Lift Determines the Suction Power
Water lift is a measure of suction power and is different from CFM. When buying a dust extractor you should understand each. You can convert these specs into several different measurements. You may see it expressed as inches of water lift, mm Hg, PSI, or other units. A simple Google search takes you to several pages where you can convert it to static water lift. Again, cordless units are on the lower end with maybe 30″ of lift while the larger portable dust extractors will give you up to 100-inches. How much you need depends on your application.
Pro Pick: Like CFM, the application matters. For a good all-around dust extractor, look for at least 90″ of static water lift.
Auto Filter Cleaning Features
You won't find auto filter cleaning on every dust extractor, but it's nice to have. The dust extractors we've tested lose between 1% and 7.5% of their performance once we've sucked up some dust – and that's with the filter cleaning. You'll lose even more if your unit doesn't have this feature.
Most dust extractors use reverse airflow to clean their filters. That can potentially limit the life of the filter since it's only designed to push air one way. Metabo uses an electro-mechanical system to vibrate their filters clean. It adds to the price, but it's an effective method to extend the filter life and keep dust from inadvertently escaping.
Some dust extractors allow you to turn this feature off – something to consider when you realize that you lose suction power during the cleaning cycle that occurs every 15 seconds or so. Festool's CT 36 Auto Clean lets you dial in the frequency of filter cleaning from 12 seconds down to none at all.
Pro Pick: Get auto filter cleaning.
HEPA filters trap 99.97% of particles 0.3 microns or larger. It's so efficient that you'll see it used in medical environments. Do you need a HEPA filter with that level of filtration in your shop or on the jobsite? It depends. In most cases, probably not. But the good thing is you can get a HEPA-rated dust extractor and use less expensive filters until you're in an application that requires HEPA-level filtration. While it's better to be prepared, unless OSHA requires it, you can get by without this one.
Pro Pick: Get it if OSHA or your contract requires it. Otherwise, you can pass.
Auto Tool Activation
Auto tool activation comes on most Pro-level dust extractors nowadays. But just how much power you can pull through it varies greatly. Hilti's VC 150-10 XE allows you to connect a tool up to 11 amps if you're on a 20-amp or greater breaker. But some only allow you to work with 3 – 4 amps, so check the manual online before you decide. Regardless, you're not going to power your 15-amp table saw through your dust extractor.
On the other hand, Makita has developed AWS (Auto-Start Wireless System). This is a Bluetooth connection between their dust extractor and several cordless tools that wirelessly turns the extractor on. Best of all, there's no need to worry about power loss since the tool runs on batteries.
Pro Pick: It's nice to have greater potential, but we typically use a separate power source for any tool over 6 or 7 amps. Stick with tools like sanders to run through the extractor and you won't have much of an issue with any Pro model.
Variable Power Dial
Some extractors give you a variable power dial for when you're using auto tool activation. a 15- or 20-amp breaker isn't your only concern when it comes to your max power. Some of the dust extractors we use are only rated to handle a maximum of 12 amps total. In order to use a 5-amp tool, you have to dial down the extractor's power to 7 amps. And of course, that limits how effective the collection is.
Pro Pick: While nearly every Pro-level dust extractor has this, there are only a handful of trades that will use it. When you need full collection power, use a separate power source for the tool.
Wet/Dry Vac Ability
When you go to buy a Pro-level dust extractor, not all carry a wet/dry vac rating. Those that do include some kind of sensor to shut off the unit before any liquid reaches the motor. For $500+, you don't want 10 gallons of spilled water to mess up your 9-gallon dust extractor.
Other Features Out There
Metabo features a cleaning cycle-only mode on their dust extractor. If you need to clear the filter without turning the vacuum on, it's nice to have. But they're unique, so don't expect to find that feature in other models.
If you're going to use your dust extractor to clean the floors in your shop or on the site, take a look at the onboard accessory storage. Some are as simple as loose storage on the top while others offer stand-up points or slots for specific accessories to store.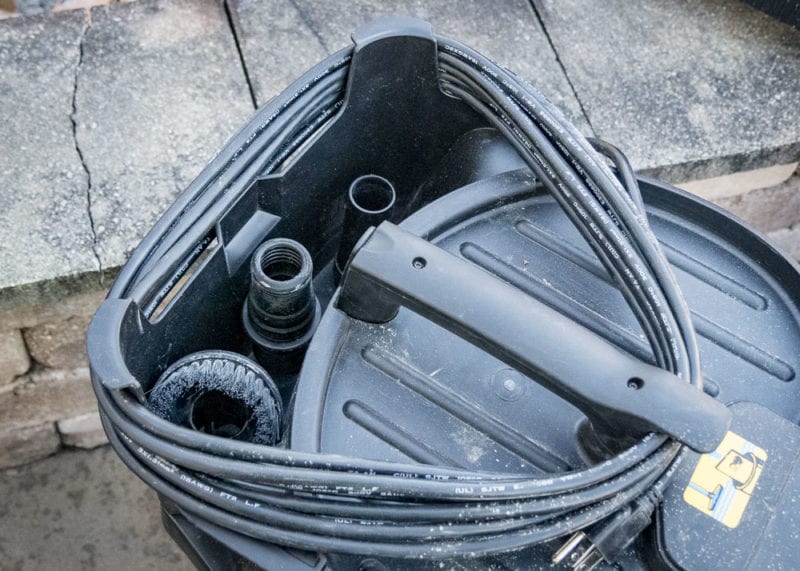 Extra hose length is a nice convenience, but be aware that the longer the hose, the more performance drop you'll see at the nozzle.
Hose and cord wraps are often an afterthought for most manufacturers it seems. Bosch and Milwaukee both do a nice job with bungee-style straps to help manage the mess, but they're in the minority. Most extractors have a cord wrap of some sort but assume that you'll store the hose in the canister when you're not using it.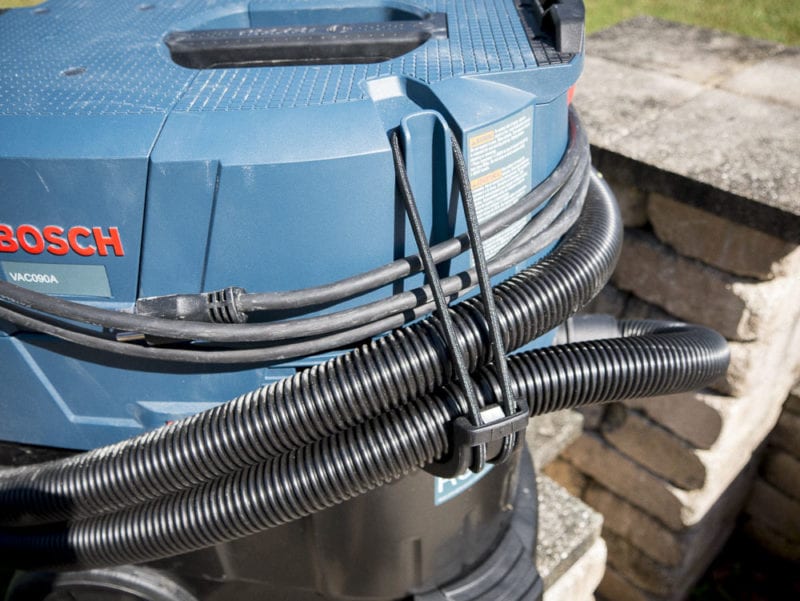 So now that you know more about how to buy a dust extractor, you start dialing in exactly what you need for the jobsite. Just keep in mind that every job is different and your trade might not need the biggest, baddest, or most expensive unit out there!