Karcher, a German company that specializes in making both consumer and professional-level cleaning equipment, recently sent us one of their shop vacuums to take a look at. Featured in our 2018 Wet/Dry Vac Buying Guide, we gave the Karcher WD5 Wet/Dry Vac mad props for its overall design. This might not surprise anyone, and at the risk of drawing a pretty big stereotype, it seems like German companies have a deep appreciation for efficiency in engineering. Festool, Bosch, and Hilti all seem to pay attention to form and function when crafting tools. That commitment to efficient design shows in the Karcher WD5 Wet/Dry Vac as well, which bucks the trend for what's going on with most modern shop vacuums.
Notable Features
6.6 Gallon Canister: The Karcher's canister places it firmly in the lighter-duty range of shop vacuums. It's pretty big for a small canister, if that makes any sense. The smaller models we looked at featured 4- and 5-gallon buckets, while the mid-sized models jumped up to around 9 gallons. The Karcher WD5 Wet/Dry Vacuum falls happily in the middle of those ranges.
Blower Mode: Included on every model we looked at, a blowing feature seems pretty much standard fare for professional grade shop vacuums. Basically, you'll just reposition the hose to the exhaust port when you need to move dirt and debris from harder-to-reach areas.
Air Filtration: While not an uncommon feature in the world of shop vacuums, the Karcher WD5 Wet/Dry Vacuum refines the old standard. This model features Karcher's patented filter removal technology, which allows the filter to slide out of its housing for easy removal. Because of its placement, which remains separate from the canister, users can change the filter without coming into contact with the vacuumed debris. This filter can be used in both wet and dry applications.
Filter Cleaning: Karcher adds a push-button filter cleaning mechanism that's pretty unusual for sub-$200 wet/dry shop vacuums. It's another nod toward Pro-level dust extractors that sets it apart from the rest of the class.
Five 360° Rotating Casters: Most of the wet/dry vacuums we saw included rotating caster wheels but were limited to four. The Karcher includes five, to give the design five points of contact and a little more stability.
Attachment & Onboard Storage: "A place for everything, and everything in its place." This could be Karcher's motto. Not only does the cord store neatly away, but each of the attachments has a home onboard. This might not sound particularly revolutionary to the world of shop vacuums, however, we've noticed that some manufacturers do a better job than others at implementing storage into the design.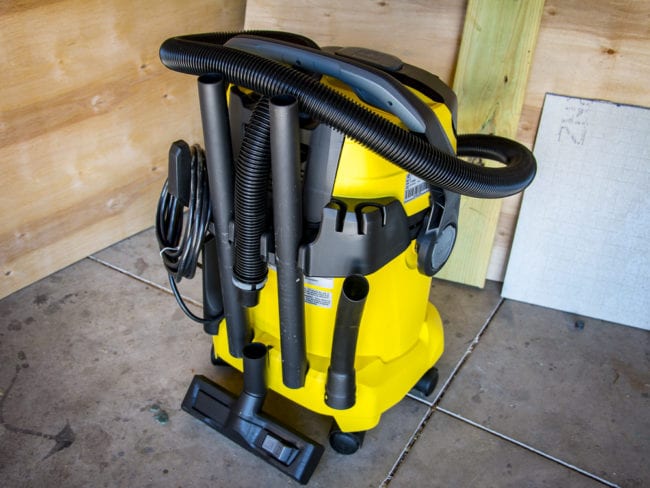 Included in Kit
Floor nozzle
Crevice tool
Extension wand
Cartridge filter
Fleece filter bag
Performance
You see bigger numbers thrown around when it comes to motor size in this class. Even some of the smallest vacuums in our arsenal out-power the 2.5 peak horsepower/1800-watt motor that Karcher includes. As always, it's less about the size of the motor and more about what you do with it.
The motor pulls 76 CFM in terms of volume. That's not anywhere near the 208 CFM of Ridgid's 16-gallon model, but it's far from ineffective. Some of our Pro-level dust extractors on the smaller and cordless side are in the same range and we trust them to get the job done.
Water lift or suction power is the other side of the performance equation. With roughly 3 pounds of pull force in our test, it's a little low compared to the 4 pounds most of our models hang around.
Price and Value
At just under $140, the Karcher WD5 isn't the most expensive shop vacuum we've tested. It is pricey in its size class, though. That might make you shy away considering the performance level is also below the majority of its competiton. So what do you get for the additional money?
Design and build quality. Design considerations like a filter cleaning mechanism and outside filter access cost more to make and Karcher is a step ahead of the rest in overall quality.
Final Thoughts
Reviewing the Karcher WD5 Wet/Dry Vac reminds me of an old joke:
How many Germans does it take to change a lightbulb?

One. We are very efficient. This is not a joke.
Performance is below what we'd like to see at this price so there has to be a trade-off or two. What sets the WD5 apart is its design. There are hints of Pro-level dust extractor features and the storage of accessories, hose, and cord are clearly well thought out. Everything just fits together really well, and the whole package feels solid. Even the handle creates a better canister lock than the latches on most models. It's all solid enough, in fact, to earn the title of "Best Overall Design" in our buying guide.
Karcher WD5 Wet/Dry Vac Features
Powerful and convenient cleaning in a compact, space-saving design
Top mounted filter no need to remove for wet cleaning
6.6 Gal. of usable wet/dry capacity; since the filter is stored overhead, the tank can be fully utilized unlike many other brands
Pleated filter cartridge provides superior filtration even with fine dust
Remove/replace the filter without opening the tank, avoiding the usual mess created by filter cleanings
Blower function
Powerful 1800-Watt motor
Durable construction for years of use
Includes hose, extension wand, crevice tool, hand grip nozzle, standard floor nozzle, pleated filter, and fleece bag
Karcher WD5 Wet/Dry Vac Specs
Model Number: Karcher WD5
Height: 20.7″
Width: 15.37″
Depth: 15.12″
Hose Diameter: 1.35″
Hose Length: 7.2′
Air Volume: 76 CFM
Amps: 10 A
Volts: 120V
Peak Horsepower: 2.5 hp
Weight: 15.65 lb
Cord Length: 16′
Warranty: 2-Year Limited Warranty
MSRP: $133.76
Shop Amazon