Klein Tools has recently released several new multi-bit screwdrivers that we're going to take a more detailed look at. Each of these may not look that complex or exciting on the surface, but models like the Klein 6-in-1 Ratcheting Stubby Screwdriver we're looking at today are more than they appear.
The rationale for a multi-bit screwdriver is simple – the more functions one driver can do, the fewer tools you have to carry as a tradesman. From my first visit with Klein, I've been hearing about this focus concept of reducing the number of tools electricians need to carry.
For the end user, going with a multi-use tool has to make sense. You've heard the old adage about Swiss Army Knives – good at a lot of things, but great at none of them. Pros demand great results, so just good isn't good enough. Let's see how this Klein multi-bit driver fares.
Features Worth Noting
For the Klein 6-in-1 Ratcheting Stubby Screwdriver, this covers (obviously) 6 functions. Like you'd expect from a multi-bit driver, the shaft is the key to swapping bits out. Tucked firmly in the shaft is a #1 Phillips head and 1/4-inch slotted double-ended bit. Pull the shaft out and you'll reveal the opposite end holds a #2 Phillips head and 3/16-inch slotted double-ended bit.
With either bit removed, the other 2 functions are integrated into the shaft. One end is a standard 1/4-inch hex while the opposite end is a 5/16-inch hex for use as nut drivers. While it's not specifically stated that you could or should use it this way, the opening in the driver for the shaft just happens to be hex shaped with a 7/16-inch opening that could potentially be used as well.
Comfort Grip
The Klein 6-in-1 Ratcheting Stubby Screwdriver features Klein's classic comfort grip covering just over the last inch of the handle. Above it is a collar to adjust the ratcheting direction. The adjustment is easy yet extremely confident. Whether you're switching to loosen, tighten, or locked in the middle, it clicks in position with authority.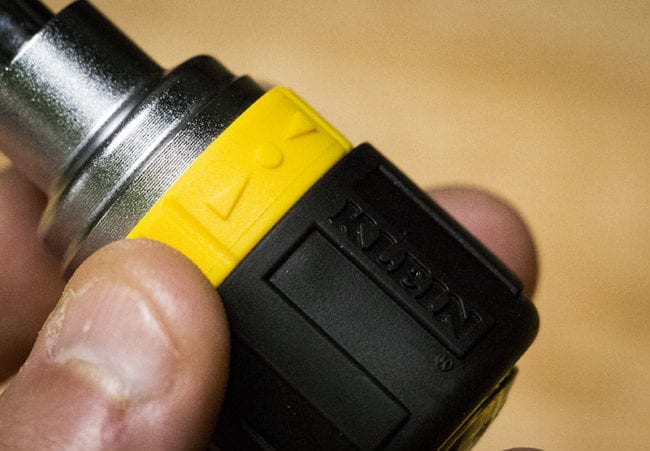 As for the the ratcheting mechanism itself, there's clearly a quality build there. The sound of all-metal gearing is apparent and it has the smoothness and strength you'd expect from quality automotive ratchets. From shaft to handle, it feels like you'll damage the bit tip long before you could ever damage the driver.
There's Just One Thing…
The Klein 6-in-1 Ratcheting Stubby Screwdriver is without a doubt a quality product in every aspect of the design. One thing I come across on many drivers like this is that the bits have a pin detent on them to fit securely in the shaft. By going with this design, a simple friction fit isn't possible and there's no magnet at the base to hold other bits if you break one, lose one, or simply want to customize your bit mix.
We have to understand that in detents are the trade-off for making tight fitting 1/4-inch and 5/16-inch nut drivers. Still, the addition of a rare earth magnet at the 1/4 inch end would offer some extra versatility.
The Bottom Line
At the end of the day, the Klein 6-in-1 Ratcheting Stubby Screwdriver is a really, really solid design for a tool many of us don't like to use because the size is so awkward. Still, when you need the most compact screwdriver you can get your hands on, stubby is the way to go. The ratcheting action makes work in tight space much easier and carrying 6 bits on one tool is clearly a space saver.
My only suggestion would be to add a magnet on the 1/4-inch driver side to allow users to take advantage of a wider variety of bits than what comes with the driver.
Online prices are currently running between $15 and $20 depending on the retailer.
Klein 6-in-1 Ratcheting Stubby Screwdriver Specifications
Model: Klein 32593
Style: Multi-bit, ratcheting stubby screwdriver
Included Bits: #1 PH – 1/4″ slotted (double-ended), #2 PH – 3/16″ slotted (double-ended), 1/4″ nut driver, 5/16″ nut driver
Length: 3.6 inches
Warranty: Lifetime
Online Pricing: $17.21