If you find yourself nervous about the possibility of jamming a tool into a livewire situation, Klein has just released a tool to help assuage your anxiety. The Klein NCVT-4IR Non-Contact Voltage Tester with IR Thermometer alerts you to AC current without you having to touch anything. Well, without having to touch anything besides the Klein NCVT-4IR. Plus, Klein has included an IR thermometer to check for hotspots. And with the backlit LCD display, you'll have no excuse for walking away from your next jobsite following a shocking experience.
We just got hold of the Klein NCVT-4IR, and have some thoughts to share with you.
I'm InKleined To Use This Voltage Tester
Designed specifically for HVAC applications, the Klein NCVT-4IR provides a way to determine if AC voltage currently runs through any number of electrical conduits without actually having to physically touch it. The benefits of this should be obvious, even if you're seldom going to do any electrical work without shutting off the breaker first. Non-contact voltage testers are commonplace, so in and of itself, this isn't anything different than what you're used to using.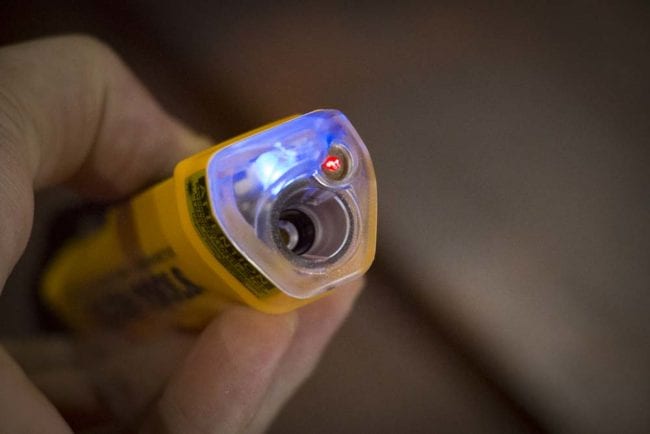 This tester has a voltage detection range of 12V to 1000V. When in proximity, the NCTV-4IR lets off a series of audible beeps that speed up as the tester detects higher voltage. Should you prefer not to listen to any shrill beeping, the voltage tester also includes a silent mode. In either setting, a blinking red light also indicates the presence of AC voltage.
The Klein NCVT-4IR also includes an infrared thermometer that can measure anywhere between -22° and 482°F. With a distance-to-spot ratio of 4:1, you'll have to get a bit closer than many of the standalone units out there. A laser pointer assists in the targeting of temperature readings and you can flip measurements to Celsius if you're feeling exotic.
The NCVT-4IR has an IP54 rating, protecting it from water and dust ingress. It runs on two AAA batteries, and it features an auto shut-off after a period of inactivity. The clip feels very sturdy, and while it probably could be snapped off, it will take some effort to do it.
First Impressions
The Klein NCVT-4IR not only feels lightweight and ergonomic, but it doesn't take a whole lot of space in my pocket or tool bag. And that's where the real benefit of a tool like this exists – Klein adds a common tool (the IR thermometer) to a tool electricians are already carrying without increasing the footprint in your pouch.
All things considered, this is a handy little tool to have around. The IR thermometer has been accurate in our testing and can be helpful in diagnosing an issue without the price of a thermal imager. The voltage tester is great, as I can double check if AC current is present before I start trying to snip wires. For around $40, the Klein NCVT4-IR makes a nice addition to your tool bag.
Klein NCVT-4IR Features
Designed specifically for HVAC applications
Provides non-contact determination of AC voltage in cables, cords, circuit breakers, switches, outlets, and wires, as well as AC voltage in security, entertainment, communications, environmental control, and irrigation systems
Detects AC voltage from 12 to 1000V with visual and audible indicators
IR thermometer with user selectable °F / °C from -20 to 482°F (-30 to 250°C)
Convenient laser pointer also helps target 4:1 distance to spot ratio for IR temperature
Backlit LCD display with 0.1-degree resolution
Auto power-off conserves and extends battery life
Screw-thread battery cap with O-ring ensures dustproof and waterproof ingress protection
Lightweight, compact tool with pocket clip provides easy storage and quick access
Klein NCVT-4IR Specs
Length: 6-1/4″
Height:1-1/4″
Width: 1-3/16″
Laser Type: Class 2
Distance -To-Spot Ratio: 4:1
Frequency Range: 50 to 500Hz
Temperature Resolution: 0.1°F/C
Temperature Accuracy: -22 to 68°F accurate to +/-5.4°F; 69 to 482°F accurate to +/-2% or +/-3.6°F
Batteries: 2 AAA
Voltage Range: 12V to 1,000V AC
Weight: 2 oz.
Weight With Batteries: 2.8 oz.
Safety Rating: CAT IV 1000V AC
IP Rating: IP54
Drop Protection: 6.6 ft.
MSRP: $39.99