Klein Tools recently released their Tradesman Pro Wide-Open Tool Bag, which included the notable features of having a large, stay-open top and a whole lot of pockets. Space and organization might not be huge concerns with this bag. But, if you find you'd still like some additional storage, Klein has also released some new supplementary solutions. Klein Stand-Up Zipper Bags provide more easy-to-access compartments for storage, and as their name might suggest, they stay standing up while you're working with them.
But just how useful are they? More importantly, will they stand up to tough jobsite use?
Klein 55470 Stand-Up Zipper Bags Features
Klein zipper pouches come in sets of two. They both feature a stand-up base that conveniently allows easy access to the bag while keeping it upright. While Klein engineered the body of the bag using 1680D ballistic nylon, they constructed the base from sturdier 2520D ballistic nylon to keep sharp objects from puncturing the bag.
The bags feature a heavy-duty, robust zipper that Klein has double-stitched into the bag for maximum durability.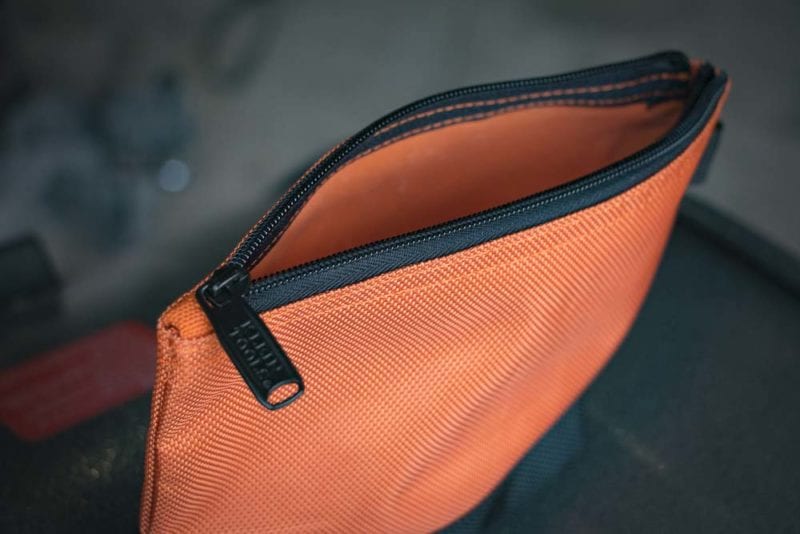 The Klein 55470 Stand-Up Zipper Bags come packaged with a carabiner. This lets them easily attach to any bag with hooks or rings.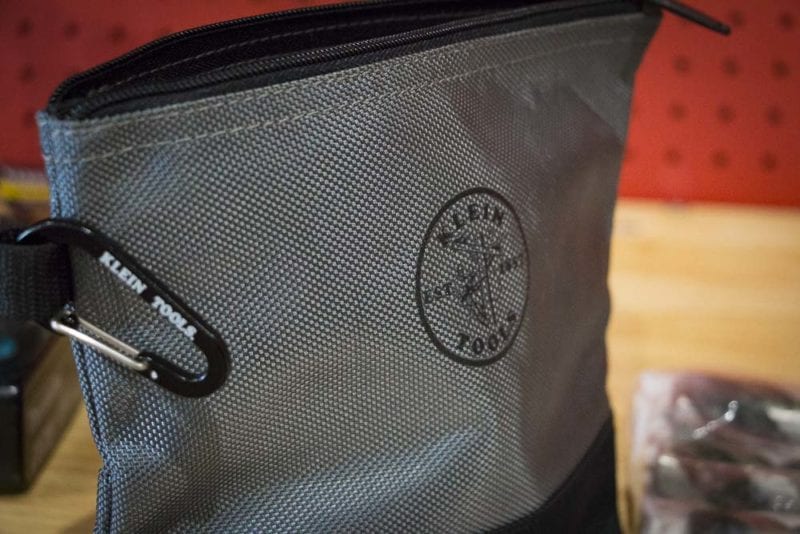 Additional Thoughts
Klein Stand-Up Zipper Bags don't offer anything earth-shattering to the world of tool storage innovation, but they do provide a great addition to any toolbag. These bags are built from stiff, puncture-resistant, ballistic nylon, and the double-stitching means that the bags won't fall apart anytime soon. The zipper feels robust and I don't get the sense that, six months down the road, I'm going to have to wrestle with the bag to get it zipped or unzipped. The stand-up feature works well, and I can see a benefit to keeping these bags filled with things like fasteners.
Typically, you'll pay $7 – $10 for a tool pouch like this, so $20 for the set is on the higher end of that. The product is well-made and durable, and personally, I don't mind paying a bit more for something that will last.
Room for Improvement
But, I do have a gripe, albeit a minor one: why does it only come with one carabiner? I'd like to keep these bags from being tethered together all the time, and I can't imagine that another carabiner would really offset the cost too much. I can easily pick up another carabiner somewhere else and solve the problem, but I wish I didn't have to.
Klein 55470 Stand-Up Zipper Bags Specs (2-pk)
Product Number: 55470
Length: 14 in, 7 in.
Height: 6.5 in, 7.5 in.
Width: 1.12 in.
Material: 1680D Ballistic Nylon, 2520D Ballistic Nylon (bottom)
Color: Orange/Black; Gray/Black
Closure Type: Zipper
Weight: 6.6 oz.
Price: $14.99
Klein 55559 Stand-Up Zipper Bags Features
Similar to the initial bags Klein released, the 55559 bags each come with their own carabiner. We consider this a step up since the 55470 bags share a single carabiner.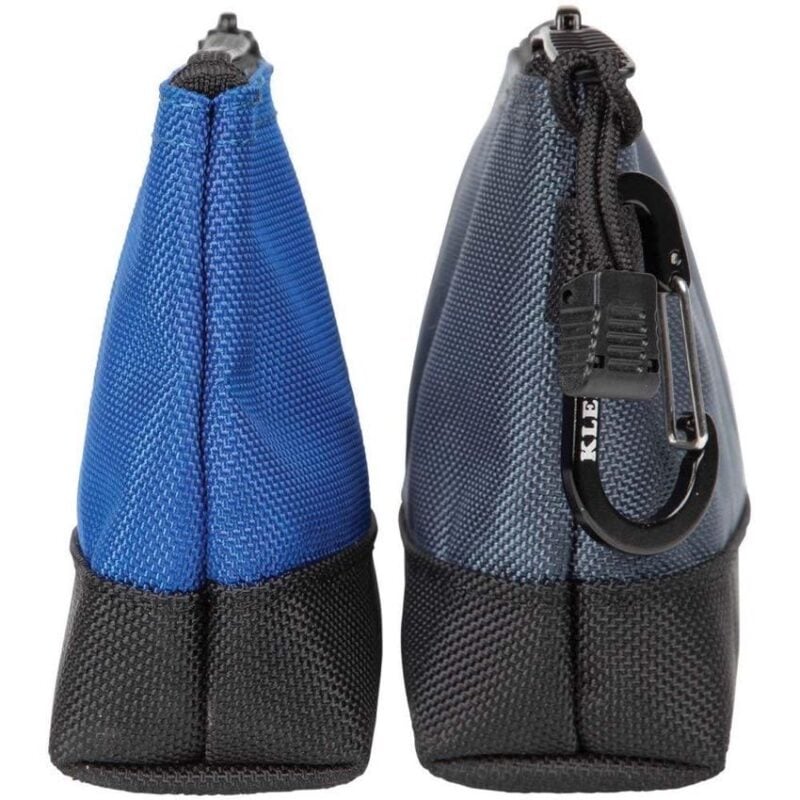 The Klein two-pack of stand-up zippered bags includes one grey 14-inch long bag and one blue 7-inch long bag. Both stand at a height of 4-1/2 inches tall and feature a 2-inch gusseted bottom. The gusset shape lets the bags stand on their own without support. It also expands their storage capacity. You can use the bags to store longer tools such as needle nose pliers, 1/2-inch wrenches, and long screwdrivers. Of course, they still work well for small parts like bits and screws.
Klein 55470 Stand-Up Zipper Bags Specs (2-pk)
Product Number: 55559
Length: 14 in, 7 in.
Height: 4.5 in
Width: 2 in.
Material: 1680D Ballistic Nylon, 2520D Ballistic Nylon (bottom)
Color: Grey/Black; Blue/Black
Closure Type: Zipper
Weight: 8 oz.
Price: $14.99