New, and available now from your favorite Klein vendors, the Klein Tradesman Pro Wide-Open Tool Bag is the latest tool bag in the company's line of organizational solutions. As the name might suggest, the biggest selling point of this bag focuses on its ability to – you guessed it – open up really wide. And, while this feature rules, Klein has also included a whole lot of pockets to sweeten the deal even further. If you've got a fever, and the only prescription is more organization, Klein Tools' new tool bag has the cure for what ails you.
Open Up Wide And Say AHHHHHH
As previously mentioned, the main feature of Klein's new bag revolves around its wide mouth top. Basically, the top of the bag can open up to the same dimensions as the bottom, allowing easy visual and functional access to the inside of the bag. In addition to that, the outer lip of the opening of the bag has a sort of underwire-type structural support, so the bag stays open. This definitely better than a bag that defaults to folding in on itself after you grab what you need.
In addition to a wider opening, the Klein Tradesman Pro Wide-Open Tool Bag features an inner orange lining. At first blush, this might seem like a mere aesthetic choice on Klein's part. However, the idea behind this is to provide better visibility into the bag. Chances are, a lot of your dusty old, dull-colored tools will blend into a darker, muted background. But, the almost neon orange provides a contrast that helps with visibility.
Pockets For Days
We like pockets around here. They help keep our things organized, and they also keep smaller bits and pieces from disappearing into the jumbled mess that inevitably occurs when you dump half your tool collection into a bag. In fact, we tend to judge tool boxes and bags by the number of pockets or compartments they have, just because being able to organize and compartmentalize makes our lives easier.
With that said, Klein had our organizational concerns in mind when they included 42 pockets in this tool bag. Small pockets, big pockets, mesh pockets, zippered pockets… With 33 interior pockets and 9 exterior pockets, keeping yourself organized shouldn't be a problem with the Klein Tradesman Pro Wide-Open Tool Bag. Plus, this bag does include a clip for your tape measure. And, if you ever do require more pockets, Klein gives you the option of adding optional stand-up pouches that clip onto one of the bag's many rings.
Durability & Comfort
Just like the Klein Tradesman Pro backpack, Klein designed the Wide-Open Tool Bag to take a beating. Crafted from 1680D ballistic weave nylon, the Wide-Open Tool Bag should handle your sharpest tools without puncturing. Klein has also included a fully molded bottom to protect against water and abrasion.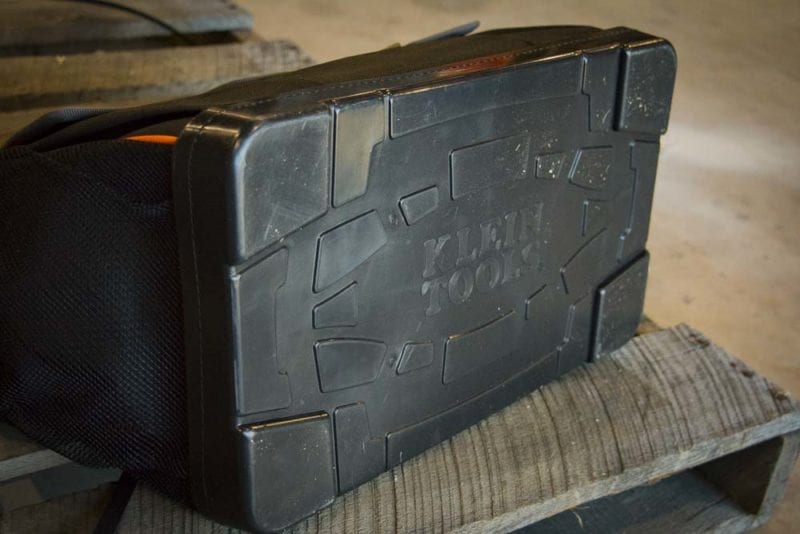 Comfort might not be your highest priority when considering your next tool bag, but there is some nice padding to work with. The handle has some extra padding, and the shoulder strap has a cushion to keep the strap from digging into your shoulder.
Parting Thoughts
The Klein Tradesman Pro Wide-Open Tool Bag is another great entry into the tool bag market. Obviously, the wide-open mouth is the star feature of this bag, and it's a welcome addition. We also like the number of pockets this bag has, as we all struggle with organization from time to time. The bag material is thick and durable, which might be the most important feature here. It's priced at around $100, and is available now from anywhere Klein products are sold.
Klein Tradesman Pro Wide-Open Tool Bag Features
Stay-open top for unobstructed tool access
Orange interior and a wider opening to find tools easily
Large interior zipper pocket
Inside is equipped with various sized pockets for tools and gear
Multiple exterior front and back pockets for quick access
Outside has side mesh pockets and a metal tape measure holder
1680d ballistic weave for durability
Shoulder strap with extra padding and handles
Fully-molded bottom protects from the elements
Klein Tradesman Pro Wide-Open Tool Bag Specs
Model Number: 55469
Length: 10-1/4″
Height: 16-1/4″
Width: 17-3/4″
Material: 1680D Ballistic Weave Polyester
Color: Black/Orange
Interior Pockets: 33
Exterior Pockets: 9
Number of Pockets: 42
Closure Type: Zipper
Weight: 8.0 lbs
MSRP: $99.99