Klein has introduced the new Klein Tools Digital Angle Gauge and Level to its lineup of professional electrical measurement equipment. It claims to make setting angles, checking relative angles, and finding level a breeze no matter what worksite conditions you're dealing with.
10-Second Summary
0-90° and 0-180° measurement ranges
Strong magnetic base
V-groove edges
High-visibility reverse-contrast display
Display auto-rotates when upside down
Water- and dust-resistant with IP42 rating
Soft carrying case and two AAA batteries included
Price: $35.99
What Klein Has To Say About the Digital Angle Gauge and Level
"Klein's new digital angle gauge, optimized to attach to conduit or pipe with its v-grooved magnetic base, offers customers a versatile solution to several jobsite problems. The ability to handle 0-90° and 0-180° measurement ranges, plus the durability of the IP42 rating means tradespeople across the board will be able to put this tool to use."

—Anthony Lam, Senior Product Manager at Klein Tools
Klein Tools 935DAG Features
The Klein Tools Digital Angle Gauge and Level features 0-90° and 0-180° measurement ranges allow for a wide range of applications like electrical, plumbing, HVAC, and carpentry jobs. It features a strong rare earth magnet at the base, as well as V-groove edges, which allows it to attach easily and truly to conduit, pipe, sawblades, vents, ducts, and other ferromagnetic surfaces.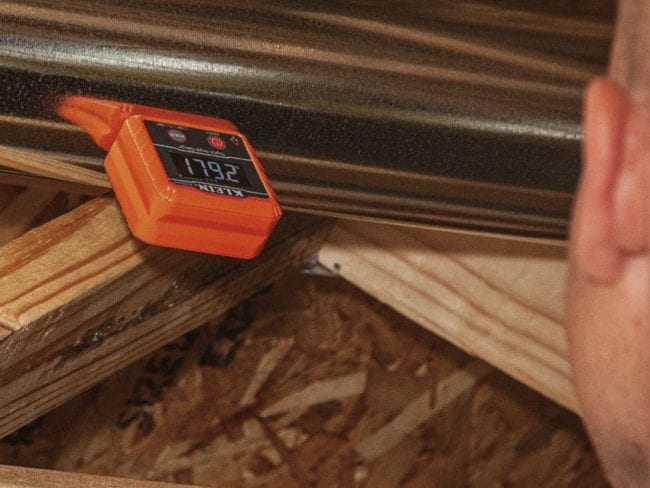 Dimly-lit areas are no problem for this tool; it features a high-vis, reverse-contrast display that even auto rotates when you hang it upside down.
Klein has fashioned the Digital Angle Gauge and Level from shock-resistant ABS plastic, which gives it drop protection up to 6.6 feet. An IP42 rating protects the unit from some water and dust ingress.
At 3.5 oz, and with a 2.36″x2.2″x1.2″ frame, the Klein Tools Digital Angle Gauge and Level can be thrown into a pocket or toolbag easily.
Pricing
Right now, you can pick up the Klein Digital Angle Gauge and Level for $35.99. It comes with a soft carrying case and two AAA batteries, as well as Klein's 2-year limited warranty.
A Few Thoughts
With a focus on the electrical trade, it's no surprise to see Klein target a design that's compatible with conduit. There's some legitimate plumbing use as well to check your slopes on installs.
Since it reads degrees to a precision level of 0.1º, it's useful to help calibrate your miter saw and table saw, too. Its accuracy is ±0.1° when you're checking 0º, 90º, and 180º, but drops to ±0.2° at all others. That's on par with other angle gauges in this price range, but something for fine finish carpenters and woodworkers to keep in mind.
I really like the reverse-contrast, backlit screen. It seems super-easy to read in any light conditions.
IP42 protection gives the meter some resistance to dust and water, but not a ton. It will keep out dust and particles over 1mm in diameter and it can handle dripping water hitting it up to a 15º angle. It's not something you can leave out in a storm and expect it to survive. Still, it's a tool you expect to use mainly indoors.
Overall, this looks like a useful product from Klein that's priced where it belongs. What do you think? Let us know in the comments below!
Klein Tools Digital Angle Gauge and Level Specs
Model: Klein Tools 935DAG
Type: Digital Level
Material: ABS Plastic Housing
Magnet Type: Permanent Rare Earth
Accuracy: ±0.1° from 0° to 1°, 89° to 91°, 179° to 180°; ±0.2° at All Other Angles
Drop Protection: 6.6′
Ingress Protection: IP42
Low Battery Alarm: Yes
Batteries: 2 X 1.5 AAA
Length: 2.36″
Height: 2.2″
Width: 1.2″
Weight: 3.5 oz
Warranty: 2 Years
Price: $35.99
Shop Amazon