Guys and girls pursuing the electrical trade quickly learn it's one kind of job to wire up new construction when walls and ceilings are open. It's an entirely different kind of job, requiring different tools after those walls and ceilings are sealed up. One such tool is the Klein Tools Magnetic Wire Pulling System.
Last year, Klein Tools partnered with Welsh company Super Rod to make available some of the European wire installation product manufacturer's tools – like what's now the Klein Tools Magnetic Wire Pulling System – to electricians in the US. It's a pretty unsophisticated tool but it might surprise you at how helpful it can be. So if that charges you up, let's see how it works.
First Impressions
The system is pretty simplistic from our modern perspective. It starts with a non-marring magnetic guide that you'll hang onto to pull the opposite end through the wall. The magnetic leader goes to the inside of the wall and attaches to 20 feet of orange nylon cord that's easy to see. At the end of the cord is a swivel leader eyelet and ring for you to attach the wire to. The entire system stores in a small plastic tube.
At the end of the cord is a swivel leader eyelet and ring for you to attach the wire to. The entire system stores in a small plastic tube.
I stuck the magnetic leader to the guiding magnet and was surprised by the effort it took to pull them apart again. Of course, the system needs that kind of strength to connect through drywall, insulation, and over small obstructions between. The swivel leader eyelet is basically a keyring which you can temporarily wrap a wire around to pull it along the rope's path.
It's all quite simple and promising. I had some can lights to install in a ceiling (actually at the boss's house!) so what better place to give this wire installation tool a spin?
You Gotta Be Pullin' My Wire
The first task at hand was to pull wires across the ceiling. Since can light rough openings are large, it was no problem to start the leader and drag it across the ceiling to the next light.
It's no knock against the performance of the Klein Tools Magnetic Wire Pulling System, but when we encountered a ceiling joist, the magnets decoupled and it's usefulness ceased. If the pull is short or parallel to the ceiling joist, however, the system works very well. You'll run into the same challenge if you need to pull wire below a wall's fire block. In this case, you'll go back to your good ol' glow rods, but of course, you'll have to drill the block with a flex bit first.
Pro Tip:

Magnetic wire pulling systems only work when you are going parallel to joists, they won't go over them.
Several other users have said the leader is far too large – that it requires you to drill a 1.5-inch hole in the top plate. You know what?
Those users are right. You gotta drill a heck of a hole. I know the shape of the leader helps it couple strongly to the magnet and navigate over obstructions in the wall, but that makes it broad and the starter hole pretty big. If you can deal with that, then you have yourself a pretty fine wire pulling system.
The magnets are so strong that the leader easily couples with the magnet and "cuts" through insulation with ease – insulation that your glow rods will snag. It occurs to me that this tool will be great in metal studded commercial buildings. Often the tops of the walls are open because they aren't drywalled above the ceiling grid and there aren't usually fire blocks with which to contend.
The string is plenty long enough so you won't have any problems running out. A particularly useful feature of the Klein Tools Magnetic Wire Pulling System is the swivel eyelet for easily pulling wire but beware – if it's not screwed in tight enough, it can get loose and you'll have to pull your wire back through to retrieve it and start over. On the off chance you lose it completely, you'll just have to tie wire to the string itself. I'd really like to see Klein engineer a different kind of connection to prevent the chance of it happening.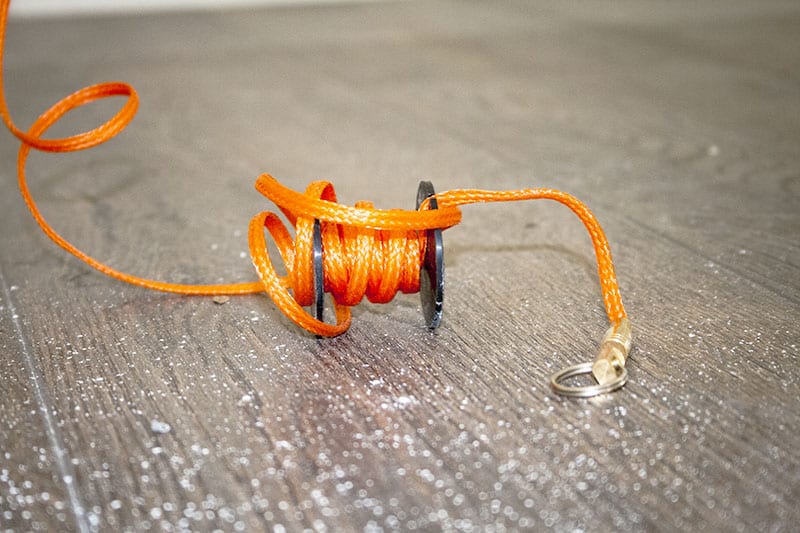 Pro Tip:

To keep the wire from coming unwrapped, loop it onto itself and use a piece of electrical tape to give a solid yet temporary connection to the cord.
One fortuitous use of the handheld magnet is as a stud finder, though I'm not sure why it didn't stick to me! It's so strong that it will find every screw or nail in the wall and you can start your measurements from just a couple fastener locations. In the end, it's a pretty handy system to have on the install job.
The Bottom Line
The Klein Tools Magnetic Wire Pulling System is a pretty simple system – twenty feet of neon orange nylon rope with a keyring-esque swivel leader eyelet on one end and a magnetic leader on the other with a surprisingly strong, cylindrical magnet to guide it. You keep it all stored in its small, plastic tube.
On the downside, the leader is so large that it requires a roughly 1.5-inch starter hole in a top plate and the screw-in swivel leader eyelet could become unscrewed and cause some frustration. Although it's not a design flaw of the system, keep in mind that if you run into a fire block or ceiling joist, it renders the magnets useless.
On the upside, the magnets are incredibly strong, capable of coupling through walls, and the leader navigates through insulation much more nimbly than glow rods can. The nylon rope is quite long, and the strong magnet can double as a stud finder. This system will be particularly useful in commercial building applications where the top of walls are typically open (where the ceiling grid conceals it) and there are no fire blocks to obstruct the leader's path.
I can certainly recommend the Klein Tools Magnetic Wire Pulling System for commercial applications but at about $38 online, it seems a bit high of a premium for such a simple system. The price is due to the rare earth magnet's cost, but it's awfully close in price to some much more sophisticated magnetic wire pulling systems. That said, there are a few systems closer to the $30 mark, and others that move to $50 and beyond. So while it seems like it's lacking sophistication, it's not far off from what we expect to pay.
Klein Tools Magnetic Wire Pulling System Features
Quickly route cables in enclosed spaces, through wall, floor, and ceiling voids
Innovative leader-pull design can navigate many obstructions
Swivel leader eyelet securely connects to most wires and mesh wire pulling grips
Non-marring nylon leader-pull with 20 feet (6 m) of heavy-duty nylon rope
Convenient spool and storage tube for protection between jobs
Klein Tools Magnetic Wire Pulling System Specifications
Item Number: SRS56037
Length: 20 feet (6.1m)
Application: Pull cable behind finished walls and other enclosed spaces
Material: Nylon
Special Features: Leader-pull design for navigation
Price: $38.91