Ladders come in all shapes and sizes, yet there's one universal truth – having the right ladder for the job at hand not only makes the job easier but also safer. At the Pro Tool Reviews headquarters in central Florida, we keep several different ladders on hand. An extension ladder, a platform ladder, a standard A-frame, plus a couple of stepladders. But what if you could put the best qualities of the most common ladders into one? The Little Giant Leveler ladder claims to have that kind of versatility, plus some extra safety features to go along with it.
Get to Know Your Little Giant Leveler
Hinge Locks
From its smallest footprint, you open the Little Giant Leveler out into a stepladder, then a straight ladder. The straight ladder mode isn't an extension ladder, but it does share the long reach of one. To swing the ladder out, you need to release the hinge locks. Using the large, round caps on the outsides, push the spring-loaded pins in and rotate them so the rest outside the holes.
You'll notice three hole positions you can lock into: transport/storage (fully closed), stepladder, and straight ladder. Those are the only three options you get, but you can still work in a wide variety of angles. We'll get to that in a moment. The hinges lock into place solidly. Sometimes, you need to give the cap a little extra motivation to get the pins all the way out and rotating them to make adjustments is a two-handed operation.
Rapid Lock Fasteners
At the top of the base pieces, you'll find four locks that Little Giant calls Rapid Lock Fasteners. These pull out and turn 90° to release the adjustable height of the ladder.
The Rapid Lock Fasteners are easy enough to use but are a little slick. If your hands are a bit sweaty or greasy, it may take a couple of tries to get them out.
Pro Tip: If you're adjusting both the angle and height of the ladder, start with the angle first, then adjust the height. That keeps the hinge locks within easy reach.
Ratchet Levelers
The namesake feature of the Little Giant Leveler is the Ratchet Levelers you find at the base of the non-wheeled side of the ladder. When you're working on an uneven surface, you kick one of the down to get the ladder level on the ground.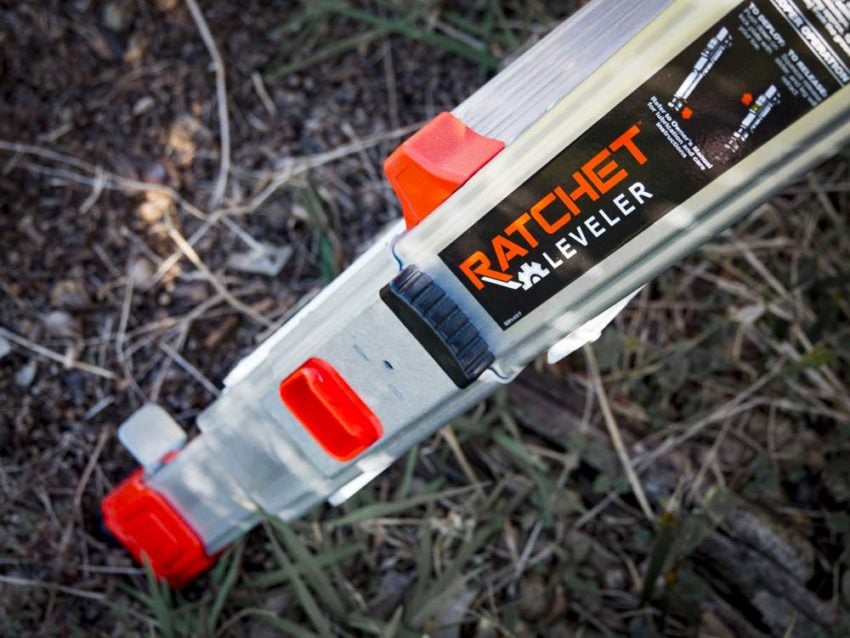 You'll hear the ratcheting action as the leveler extends down. When you're ready to bring it back, pulling the lever on the side releases the spring to bring it back up. With a little bit of practice, you'll be able to extend and release the levelers with your foot.
Ladder Modes and Characteristics
Straight Ladder Mode
When you need to reach roofs or other tall work areas, the Little Giant Leveler swings up to a straight ladder and rivals extension ladder height. Our model reaches up to 22′ and you can also go for 17′ or 26′ if you need less or more.
Once again, the Rapid Lock Fasteners adjust the height of the two sides independently, giving you a minimum height of 11′ and plenty of locking positions between that and the 22′ maximum. (7′ 10″ – 15′ 9″ standing heights).
In straight ladder mode, the Ratchet Levelers are an incredibly helpful feature. It's rare to get a perfectly level surface when I'm not on a driveway or other hard surface. Whether it's a big angle or shallow, I'm able to get the ladder pretty close to perfectly level.
Stepladder Mode
Stepladder mode gives you a ton of versatility, working from a low height of 5′ up to 9′. Other models will give you 4'/7′ and 6'/11′ working heights, respectively. Working heights are a little shorter – 3′ 11″ to 6′ 8″ in our case.
As a multi-purpose ladder, you get extension ladder style rungs. They're roughly 1″ wide and flat on the surface, so they'll be marginally more comfortable than a round rung. At lower heights, the rungs double up with each other to provide a wider foothold that's a bit more comfortable.
Using the Rapid Lock Fasteners, you can adjust the height on either or both sides to accommodate a wide range of working conditions like stairs and slopes or just gain more height.
Pro Tip: When you're working on a vertical surface like a wall, extend one end by one rung to push the top of the ladder closer to the work surface while still maintaining good stability.
In stepladder mode, things are a little different for the levelers since you have four points of contact instead of two. You always have three solid contact points on the ground, so the Ratchet Levelers ensure that you get your fourth contact point. It's a bit tougher to get the ladder as level in this mode, but it's definitely more stable having the leveler available. It's really only an issue when the ground slopes diagonally across the feet. If you can work the ladder around to a front to back slope or left to right slope, you'll be able to get the ladder level.
Scaffolding Mode
If you're willing to purchase an additional bracket, you can separate the inner and outer frames to use as scaffolding bases. You just need to place your scaffolding plank at the height you need it. We don't have the bracket, so we didn't test this feature out.
Weight and Transportation
Following our review of the Little Giant HyperLite extension ladder, the Leveler seems pretty heavy. It's made from aluminum and has a lot of extra parts and pieces to give it the durability and versatility you enjoy.
Hauling around 44 pounds might not be so enjoyable, though. However, it's not the heaviest multi-position ladder out there and is actually 4 pounds lighter than Werner's comparable model. Still, the extra weight is one of the tradeoffs of pulling multiple ladder needs into one design.
Wheels help when you're moving around hard surfaces and can be moderately useful in short grass. On the jobsite, you're probably going to be doing more carrying than rolling unless you're working on interiors.
I find that resting a rung on my shoulder helps shift the weight from my arms to my back and really isn't too bad. On the other hand, lifting that ladder up against a roof in straight ladder mode after extending it isn't nearly as convenient as setting an extension ladder first, then extending the height.
Little Giant Leveler Key Features
Multi-position design works as a stepladder, straight ladder, and scaffolding base that can also handle stairs and slopes
Ratcheting Levelers allow you to position the ladder level on uneven ground
Hinge lock and Rapid Lock Fasteners ensure adjustments lock in securely
5′ to 9′ adjustable heights in stepladder mode
11′ to 22′ heights in straight ladder mode
33 unique configurations cover a wide variety of working conditions
Tip & Glide wheels make moving the ladder easier
Type 1A, 300-pound load rating
Price and Value
The Little Giant Leveler will set you back $214 for the 22′ model we're reviewing here. There's clearly a premium over similar ladders of this size and class (Type 1A, 300 pounds). However, they don't have the Ratcheting Leveler feature to go with it. That said, the selling point of any multi-position ladder is in its ability to replace several ladders with one. In that regard, the Little Giant Leveler does very well with its array of 33 height and position configurations.
The Bottom Line
If you're in the market for a multi-position ladder and you don't mind the extra weight that comes with them, the Little Giant Leveler is a solid bet that comes with an added layer of safety. You'll pay a premium over similar models in the same size and class, but you'll save money by keeping most, if not all, of your ladder needs in one model.
Little Giant Leveler Specifications
Model: Little Giant 16522
Weight Capacity: 300 lbs.
ANSI Duty Rating: Type 1A
A-Frame Height Range: 5′ – 9′
Straight Ladder Range: 11′ – 22′
Storage Height: 5′ 7″
Configurations: 33
Material: Aluminum
Weight: 44 lbs.
Warranty: Lifetime
Price: $214 (Lowe's Exclusive)