We've been talking metal cutting for the past six weeks and have seen an impressive array of options. This week we're looking closer at the Makita LW1400 14-Inch Cut-Off Saw. There's also an LW1401 out there that's closely related. This model takes us away from the cold cut saws back into the realm of high-speed abrasives. Honesty, after using the cold saws from Evolution, Skilsaw, and DeWalt, I wasn't really itching to go back.
Still, there were several features I was looking forward to experiencing on the Makita LW1400 and we came across several worthwhile talking points along the way.
First Look
Portable, Yet Stable
Makita calls this model a Portable Cut-Off Saw and they did well with the portability. At 37.9 pounds, I can carry it pretty easily with one hand. The top centered carry handle is well placed for this use.
Stability with a light weight saw is always a concern. Makita handles that with rubber feet that kept the saw from moving during our testing, though we noticed that they will come off with just a little encouragement.
Fenced In
The fence and clamping system are stout enough, but we have seen models with thicker material here. The fence can be moved to three solid locking positions and the miter lock is tool-free. One of the advantages here is a position optimized for cut capacity. You'll be able to cut up to 5-inch round material and 4-inch by 7-5/8 inch rectangular.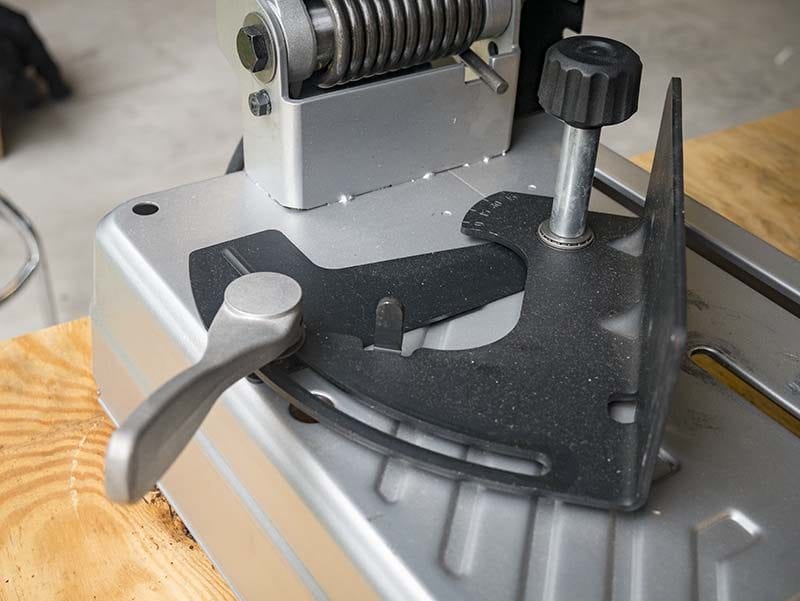 There's just enough play in the locking positions to allow your material to be off-square by a half degree or so. I definitely like the tool-free movement of both the fence positions and miter lock.
Clamp Up
Securing your material into place is easy thanks to a quick clamp vice. This simple feature makes such a big difference in how fast you can set up your cuts that it makes me want to avoid saws that don't have it.
Makita went away from the wheel design for your fine adjustments. This doesn't really come into play as a negative since it only takes a turn or two to tighten things up.
Time for a Change
One of the first things we look at around the disk is whether or not the blade guard can support itself. As I lifted the guard on the Makita 14-Inch Cut-Off Saw, it failed to register immediately whether it would support itself or not. At that moment, sun shown through the shop roof and angels were singing – I had just uncovered a tool-free arbor flange.
The oversize knob is easy to grasp with and turn to remove the blade without the use of any tools. A ratcheting action engages as you tighten the flange back down and is a helpful indicator against over-tightening. Now that Makita has cracked that particular nut, I'm really hoping to see this show up on other saws.
Oh, and the blade guard does slide back far enough to stay up on its own.
Sparking an Idea
When we saw the first engineering sample of the Makita LW1400, one of the points Makita reps wanted us to see was the enlarged chip deflector. It's fairly large and extends up to capture more of the metal shower. It looks good in theory, and we paid close attention to it as we cut.
Performance
False Start
I prepared myself for the slower cutting action of an abrasive cut-off saw with the increased fireworks display that normally accompanies it. As I spun the saw up for the first time, something unexpected happened – I tripped the breaker.
After resetting it, I spun the Makita LW1400 up again without incident. I stuck a clamp meter on it and found the inrush current peaked at 38 amps.
The Wheels on the Saw…
As I started to make the first cut, I noticed a little bit of wobble in the stock abrasive. I took it easy just to be on the safe side, but made several cuts without incident. The saw itself seemed to have more than enough power, but the wheel was taking its time.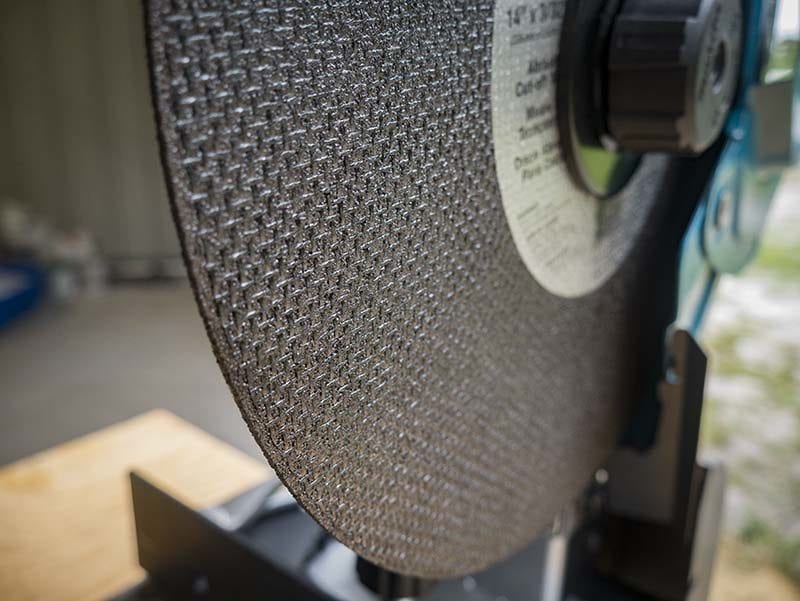 Makita sent us an upgrade to try along with the saw. The A-93859 abrasive wheels are a little thicker, but offered a huge performance boost. With angle iron on the menu, The disk cut much faster than any other abrasive wheel I've used without threatening to bog the saw down.
Both wheels created a good, straight cut, but with a little burring on the inside edge of the material.
About that Chip Deflector…
With plenty of sparks flying, Makita's chip deflector certainly seemed to capture more of the metal chips than other high-speed abrasive saws we've used. It's still not perfect – but it's certainly a step forward.
A Slight Hiccup
When cutting angle iron, we typically set it peak up. This way we avoid cutting through a large, flat surface at the base and usually cut quite a bit faster. When I clamped the iron in this fashion, it worked just fine at 90 degrees. However, when I went for a 45-degree miter cut, the iron slipped underneath the fence and pushed it up slightly – and pushed itself to a new angle I wasn't aiming for. The only solution we found was to cut flat side down at 45 degrees.
Ergonomics
The Makita LW1400 comes with a vertical handle in the general form of a D-handle. At workbench height, this made it kind of tough on my wrist when the motor head was all the way up. A shorter working height would likely have made this a little better, but I'd rather have the horizontal handle.
On the positive side, both the safety and trigger were very easy to operate.
The Bottom Line
The Makita 14-Inch Cut-Off Saw is a blend of outstanding power and features with a couple of areas for improvement. Performance is excellent when paired with Makita's A-93859 abrasive disk over the stock wheel. The feature set is pretty impressive, highlighted by the improved chip deflector and tool-free arbor flange.
Where Makita could stand to tighten things up a bit is in the handle ergonomics and eliminate the ability for angled material to lift slightly on the fence. Overall, the Makita LW1400 is one of the best high-speed abrasive chop saws on the market – a couple of improvements will solidify it at the top.
Makita LW1400 14-Inch Cut-Off Saw Specifications
Model: Makita LW1400
Motor: 15 amps
Wheel Size: 14 inches
No Load Speed: 3800 RPM
Weight: 37.9 pounds
Max Cutting Capacity: 5″ round, 4″ x 7-5/8″ rectangular
Miter Capacity: 45 degrees right
Warranty: 1 year
Price: $219.99