Everyone's looking for ways to get ahead. Make it the most powerful, the most compact, the most ergonomic, or with the best features. You know how it is. Anytime you can claim "best in class" or "the best ______ we've ever built", it gets attention. It also breeds skepticism. So is the Makita XDT09M all that they're building it up to be? Does it deliver significant improvements over the Makita LXDT08 impact driver?
In a word, yes. But what if you gave me 4 words? Lightweight. Compact. Ergonomic. Powerful. I might be able to stop writing a review of the Makita XDT09M Impact Driver kit right now with those four. When the folks at Makita told me they had packaged together the most torque in their most compact 18V impact driver, I smiled and nodded. When I actually got my hands on it to test and experience it…that's when my eyes lit up. We also got to experience this driver at the Makita 100 year anniversary event in California where we did some additional comparative testing.
It's impressive enough that Makita packed an 18V system inside this compact housing. What I'm really excited about is that they also got 1550 inch-pounds of torque in the same package. Every manufacturer has its niche. Could we be seeing Makita start to focus on high performance in class-leading compact housing? For now, let's just answer the questions about build quality, features, and performance.
Build Quality and Features
Two things struck me when I picked up the Makita XDT09Z for the first time. For starters, it's incredibly lightweight. It's just 3.3 pounds according to the specifications, and you'll notice how light it is even with a 5.0 amp hour battery installed. If it didn't have the 18V LXT battery pack attached to it, it could be mistaken for a 12V model. The other obvious characteristic is how compact it is. At 4-11/16″, it appears to be able to make it into some spaces that previously required a right angle impact driver.
The Makita XDT09M kit is my first experience with Makita's QuickShift Mode. This is the feature that electronically downshifts when you near the end of your fastener driving to protect both the fastener head and bit. Unlike a drill/driver, the impact driver drops both speed and torque when it downshifts. To get into QuickShift mode, simply press the mode selection button through its 4 stages: Soft, Medium, Hard, and QuickShift.
When it comes to the build quality, there's not much to complain about. Rubber overmold in all the right places protects the driver and improves the ergonomic feel of the handle. Internally, Makita's proprietary hammer and anvil impact mechanism use "the best raw materials with the highest quality heat hardening process" in order to provide higher power. I'm going to take their word on that one since I have no desire to take this apart and test that claim.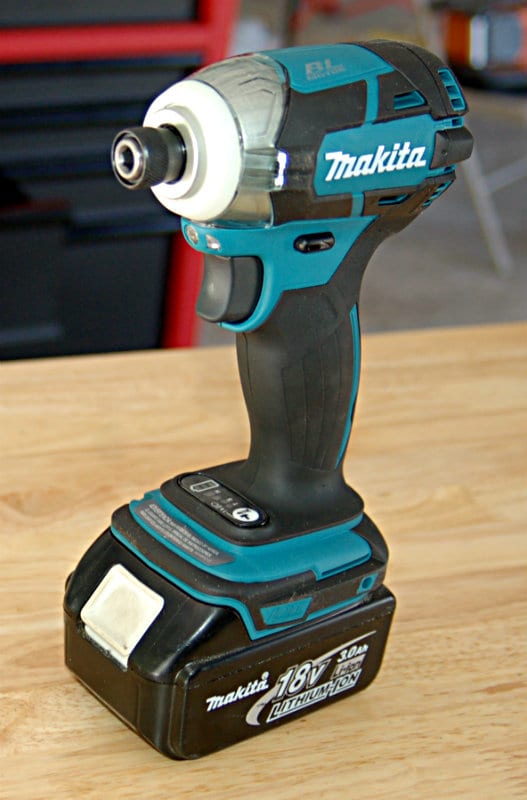 Ergonomically, the Makita XDT09Z is outstanding. The aforementioned rubber overmold makes the grip more comfortable. You really couldn't ask for anything lighter in the 18V class for overhead work. Well, you could I suppose, but you won't find one. The balance is going to be biased towards the battery. However, it doesn't feel unnatural at all.
Makita XDT09M Additional Features
BL Brushless Motor: higher performance, longer run time
Extreme Protection Technology (XPT): increased dust and water resistance
3 Stage Battery Gauge: on board the tool rather than the battery
Built in LED: illuminates dark work spaces
Star Protection Computer Controls: electronic protection against overload, over-discharge, and overheating
Performance
Lightweight and compact is great, but if it won't drive what you need it to, what's the point? I had a variety of fastening jobs to perform around the shop. Most of the work was simple screws into wood that barely make the impact driver sweat. Simple, yes. But this was a great way to test out the QuickShift Mode.
Drill/driver users will want to note that QuickShift isn't like a clutch. It doesn't stop the fastener from being driven. Even after downshifting to mode 2, there's still plenty of torque to overdrive a screw into wood or drywall. QuickShift electronically shifts from hard to medium modes to take some of the force off. I found this particularly helpful when assembling a miter saw stand for our best compact miter saw article. One of the first things that happened while using a socket adapter was the popping off of a bolt head. Nuts. (I crack myself up sometimes) The silver lining of this failure was how little force the Makita XDT09M transferred to my hand and how easily it broke the bolt.
Anyway… I switched over to QuickShift mode and completed the stand with no further damage. The compact nature of the impact driver really made getting around some awkward spaces relatively easy. Thanks to the light weight, it was also easy to switch over to my left hand without feeling the typical sense of multiplied weight that comes from using your non-dominant hand.
Makita XDT09M Specifications
Model: XDT09M Makita 18V LXT Lithium-Ion Brushless Cordless Quick-Shift Mode 3-Speed Impact Driver Kit
Power Source: 18V LXT Battery Pack
No Load Speeds: 0 – 1100, 0 – 2100, 0 – 3600 RPM
Impacts: 0 -1100, 0 – 2600, 0 – 3800 IPM
Maximum Torque: 1550 inch pounds
Length: 4-11/16″
Weight: 3.3 pounds
Price: $399.99
Warranty: 3 years
Kit Includes: Impact driver, (2) 4.0 amp hour batteries, Rapid Optimum Charger, plastic case
Parting Thoughts
Makita has a real winner with the Makita XDT09M Impact Driver with QuickShift mode. The combination of features, performance, and ergonomics is one of the best I've seen in the 18V/20V class. Jumping into any professional cordless line is always more costly thanks to the cost of batteries and a charger. The Makita XDT09M kit runs $399.99 and comes with a pair of 4.0 amp hour batteries. However, if you're already invested in the battery platform, the Makita XDT09Z is going to cost $189.99 to bring it into your arsenal.