Masterforce 400 CFM Leaf Bower Wraps Up Lawn Day Right
Battery-powered lawn care equipment is all the rage these days and there are more options than ever before. When it comes to blowers, it's tempting to chase the biggest numbers you can find. However, the Masterforce 20V brushless 400 CFM leaf blower might just be all you need once the mowing and trimming are done.
Masterforce 400 CFM Battery-Powered Leaf Blower Performance
There are two stats you should know for every blower: CFM and MPH. CFM measures how much air volume a blower produces in Cubic Feet per Minute. For Masterforce, that's 400 CFM. On the other hand, we have airspeed measured in Miles Per Hour. In this case, it's 100 MPH.
There are undoubtedly much higher-performing leaf blowers, some that can reach more than 700 CFM and over 180 MPH. But we need to consider how much work we can do and weigh it against other factors such as weight, price, and others. To help us out, we have a measurement called Newton force, which measures how much force a blower can produce.
The top number we hit on our meter was 8.5 Newtons. This makes it a fine choice for blowing off hard surfaces after mowing or moving those fall broad leaves into piles for collection. Where it's going to struggle compared to more expensive options is in dealing with wet clippings and leaves.
Runtime
When it comes to runtime, we were able to continuously blow to 14 minutes with a fully charged 4.0Ah battery at high speed. When you look at the actual amount of trigger time you spend, that's easily enough to cover post-mowing cleanup on lawns up to 1/3 of an acre.
Noise Level
Of course, one of the big reasons to switch to a battery-powered blower is the lower noise that comes with it. We measure the noise from our operator's ear rather than the 50 feet the ANSI standard calls for. Masterforce produced just 72 decibels at low speed and 78 decibels at its highest speed. The best battery-powered blowers we've tested average over 80 decibels at wide open throttle, so this one is quieter than the majority.
Masterforce 400 CFM Battery-Powered Leaf Blower Design
Power Source
For this blower, Masterforce opts for its 20V battery, and it's a call that has a couple of trade-offs. On one hand, there's not as much energy available as the 80V line has. On the other, it's compatible with Masterforce's lineup of 20V power tools, meaning you can keep your tools and lawn care equipment on one system. It also keeps the overall weight of the tool down.
Weight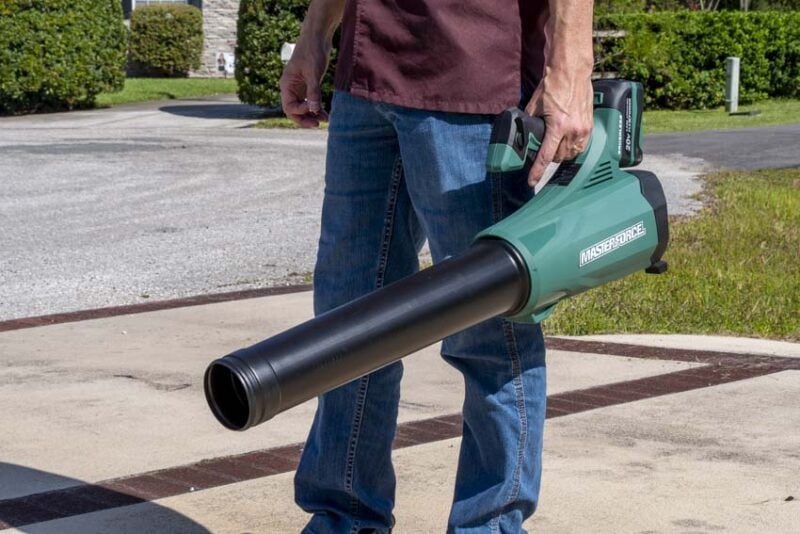 Since we're on the subject of weight, the blower weighs 4.7 pounds and a 4.0Ah battery only brings it up to 6.2 pounds. Considering how much weight those high-voltage batteries add, the Masterforce 20V leaf blower design is a lightweight.
Masterforce 400 CFM Battery-Powered Leaf Blower Price
You can get your hands on this Masterforce blower for $139.99 and that includes a 4.0Ah battery and charger. Of course, Menards frequently runs sales and rebate offers, so keep your eyes open to snag it for even less.
Masterforce warranties the blower for 3 years.
The Bottom Line
The Masterforce 20V brushless 400 CFM leaf blower does a fine job considering it runs on just a single 20V battery. It's a good fit for smaller lawns that mainly require hard surface cleanup after mowing and light fall leaf collection. If that sounds like your lawn and you're looking for a lightweight alternative to gas or corded leaf blowers, this is for you.
Specifications
Model: Masterforce 4707.3
Power Source: Masterforce 20V battery (FlexPower or Boost)
Max Airspeed: 100 MPH
Max Air Volume: 400 CFM
Weight: 4.7 pounds bare, 6.2 pounds with 4.0Ah battery
Length: 32 inches
Discover more Masterforce OPE at Menards by clicking here!