Metabo Cordless 18V Drill (Metabo 602357620) Shows Off Advanced Design
We recently had a lot of fun pitting more than 50 drills against each other in our Best Cordless Drill Shootout. We had competitors in the 18V, 12V, hammer drill, and best DIY drill categories. The Metabo Cordless 18V Drill (BS 18 LTX-3 BL Q I) and Hammer Drill (SB 18 LTX-3 BL Q I or 602357620) showcase the brand's commitment to excellent build quality and reliability, but do these tools have the speed and torque to match the more popular brands?
As a brand, Metabo is still has a small following in the US, primarily in trades that do a lot of metalworking. But when you look at just how advanced these two drills are from tool to battery, it's clear our German friends are doing something special.
Metabo 602357620 Standout Features
The Metabo 602357620 Cordless 18V Hammer Drill are pretty much the same tools with just a hammer mechanism separating them. They shine in the features department. Really, what Metabo has made here is an exceptionally versatile tool that covers a lot of bases that other drills don't. Everything we refer to on the drill goes the same for the hammer drill. Only the concrete testing results are specific to the hammer drill.
Metabo Quick Change System
Let's start with the 1/2″ chuck. It's all-metal and keyless and the cool thing is that you can pull it from the drill body, exposing a spindle with a hex recess. This allows working with driver bits, but without having to mess with the chuck.
What's more, this removable chuck/hex spindle system (Metabo's Quick Change System–the "Q" in their model number) includes some other swappable accessories, like a right angle 1/4″ hex, 1/4″ offset (eccentric) drill, 1/4″ hex bit holder, and torque multiplier.
The PowerX3 torque multiplier is something very uncommon, and it's a remarkable addition. It features a hybrid 1/2″ square and 1/4″ hex drive like the Bosch Freak impact driver. It gears your torque 3x higher (and speed 3x slower).
Going with the hybrid chuck is an interesting call. It gives you the ability to drill and fasten with any 1/4″ hex bits and 1/2″ sockets. You aren't able to attach a mixing paddle, 3/8″ hex bits, or others that might benefit from it. Maybe we'll see a 1/2″ keyless chuck option in the future.
The handle is in multiple pieces for more than just space saving. When you use the PowerX3 on these Heavy-Duty Metabo Cordless 18V Drills in low speed, it produces a bone-crushing 3186 in-lbs (265.5 ft-lbs) of torque! You need to use the longest handle configuration there. You can use the smaller setup when you need less torque.
These attachments are sold separately, but the versatility is there if you want to drop a few extra bucks to pick those up. Most of the Quick attachments are also compatible with the 12V model, so you only need one set to cover all your Quick drills and hammer drills. The clamping-style accessories are the ones that aren't compatible.
Metabo 602357620 Electronic Controls
Like other Metabo cordless tools, there's a dial above the battery to change settings instead of blister buttons or a straight-up mechanical clutch collar. The 3-speed gear change is on the top of the tool like most.
This Metabo 602357620 Cordless 18V Drill has an impulse mode to help remove damaged screws and spot-drilling on smooth surfaces. It works by pulsing power to the drill for a consistent ebb and flow of RPMs. It's much softer than the violence of an impact mechanism since there's no impacting taking place. Set this mode by turning the dial below the lowest torque setting.
Metabo SB 18 LTX-3 BL Q I Advanced Battery System
We used Metabo's 18V LiHD 5.5Ah batteries in our testing. These were among the first advanced batteries on the market and they're fantastic. They use 21700 lithium-ion cells, electronics, and build to pull up to 3200 watts of power.
They're also compatible with many other European brands, just not Metabo HPT.
Metabo
Mafell
Rothenberger
Collomix
Eibenstock
Eisenblatter
Haaga
Starmix
Steinel
Rokamat
Along with all of that, you also get the side handle, belt clip, and LED light that you expect for a heavy-duty tool.
Performance
Check out our Best Cordless Drill Review article to see how we test for speed and torque
Metabo SB 18 LTX-3 BL Q I Torque Testing
This Metabo SB 18 LTX-3 BL Q I 18V Drill only managed 352.4 in-lbs in our soft torque test, but that's a little misleading for a few of our contenders. Electronic controls are a great thing, but in this test, Metabo shuts itself down earlier than some of the other models. Electronic controls don't just govern limits, they can also read the load as we apply it. In this case, it seems that since our compression rig doesn't even out the load like a fully engaged bit does, the electronics play it safe to protect the tool.
Considering these drills have no problem in an aggressive heavy-load test, we are confident the brushless motor gives you significantly more soft torque than this test shows. It also tells us that Metabo is dialing in their electronic controls at a very high level.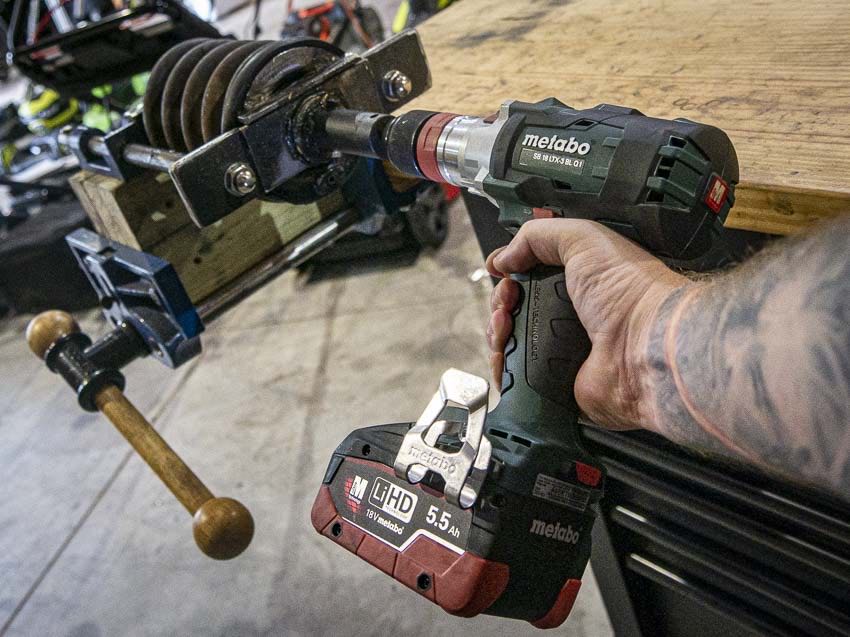 Metabo SB 18 LTX-3 BL Q I Speed Testing
If speed kills, the Metabo Cordless 18V hammer drill murdered every other drill in our high-speed testing. Let's start with the 1″ auger bit test we used for both the Heavy-Duty and Medium-Duty classes. The Metabo tools maintained 3039 RPM, hitting 79% of the no-load speed we measured.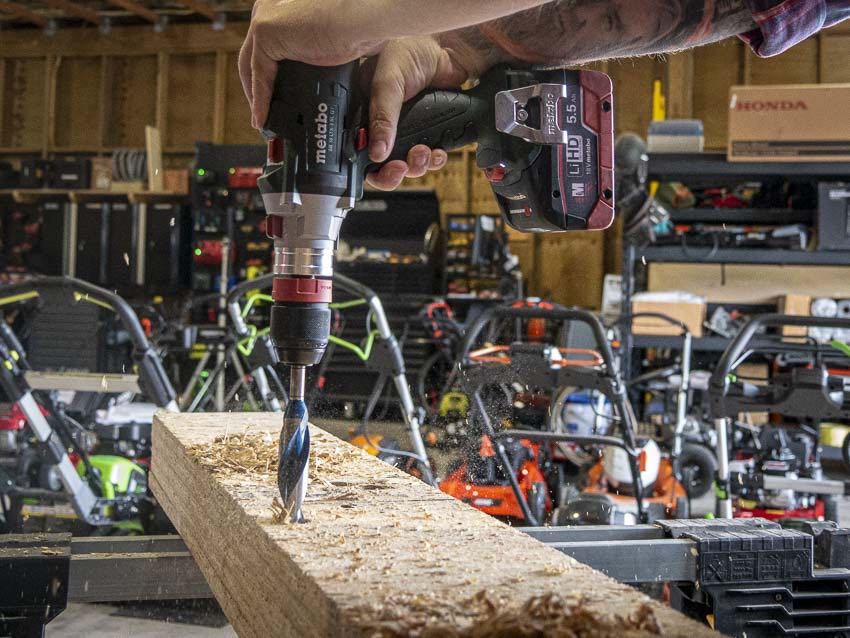 However, when we dropped into low speed with a 2-9/16″ Milwaukee SwitchBlade Self-Feed Bit that requires more torque, the speed dropped to 364 RPM. The efficiency increased to 85%, though. Contrast this with the winner in this test, the Metabo HPT DV36DA, which managed 509 RPM.
We tried running the test in gear 2, but the OSB proved too tough to power through. If you're using the same bit in untreated lumber, you should be able to make it.
Metabo put its sprinter shoes back on for our concrete drilling test. With a 1/4″ Bosch Daredevil Multipurpose Bit, the Metabo 18V Hammer Drill blazed through this test with an average time of 2.50 seconds to get 3″ deep. That's 2 full seconds faster than second place.
Weight and Footprint
We're not too concerned with weight in the Heavy-Duty class unless you're way out of line with the group. With the 5.5Ah LiHD battery, this Metabo Cordless 18V Drill weighs 5.69 pounds. The hammer mechanism pushes it up to 6.00 pounds for the hammer drill.
It's the heaviest in both classes, but a lot of that is the advanced battery pack. It's the second lightest by 0.02 pounds as a bare drill and in the middle of the pack for hammer drill bare weights.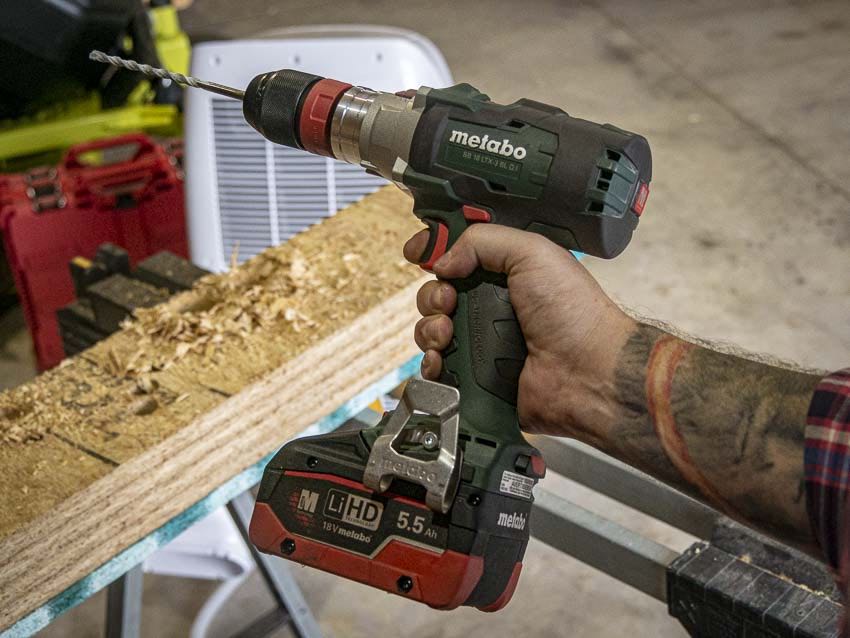 Metabo has the tightest design in the Heavy-Duty drill class at 7.8″ tall and 8.4″ long. The hammer drill adds another 0.9″ to the length and 0.4″ to the height, putting it on the opposite side for that class. But if you're using a hex bit, take the Quick chuck off and you'll save 1.9″, giving it the shortest head length in both classes by a wide margin.
Price
Metabo is a premium tool brand thanks to the quality of the build, so it's no surprise that this Metabo Cordless 18V Drill comes at a higher price. The drill kit with two 5.5Ah LiHD packs runs $399.00 and the same kit for the hammer drill is $512.59. Still, that's just $40 more than DeWalt's DCD997 kit and you get a much higher quality tool.
Final Thoughts
Even though the ratings don't reflect it well, there's a lot to love about this Metabo Cordless 18V Drill. It's well-built, incredibly versatile, and has more speed than any other drill in our tests even dream of.
As a brand, Metabo is still has a small following in the US, primarily in trades that do a lot of metalworking. But when you look at just how advanced these two drills are from tool to battery, it's clear our German friends are doing something special.
Metabo Drill and Hammer Drill Specs
Metabo BS 18 LTX-3 BL Q I Drill Driver
Max Soft Torque: 531 in-lbs
Pulse Torque: 576 in-lbs
Max Hard Torque: 1062 in-lbs
Adjustable Torque: 9–177 in-lbs
Drill Ø Steel: 1/2″
Drill Ø Soft Wood: 2-1/2″
No-Load Speed: 0-500 / 0-2050 / 0-3800 RPM
Chuck Capacity: 1/2″
Weight (with Battery): 5.69 lbs
Warranty: 3-Year
MSRP: $399.00
Metabo SB 18 LTX-3 BL Q I Hammer Drill
Max Soft Torque: 531 in-lbs
Pulse Torque: 576 in-lbs
Max Hard Torque: 1062 in-lbs
Adjustable Torque: 9-177 in-lbs
Max Capacity in Masonry: 5/8″
Capacity in Steel: 1/2″
Capacity in Soft Wood: 2-1/2″
No-Load Speed: 0-500 / 0-2050 / 0-3800 RPM
Max Impact Rate: 32,300 BPM
Chuck Capacity: 1/2″
Weight (with Battery): 6.00 lbs
Warranty: 3-Year
MSRP: $399.00