Even though battery technology has cut the cord on many of my tools, there are a few pneumatic nailers that I still rely on quite often for roofing and framing. Large compressors like the (formerly Hitachi) Metabo HPT EC2610EA 8-Gallon Gas Powered Wheelbarrow Air Compressor are the workhorse for many operations like mine using tools that require high air delivery.
Compressors come in many shapes and sizes – gas, electric, and even 18V (yes, there's one coming!) – and most Pro crews go for smaller portability whenever possible. Sometimes they even cross the line by using a compressor that's completely underpowered for the job. They're not the perfect solution since a small compressor is pretty easy to outrun, but they're lightweight and easy to transport.
Check out our Best Air Compressors article for our top picks across a variety of applications and uses.
Metabo HPT Wheelbarrow Air Compressor Features
The Metabo HPT 8-Gallon Gas Powered Wheelbarrow Air Compressor is a different breed: it's a belt-driven gas compressor with a ball valve and twin wheelbarrow tanks. It's a common thought process for many crews – go with the less expensive and easier-to-handle small compressor or tackle the heft and expense of larger gas models?
This model features a Honda GX 160 4-stroke engine and is spec'd to output 9.5 CFM at 90 PSI with a pressure range of 116-145 PSI. It's certainly bigger and heavier than the compressors most of us like to use, but that's a function of capacity and power.
To offset the heft, its wheelbarrow design with a flat-free rubber tire leverages two handles for pushing and pulling the unit around. If you're lifting this in and out the back of your truck, you'll need a hand – it's 158 pounds. But we'll be storing and transporting this in our trailer, so one-man transport won't be an issue.
I particularly like Metabo HPT's attention to detail with things like the dual drain cocks, oil sight glass, the gauge's safety valve, pneumatic throttle control, and the belt cage that prevent hoses and appendages from getting caught in the motion.
The rubber bumper feet keep the unit securely on the ground when the unit's not being wheeled around. The entire unit appears strong and well-built. Now to see if it can sink some nails. We had several roofs to shoot off so it was the perfect opportunity to put the Metabo HPT to the test.
Starting the Metabo HPT EC2610EA Compressor
The Honda engine's cord is easy to pull and the Metabo HPT EC2610EA compressor fired up immediately for us. You might think the gas engine would drastically increase the noise level, but this model is remarkably quiet. You can thank Honda's 4-stroke technology for the noise reduction, though there is a bit of a weight penalty that comes along with it.
Metabo HPT 8-Gallon Wheelbarrow Compressor Performance
We hooked up our Metabo HPT nailers and got to work nailing girders with framing nailers using big 3-1/4-inch nails and plywood with some shorter nails.
Finding power on new construction sites can be a challenge so it's easy to see why having a gas-powered compressor is convenient. And of course, there's no cord to constrain the distance you can move the unit. We wheeled the compressor out of the trailer and onto the site and put it in the most convenient areas.
We found that we couldn't outrun the Metabo HPT EC2610EA compressor even with framing and roofing nailers. No matter how fast we popped nails, it always kept up. The end result is that we were able to work more quickly than usual. In fact, a couple of my guys had to swap a gun back and forth because the compressor wouldn't give them time to rest! We definitely got the productivity boost we were hoping for.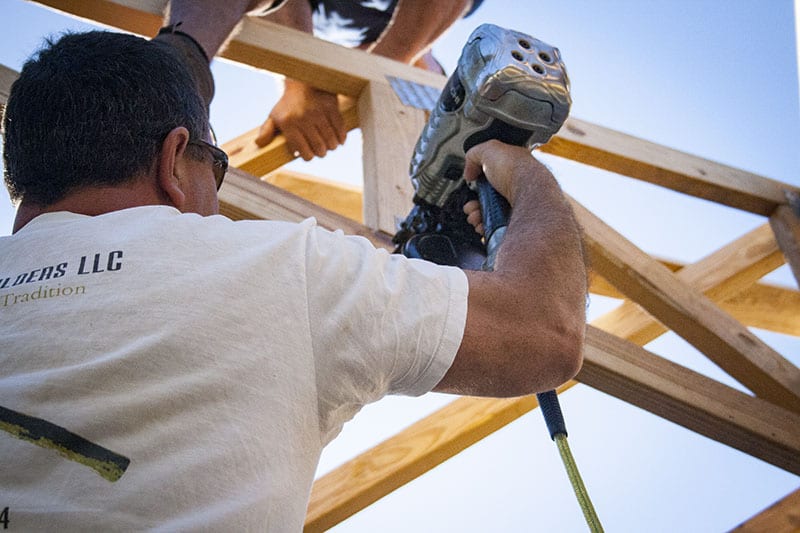 Operating Multiple Air Nailers
Even though the Metabo HPT 8-Gallon Gas Wheelbarrow Air Compressor has two joints, I'd be willing to bet you could put a splitter in each joint and easily run four nailers with the performance we experienced.
A Potentially Precarious Pressure Gauge Position
I'm a little worried about the location of the main pressure gauge. It sticks out like a sore thumb on the port side tank and it's likely to be damaged on the jobsite or in the trailer sooner or later. Even though it's steel-encased, it really needs a cage around it similar to the one around the belt or it just needs to be relocated. Perhaps it could protrude between the tanks and receive a little bit more protection.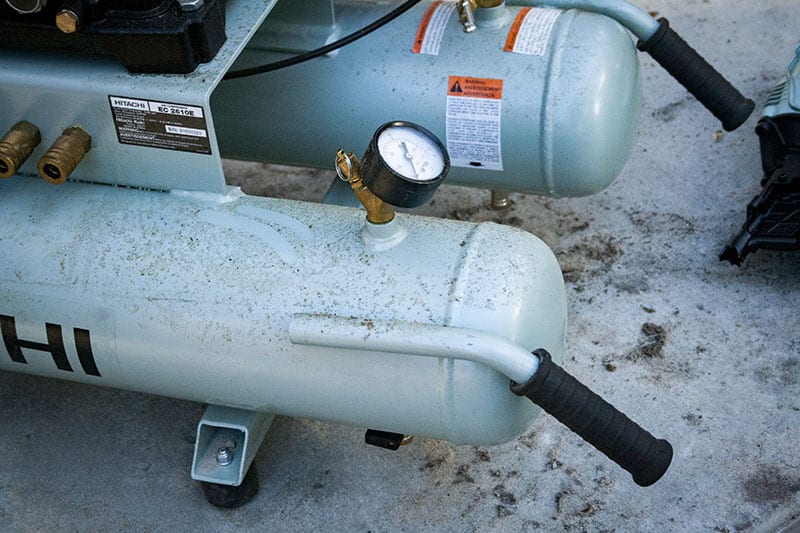 Pro Tip: Be sure to drain both tanks using the drain cocks after each use. Even though it has an air-cooled after cooler to reduce moisture inside air tanks, it does build up a lot of condensation in the tanks because the air volume is so high.
My other suggestion is for a bigger wheel. On pavement or hard-packed surfaces, it's easy to roll around, but rolling it around in the Florida sugar sand is a bit more difficult. However, I do like how the wheel comes off the ground when you set it down so it's stable. Although I'd also like to see longer handles, I understand that you don't want them sticking out in the trailer of creating a trip hazard onsite.
Metabo HPT Tank XL EC2610EA VS EC2610E
Tank XL
EC2610EA
EC2610E
Engine
Honda GX160
Honda GX160
Max HP
5.5 HP at 3600 RPM
5.5 HP at 3600 RPM
Tank Capacity
9 gallons
8 gallons
Max PSI
145 PSI
145 PSI
CFM at 90 PSI
9.5 CFM
9.5 CFM
CFM at 100 PSI
9.3 CFM
9.0 CFM
Weight
159 pounds
158 pounds
The Bottom Line
When you're looking at this class of compressors, you've got to have power and reliability. Metabo HPT delivers with a 5.5 horsepower Honda engine offering 9.5 CFM at 90 PSI. While there are only two ports, I'm confident we could add a couple of splitters and run four guns with this unit. Despite the fact that we couldn't outwork it, there are a couple of options running higher CFMs in this class.
With proper maintenance, I expect the combination of Metabo HPT's tank design and Honda engine to continue putting out reliable performance for years. The only durability concern I have is with the pressure gauge standing out on its own on the port side tank.
Transportation of a unit this heavy is definitely a consideration, so it's a no-brainer that Metabo HPT went with a wheelbarrow design. While it works, I would like a wheel that's a little more all-terrain. It's great on hard surfaces but can be a bit tough in the sand.
Pricing
At just under $1000, it will take a few jobs for you to pay off the Metabo HPT 8-Gallon Gas Powered Wheelbarrow Air Compressor, but it's actually in line with other compressors in this class, particularly with a Honda engine. There's no doubt this is a Pro-level model taking aim at the higher end of the market to compete with brands like Makita and Ingersoll-Rand and I would absolutely recommend it to other Pros.
Metabo HPT 8-Gallon Gas Powered Wheelbarrow Air Compressor Manufacturer's Key Features
Honda GX 160 4-stroke engine
Assembled in the USA
9.5 CFM delivered at 90 PSI
Cast iron, low RPM, oil-lubricated pump
Air-cooled after cooler
Stainless steel braided discharge hose
Baseplate integrated control panel
Industrial air pressure gauges
Pneumatic throttle control
Locking regulator
Ball valve tank
Rubber feet
Solid flat-free rubber tire
Metabo HPT 8-Gallon Gas Powered Wheelbarrow Air Compressor Specifications
Model number: Metabo HPT EC2610E
Max HP: 5.5 net HP @ 3,600 RPM
Fuel capacity: 0.82 gallons
Throttle control: Pneumatic
Tank capacity: 8-gallon
Tank type: Twin wheelbarrow
Max working pressure: 145 PSI
Pressure range: 116-145 PSI
CFM @ 90 PSI: 9.5
CFM @ 100 PSI: 9.0
Lubrication: Oil
Oil level indicator: sight glass
Length: 41.5-inches
Height: 25.6-inches
Length: 18.1-inches
Weight: 158 pounds
Oil: 15W40 (50 to 120 F) or 5w40 (-20 to 120 F)
Price: $999
Warranty: 1 year