I'm a fortunate guy because there's no shortage of challenging masonry work. Even if stone is laid the same way it was a hundred years ago, stonework isn't static. There have been innovations in material, consumer tastes, and, especially, tools. Today's tool innovations are frequently small, incremental steps that use power more efficiently, respond to the tradesman more quickly, or prolong the life of the tool. Getting my hands on the Metabo HPT DH52MEYM SDS-Max Brushless Rotary Hammer let me try it on some serious concrete applications.
Editor's Note: The Hitachi DH52MEY is exactly the same as the Metabo HPT DH52MEYM except for the branding. Read our Hitachi is now Metabo HPT article for more information.
Background Info
They haven't made stone any lighter in the last 30 years of my career, so any improvements are welcomed by the guys that have to work with it every day.
I often use smaller profile 1-inch or 7/8-inch rotary hammers to break up brick, tile or stone at the beginning of a job. For big jobs, however, you have to bring out the big guns. The 2-1/16 inch Metabo HPT DH52MEYM SDS-Max brushless rotary hammer is one of those big guns.
For this review, I used the Metabo HPT DH52MEYM to clean up a brick ledge on a new home. I also used it for some heavy chipping and drilling prep work in an old liquor store that's being remodeled into an indoor shooting range. Seeing it could both perform well and also allow me to work without suffering undue fatigue was the chief goal of this review.
Metabo HPT DH52MEYM First Impressions
The Metabo HPT DH52MEYM is one of the burliest, largest rotary hammers I've used. You can tell it means business. The stand-out feature is the brushless motor which no other rotary hammer in this class has right now. Brushless motors confer several benefits: you get lighter, more compact motors and longer life. Maintenance time is reduced since no carbon brushes wear down, and no commutators burn out. Hitachi offers the brushless motor on both the DH52ME and DH52MEYM rotary hammer models.
The first of two symbols printed on the side of the hammer says AHB. This refers to the brushless motor's Aluminum Housing Body construction. T's made with an internal double insulation aluminum die-cast body and plastic internal stator holder. The second symbol on the DH52MEYM is UVP is Hitachi's User Vibration Protection. As you might imagine, a large rotary hammer can create a remarkable amount of vibration as it works. The UVP feature is designed to counteract fatiguing vibration with a pendulum dynamic absorber that moves a weight and a leaf spring in the opposite direction to the hammer movement. It's similar to how Japan counteracts earthquakes in their high rise buildings.
The Metabo HPT DH52MEYM SDS-Max brushless rotary hammer control panel display has two indicators: a green light when the rotary hammer is plugged in that's easily identifiable by the plug icon and a four-speed impact rate indicator that changes when the rotation speed selector switch is pressed. Yes, it's true: sometimes you don't want to be at full power.
Metabo HPT claims best-in-class drill speed and highest demolition performance for the DH52MEYM. The brushless motor and inverter circuitry allows consistent performance even with a drop in voltage or when used with generators. You also don't need any tools to insert or remove the SDS-max bits. Simply push them in and get to work. Other notable features of the stout 2-1/16 inch Metabo HPT DH52MEYM SDS-Max brushless rotary hammer include a large mode selector switch on top of the tool…
…a large trigger…
…and a continuous operation button. This is an auto lock-on function that is designed to reduce fatigue as the user doesn't have to squeeze the trigger while operating the tool.
As I mentioned in the Bosch RH1255VC rotary hammer review, this kind of tool needs the heft to get the heavy concrete jobs done. It just can't be so heavy that it's exhausting. I was a little worried because the Metabo HPT DH52MEYM certainly has the requisite heft, but it also felt heavy. The specs indicated it was 25.3 pounds with the side handle. Sometimes the ergonomics of a tool make it feel heavy at first but bring it into balance in use. Otherwise, the rotary hammer had all the indications of being a great tool. I wanted to see how it performed on a job.
The Metabo HPT Brushless Rotary Hammer on the Jobsite
When I quote a job—especially remodel construction—I consider how much prep work I'll have to do in the form of drilling holes, cutting rebar, and removing old masonry.  Keep in mind that in contrast to new construction where there is room to move, a remodel has existing walls, ceilings, and holes you may need to work around. Fortunately, the 2-1/16 inch Metabo HPT SDS-Max brushless rotary hammer makes it easy to prep, clean up, and ultimately lay block. I mentioned I typically use smaller rotary hammers, but the benefit of maneuverability comes at the cost of power. The big Hitachi is so powerful and weighty that it really speeds up the work. Initially, I thought the Metabo HPT (Hitachi) was noticeably heavier than the Bosch RH1255VC, but in practice, they really felt similar. I suppose it was the balance of the Hitachi that gave that first impression.
In the "old" days, rotary hammers used to beat you up with vibration, but Metabo HPT's UVP system works remarkably well.  Coupled with its comfortable grip, the UVP allows you to work with the hammer for long periods of time without feeling like you just went through the tumble dry high heat cycle in your dryer. But, it bears repeating that the tool isn't light—and this is a rare case of a tool's weight aiding its performance. Be aware that you'll need to eat your Wheaties if you want to use it all day. If you've got a hundred holes to drill in a floor, though, the weight makes it easier.
Pro Tip: Always keep a secure, two-handed grip on a large rotary hammer like the Metabo HPT DH52MEYM. If you fail to do so, and the bit hits rebar, the wrenching of the tool can cause injury. I've even bent bits—and look how thick these SDS-max bits are. Some of today's rotary hammers have features that are designed to prevent wrenching, but it's still wise to hold on tight.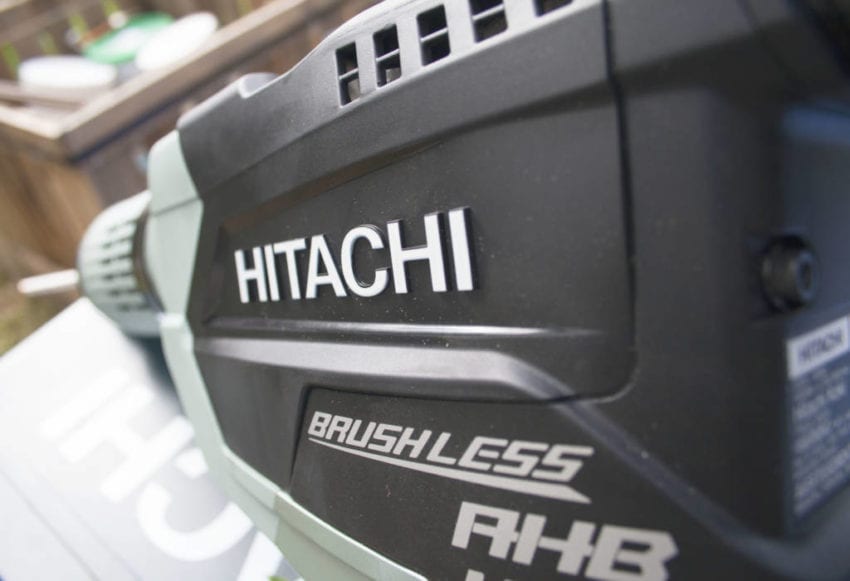 The continuous operation button is great. It prevents fatigue in your trigger hand since you don't have to squeeze the trigger to operate. You'll have to decide if you like a separate button instead of an integrated auto-lock on feature in the trigger. In any event, it's a good example of those incremental improvements I mentioned at the beginning. The four-stage power choice on the Hitachi was handy because sometimes you don't need to floor it. You might remember that the Bosch RH1244VC has two speeds—an operating speed and a Turbo Power that boosts speed and torque in hammer mode. In short, the Hitachi's push-button control panel is easy to access and operate without taking your hand off of the handle.
Finally, removing and replacing the bit is easy with the SDS-Max tooless bit shank. It's very familiar and a lot like the quick-release coupling of an impact driver.
The Bottom Line
I really like the Metabo HPT 2-1/16 inch SDS-Max brushless rotary hammer. It's easy to change from hammer to drill modes. All controls are readily available, and it's just a powerful beast. This is a heavy tool, but much of that is by design. The weight actually helps you get the job done. In some ways, I prefer it to the comparable Bosch model, but the two tools come up nearly evenly-matched. There are good features of the Hitachi that might tip the balance for you. I can certainly recommend it to other Pros. These tools aren't cheap at about $1084, but if you use it a lot, you'll get your money's worth because it saves you a lot of time.
Metabo HPT DH52MEYM SDS-Max Brushless Rotary Hammer Features
AC brushless motor
Compatible with engine generators
UVP Pendulum dynamic vibration absorber
Vibration-absorbing handle
AHB Aluminum housing body
Push button control panel
Toolless SDS-max bit shank
Large mode switch
Large trigger
Continuous operation auto lock on feature
Metabo HPT 2-1/16″ SDS-Max Brushless Rotary Hammer Specifications
Capacity (drill bit): 52mm (2-1/16″)
Capacity (core bit): 160mm (6-1/4″)
Power Input: 1,500W
Bit Shank: SDS max
No Load Speed (110V, 120V, 127V): 110 – 260/min
No Load Speed (220V, 230V, 240V): 110 – 280/min
Full Load Impact Rate (110V, 120V, 127V): 1,000 – 2,200/min
Full Load Impact Rate (220V, 230V, 240V): 1,000 – 2,400/min
Overall Length: 23-1/32 in. (585mm)
Weight (including side-handle): 25.3 lbs. (11.5kg)
Vibration (hammer drilling into concrete): ah, HD = 9.8m/s2, Uncertainty K = 1.5 m/s2
Vibration (equivalent chiseling value): ah, CHeq = 9.7m/s2, Uncertainty K = 1.5m/s2
Standard Accessories: Side Handle, Stopper, Rotary Hammer Grease A, Carrying Case