Milwaukee Flex Head Ratcheting Combination Wrench Saves Knuckles, Improves Access
Several years ago Milwaukee mechanics tools hit the market—including cordless ratchets, large impact wrenches, hand tools, and storage solutions. Now, Milwaukee Tool is once again branching out with new Flexible Head Ratcheting Combination Wrenches.
Using Milwaukee Flex Head Ratcheting Combination Wrenches
Flexible Head
We love—and really prefer—using flex head ratcheting wrenches. It's like you get the best of three worlds, and they do a lot to save your knuckles when doing anything from brake jobs to just getting into some awkward locations. Milwaukee's design flexes just over 90° from center (~182° total), allowing you a ton of access options.
Arc Swing
With 144 ratcheting positions, the Milwaukee Flexible Head Ratchets function in a narrow 2.5° arc. When you don't have a ton of space to swing your wrench, it makes more efficient use of what you do have compared to 90 or 72-tooth designs.
Open End
The open end of these wrenches features the Milwaukee MaxBite grooves. The combination of grooves in the sides and corners promises to give you 25% more torque than smooth face designs. While that's tough to quantify in our testing, it certainly feels like we're getting more out of them.
Comfort
These flex-head wrenches are comfortable to use. The handle design uses rounded edges that don't dig into your hands the way some do. There's also an indentation moving through the middle of each handle where your thumb can settle in and make the grip a bit more ergonomic.
Visibility
Milwaukee continues its use of oversized ink-filled labels so you can quickly tell the red SAE wrenches from the black-text metric wrenches as well as grab the right size. It offers some contrast to the chrome finish that makes the sizes easier to see.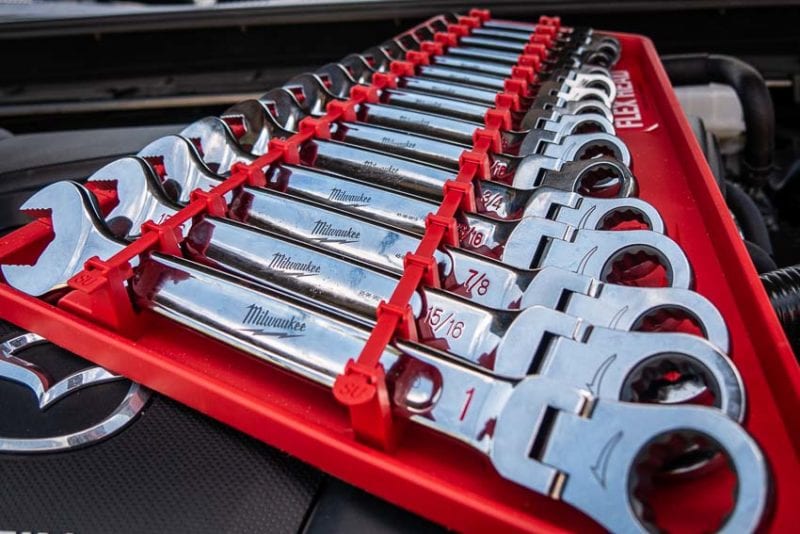 Additional Features
Double-stacked pawls
Chrome-plated construction
Adjustable set screw for flex head tensioning
Milwaukee Flex Head Ratcheting Combination Wrench Price
The Milwaukee Tool flex head ratcheting combination wrenches come kitted in 7 or 15 piece sets, in both Metric and SAE sizes. The 7-piece sets have a portable handle and can lock the wrenches in place so they don't fall out. The 15-piece sets come on a tray that's perfect for fitting in a shallow tool chest drawer.
You can pick up the 7-piece set in SAE or metric for $169.99. That's 3/8-inch to 3/4-inch or 8 to 17mm.
$289.99 gets you the 15-piece set in either format—that's 1/4-inch to 1 inch or 8 to 22mm.
If you're looking for an individual wrench, then you're in luck! Milwaukee also sells these separately. They range from $19.99 to $44.99
Milwaukee covers all of these wrenches under their Mechanics Hand Tool Lifetime Guarantee.
The Bottom Line
It's just another flex head ratcheting wrench, right? Nope. Milwaukee's flex head ratcheting combination wrench design offers a better swing arc in tight spaces, an improved bite on fasteners, and a more comfortable grip. You can pay more from the tool truck if you really want to, or you can grab these comprehensive sets and end up with wrenches that make your job easier.
Milwaukee Flex Head Ratcheting Combination Wrench Models and Options
7PC Flex Head Ratcheting Combination Wrenches – SAE 48-22-9429 – $169.99
15PC Flex Head Ratcheting Combination Wrenches – SAE 48-22-9413 – $289.99
7PC Flex Head Ratcheting Combination Wrenches – Metric 48-22-9529 – $169.99
15PC Flex Head Ratcheting Combination Wrenches – Metric 48-22-9513 – $289.99
1/4″ Flex Head Ratcheting Combination Wrench 45-96-9808 – $19.99
9/32" Flex Head Ratcheting Combination Wrench 45-96-9809 – $19.99
5/16" Flex Head Ratcheting Combination Wrench 45-96-9810 – $20.99
11/32" Flex Head Ratcheting Combination Wrench 45-96-9811 – $21.49
3/8" Flex Head Ratcheting Combination Wrench 45-96-9812 – $21.49
7/16" Flex Head Ratcheting Combination Wrench 45-96-9813 – $21.99
1/2″ Flex Head Ratcheting Combination Wrench 45-96-9814 – $22.49
9/16" Flex Head Ratcheting Combination Wrench 45-96-9815 – $22.99
5/8" Flex Head Ratcheting Combination Wrench 45-96-9816 – $25.99
11/16" Flex Head Ratcheting Combination Wrench 45-96-9817 – $26.99
3/4″ Flex Head Ratcheting Combination Wrench 45-96-9818 – $29.99
13/16" Flex Head Ratcheting Combination Wrench 45-96-9819 – $34.99
7/8" Flex Head Ratcheting Combination Wrench 45-96-9820 – $37.99
15/16" Flex Head Ratcheting Combination Wrench 45-96-9821 – $42.99
1" Flex Head Ratcheting Combination Wrench 45-96-9822 – $44.99
8mm Flex Head Ratcheting Combination Wrench 45-96-9608 – $19.99
9mm Flex Head Ratcheting Combination Wrench 45-96-9609 – $19.99
10mm Flex Head Ratcheting Combination Wrench 45-96-9610 – $20.99
11mm Flex Head Ratcheting Combination Wrench 45-96-9611 – $21.49
12mm Flex Head Ratcheting Combination Wrench 45-96-9612 – $21.49
13mm Flex Head Ratcheting Combination Wrench 45-96-9613 – $22.99
14mm Flex Head Ratcheting Combination Wrench 45-96-9614 – $23.99
15mm Flex Head Ratcheting Combination Wrench 45-96-9615 – $24.99
16mm Flex Head Ratcheting Combination Wrench 45-96-9616 – $25.99
17mm Flex Head Ratcheting Combination Wrench 45-96-9617 – $27.99
18mm Flex Head Ratcheting Combination Wrench 45-96-9618 – $28.99
19mm Flex Head Ratcheting Combination Wrench 45-96-9619 – $30.49
20mm Flex Head Ratcheting Combination Wrench 45-96-9620 – $35.49
21mm Flex Head Ratcheting Combination Wrench 45-96-9621 – $35.99
22mm Flex Head Ratcheting Combination Wrench 45-96-9622 – $37.99