When Milwaukee agreed to send me their latest M12 Fuel Hackzall I was excited. With brushless motor technology, 12V tools are fast becoming the perfect size for jobs not requiring a ton of run-time or the absolute maximum amount of torque or power—you know, everyday sort of jobs. When the 2520-21XC kit showed up I scratched my head a bit. You see, the Milwaukee brushless Hackzall is about 80% the size of their M18 FUEL HackZall. I'm not sure what I expected, but I certainly didn't expect the M12 brushless Hackzall to look (more or less) just like the M18 model.
Of course, it's not the same—just close. The M12 Hackzall weighs 4.0 lbs (bearing an XC battery pack) while the M18 Hackzall comes in at 5.0 pounds (with a slim battery). A pound may not seem like a lot, but if you're holding the tool for any length of time, the weight difference is going to be a bigger deal. Exactly where that weight sits is important as well. On the M18 Hackzall (which I had on-hand for this review and have used extensively), the motor extends well off the back of the tool. It gives the tool more of a top-heavy feel when you pitch it forward to cut. That can actually help when you want more weight to the workpiece—but I'll cover more on that later.
The M12 Fuel Hackzall recip saw cuts the depth of the motor by roughly an inch. Milwaukee also adjusted the pitch of the handle (and, thus, the entire tool) to the battery by more than 15 degrees.
Editor's Note: Check out our best cordless reciprocating saw reviews article for more great recommendations!
Pros
Excellent cutting speed
Excellent vibration control
One of the top-ranking tools in our head to head testing
Cons
Price may be an obstacle for budget-minded users
Features and Ergonomic Improvements
The M12 Fuel Hackzall model can also now stand up on its battery unassisted. That's a big deal for anyone who's ever needed to set one of these tools down for a moment on an area with limited space (as I have had to countless times). It's actually more ergonomic for cutting straight overhead as the tool takes into account the natural angle of your wrist to the cutting blade as opposed to bringing everyone more inline as the M18 model currently does.
Another huge improvement Milwaukee made was with respect to the area surrounding the reciprocating blade mechanism. On the M18 Hackzall and even the brushed M12 Hackzall, there is a square opening from which the shoe and blade mechanism emerges. On the new M12 Hackzall (and hopefully the upcoming M18 Fuel Hackzall which is most certainly around the corner), Milwaukee closed the gap, allowing only the twin steel posts of the shoe to emerge through the plastic. The front of the tool now forms a tight seal around the round blade mechanism. Whereas the existing tools let in untold amounts of dirt and debris, the new tool doesn't collect debris within the tool itself but allows it to fall off the front. Great engineering and design improvement!
Less Vibration in the FUEL Design
Another huge improvement is that the Milwaukee M12 Brushless Hackzall exhibits a lot less vibration than the M18 model thanks to something it calls its dual gear counterbalance mechanism. The effect isn't subtle, either. The amount of vibration reduction is quite significant. For the user, that means more power gets transferred to the workpiece instead of being wasted on vibration. In practicality, I found the tool to be much more pleasant to use, though cutting speeds were nearly identical on wood when you allowed the blade and tool to do the work. On metal applications, such as cutting through conduit, the reduced vibration is actually a huge help in getting your cut started and finishing cleanly.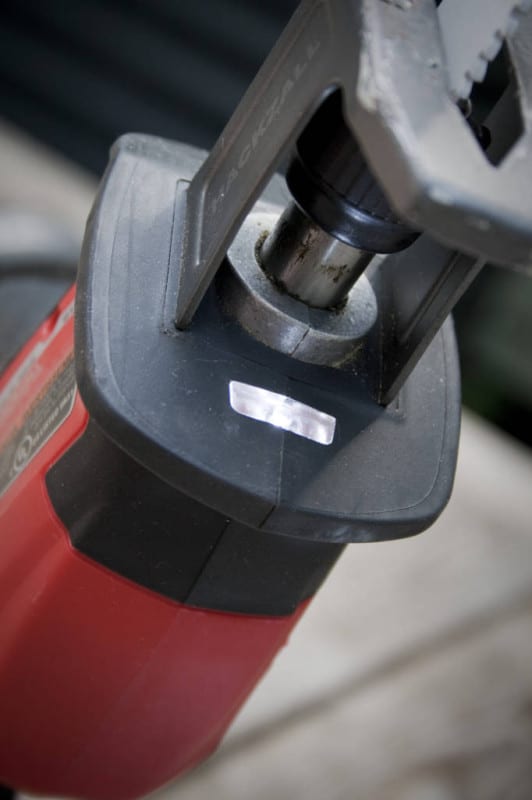 Like the other Hackzall tools, the blade loads quickly and easily into the Quik-Lok Blade Clamp when you twist it, and I never had a blade get bound up or refuse to let loose. This seems to be a very reliable and easily-operated blade system and one that Milwaukee should get a lot of life out of for all of its tools. (If it ain't broke, don't fix it!) The blade mechanism on the M12 Fuel Hackzall has a built-in braking system. When you let off the trigger, the blade stops almost instantly—much like a circular saw braking system. On my M18 Hackzall, the blade takes nearly two seconds to wind down when the blade isn't engaging any material.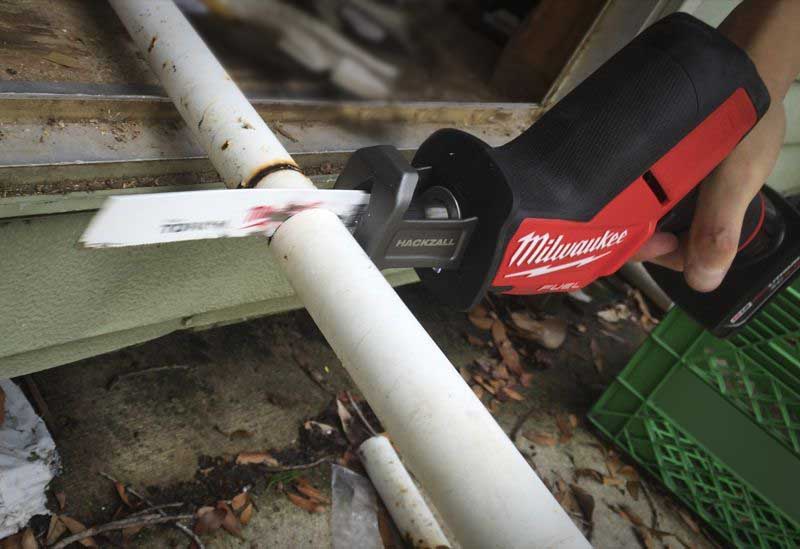 The Milwaukee Brushless Hackzall In the Field
I happened to get the Milwaukee 2520-21XC Hackzall kit at an opportune time. I used the brushless M12 Hackzall to slice through some PVC for a small plumbing project (By "small" I mean we were re-plumbing a 1500 sq. ft. residential home.) We used it for 1/2″ PVC and CPVC all the way up to 3″ schedule 40 PVC. I passed it around the job site and feedback was very positive, ranging in comments from "Man, this tool is easy to use!" to "I didn't know Milwaukee made a 12V one-handed saw." All agreed that the M12 had much less vibration and was more conducive to cutting on material that had some movement (like PVC being installed underneath a raised home). I was also impressed that everyone present continuously reached for the tool as soon as it was introduced, even though there were several options present.
We later used it on a septic system repair where we installed a Milwaukee Torch Sawzall blade and quickly cut through a 4-inch green pipe to re-run a drain field feed that had become clogged and disrupted by roots.
The Milwaukee 2520-21XC Kit Includes
M12 Fuel Hackzall Recip Saw (2520-20)
RedLithium XC 4.0 extended capacity battery pack (48-11-2440)
M12 Lithium-ion battery charger (48-59-2401)
Contractor bag
Multi-material blade
Cutting through copper also turned out to be a great use for this tool, and we were able to cut away several stubbed-out pipes to replace them with newer materials. For this work, we grabbed a 6″ Milwaukee Torch Double Duty blade—which, though it was a tad on the long side (for this tool), did a great job cutting both copper and galvanized pipe. This was again a great opportunity to appreciate the tool's reduced vibration during cutting. It's a feature that allows the tool to be more accurate during cuts and it also allows you to use the tool for longer periods of time without fatigue.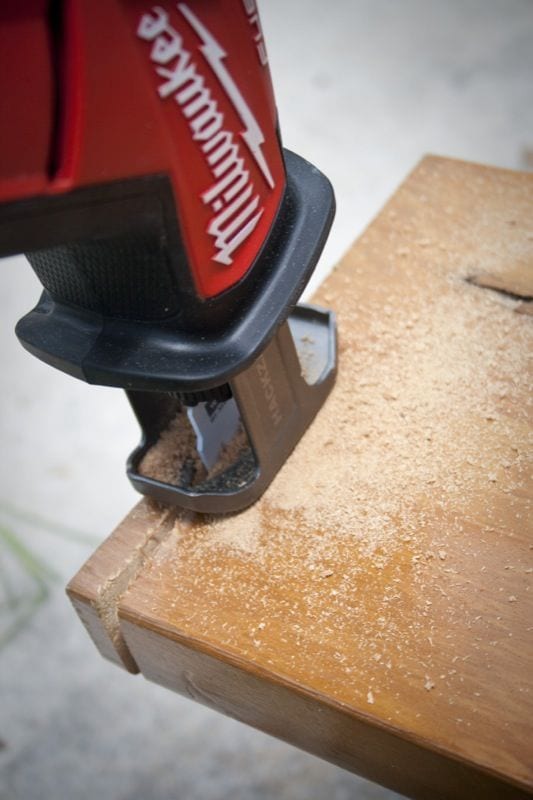 I did several tests in wood as well, using Milwaukee Ax blades in a 6″ configuration. I really like these blades a lot. While I don't recommend using the M12 Fuel Hackzall to take out an entire house (or even a porch), the tool does have some use as a demo device for limited applications. It's not that the tool can't hack larger jobs, but it's made for one-handed work. A sustained demo job will necessitate a two-handed grip as well as extended run-time. Also, longer blades and additional tool weight help the tool to do a lot more of the work whereas the M12 capitalizes on being lightweight.
Milwaukee Brushless Hackzall Features & Specifications
Stroke Length: 5/8″
SPM: 0-3,000
Battery: M12 RedLithium XC4.0
Charger: M12 Charger
LED Light
Quik-Lok Universal Keyless Blade Clamp
On-tool battery gauge
Length: 13.25″
Weight: 4.1 lbs
Tool Warranty: 5 years
Battery Warranty: 3 years
Price: $149 bare, $159 kit with 4.0Ah battery
Conclusion
The Milwaukee brushless Hackzall is not just a great tool or a successful incremental update. It's a gigantic leap ahead of both the M18 Hackzall and the current M12 model. I've also seen this tool packaged with several Milwaukee M12 drivers and tools for around $199 (with batteries) and $169 (without). If you've been holding out for a one-handed reciprocating saw, Milwaukee has removed all impediments to picking one up right now. The cordless M18 Fuel Hackzall is most certainly on its way (though that's technically just a guess) but I feel as if the M18 will mostly offer additional run-time at this point, and perhaps some additional torque to power through particularly difficult cuts. If you're moving through PVC and small metal conduit, the Milwaukee brushless Hackzall 2520-21XC kit is going to fill your needs to a tee and deserves a place in your expanding tool kit.