Reciprocating saws – or Sawzalls are they as known around the industry – are not usually a Pro's favorite tool to use each day. They're aggressive, rough tools that can fatigue you quickly if you're not used to them. Smaller models like the Milwaukee M18 Fuel Hackzall offer some relief to your hands and arms for a performance tradeoff. For lighter demo work, plumbers, electricians, and HVAC Pros, it can be a Godsend.
Pros
Excellent cutting speed
Best vibration control in its class
Best 18V one-hand reciprocating saw we've tested
Cons
Lacks an adjustable length shoe
If you're familiar with the M18 or M12 Fuel Hackzall models, the basic form factor is the same. By taking the inline design of a Sawzall and turning the motor up at an angle, you get a shorter tool. Bring down the power some and you can design a much lighter tool as well. In the end, you have a reciprocating saw that works well with two hands and is also effective with one hand when you're working in tighter spaces.
Of course, it's the "Fuel" designation that is the big talking point – Milwaukee's PowerState brushless motor powers the saw. Clint DeBoer has not been shy in reaching for his M12 Fuel Hackzall over the M18 Hackzall because the brushless motor gives the 12V model such excellent performance. With the Milwaukee M18 Fuel Hackzall now in our hands, will the M12 Fuel be the next tool he sends off as a hand-me-down?
As far as other features go, there's not a ton to talk about.
Twist Blade Lock: standard no-frills twist to lock or release the blade
LED Light: below the shoe, it lights up the area directly around the blade
Rubber Overmold: starts at the front of the tool wraps over the top to the main handle proving a comfortable grip and some additional drop protection
Pivoting Shoe: helps keep the saw engaged against the material all the way through the cut but doesn't adjust for length
Ergonomics
Aside from the weight reduction over full-size cordless reciprocating saws, one-hand reciprocating saws also benefit from better handle ergonomics. You get more of a standard drill/impact driver handle and trigger that, for me, is a much more natural and comfortable grip. And speaking of weight, the M18 Fuel falls in the middle – there are both heavier and lighter options in the 18V compact class.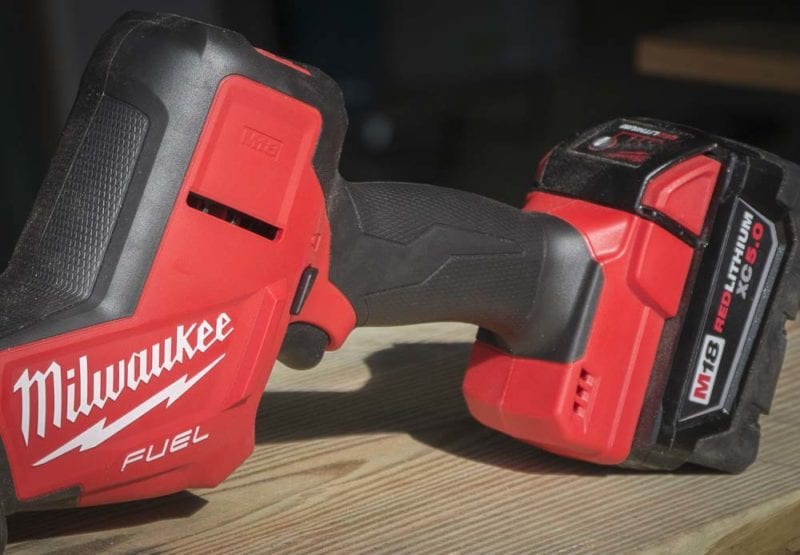 Your lock-off switch is within easy reach for your thumb and forefinger to make it a saw that you can fully operate with one hand. Blade changes are a different story – you'll still need two for that.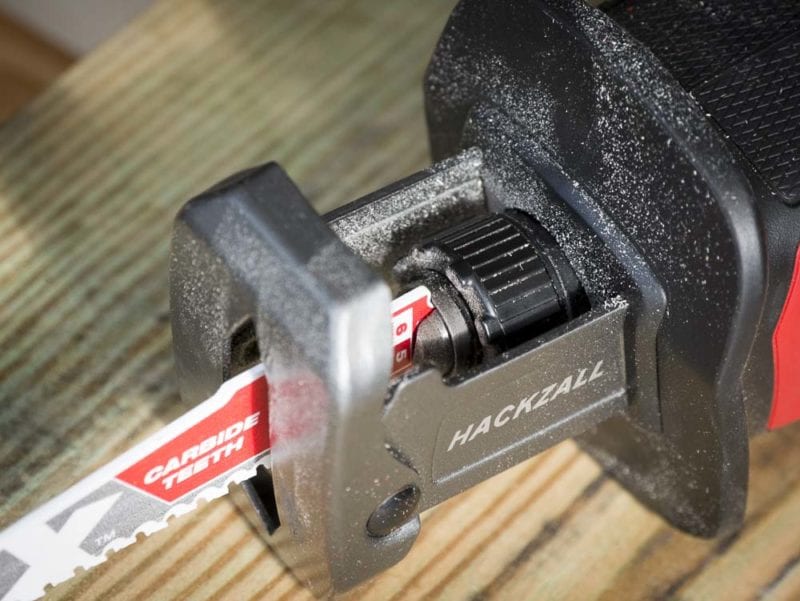 Milwaukee M18 Fuel Hackzall Performance
I wondered whether or not the brushless motor offers enough performance improvement to justify the upgrade. Keeping in mind that you're usually using a saw like this for lighter applications, I cut through some EMT, clean 2×4, and 2×6 to see how it compares to another new model I'm reviewing in the class.
The motor gives you a 7/8″ stroke length and 3000 SPM rate that bumps up the stroke length 1/8″ over the M18 Hackzall and 1/4″ over the M12 Fuel. Compared to the other 18V models currently out there, Metabo gives you 100 SPM higher, but drops the stroke length to 1/2″. Bosch keeps the 7/8″ stroke length and gives you an extra 50 SPM.
Theoretical Cutting Speeds
On paper, Milwaukee is very near the top with Bosch having a slight advantage. But every Pro knows that cutting speed and quality also boils down to other factors like vibration, a pivoting shoe, and orbital action (not available on any of these one-hand reciprocating saws).
Real-World Cutting
In clean wood, the cutting action is incredibly smooth for a reciprocating saw of any class. The same goes for PVC. Applying your own soft start to EMT, it's about as smooth a cut as you can hope for in metal. Once the teeth dig in, it's a matter of letting the saw and blade work together to simply melt through material. We're not talking hot-knife-through-butter speed, it's just a much more comfortable experience than I'm used to.
So, yes, Milwaukee has the vibration under control. They also get excellent cutting speed compared to the other models in this class. Without the Bosch to compare side-by-side, I can't claim that it's the fastest cutting, but it's clearly faster than most of the class.
The Bottom Line
Fast cutting, excellent vibration control, and comfortable ergonomics make the M18 Fuel Hackzall a serious contender as the leader of the compact reciprocating saw class. While the feature set is very basic, it's not a type of tool that you expect a lot of bells and whistles on. Even if you were hoping for something like an adjustable length on the shoe, the performance outweighs any disappointment by a wide margin.
There's a premium in moving up to brushless. The bare tool is $50 more than the M18 Hackzall and is a premium over Bosch's and Metabo's brushed motor designs as well. For top-end performance and the benefits that a brushless motor brings to the table, it's an upgrade you'll want to shell out a little extra for.
Milwaukee M18 Fuel Hackzall at a Glance
Model: Milwaukee 2719
Power Source: M18 RedLithium Battery
Stroke Rate: 7/8″
Stroke Speed: 0 – 3000 SPM
Length: 14″
Height: 7″
Width: 14″
Weight: 4 lb, 1 oz (bare), 5 lb, 0 oz (with 2.0Ah battery), 5 lb, 11 oz (with 5.0Ah battery)
Warranty: 5 years