Milwaukee recently introduced the newest addition to its M18 lineup with the Milwaukee M18 Fuel Metal-Cutting Circular Saw. Like its M18 siblings, the new metal-cutting saw features Milwaukee's PowerState brushless motor, RedLithium battery, and RedLink Plus electronics which communicate to prevent overload and overheating. The saw is designed to cut a wide range of small diameter EMT, strut, threaded rod, sheet metal, angle iron, and other ferrous materials.
Other notable features include a stock 30T carbide-tipped blade, an extra-large cut guide, an impact-resistant window, a LED light to illuminate the line of sight, and a stainless steel shoe designed to reduce chip build-up and prevent surface marring.
Our Take on the Milwaukee M18 Fuel Metal-Cutting Circular Saw
So the big deal with the new Milwaukee M18 FUEL Metal-Cutting Circular Saw is given away in the name – it's part of the M18 Fuel series now, which means it's been upgraded to a brushless motor. The new Milwaukee 2782-22 saw bumps the RPMs up from 3600 to 3900 and is able to take the same 5-3/8-inch blade as its predecessor or move up to a 5-7/8-inch blade. This matches Makita's brushless metal-cutting circular saw.
There are some ergonomic adjustments around the housing design, but aside from an extra 1/2-pound of weight and a 1/4-inch of length, it's going to feel pretty similar in your hands. While looks aren't everything, I do like the move away from the white/gray blade guard to all black.
The move to a brushless motor also moves the price forward. You'll pay an extra $50 for the bare tool, but get longer runtime, better lifespan, and no carbon brushes to change. The kit is an even bigger bang for your buck with a multi-generational leap from 2.4 AH to 5.0 AH batteries for the same $50 price jump. In any event, Milwaukee has a winning formula with the M18 Fuel line, and we have every reason to expect good things from this new metal-cutting saw.
Milwaukee M18 Fuel Metal-Cutting Circular Saw Features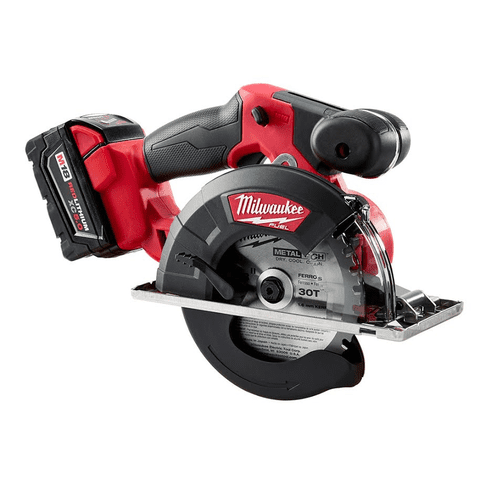 30T carbide-tipped blade
Extra-large cut guide
Impact-resistant window
LED light
Stainless steel shoe
PowerState brushless motor
RedLithium battery
RedLink Plus technology
Milwaukee M18 Fuel Metal-Cutting Circular Saw Specifications
Model number:  Milwaukee 2782-22 (kitted), Milwaukee 2782-20 (bare)
3,900 RPM
2-1/4" Cut Capacity (with 5-7/8" blade)
20mm Arbor Size
5-3/8" to 5-7/8" Blade Size
Weight: 6.5 lbs.
Kit includes: M18 Fuel metal-cutting circular saw, (2) M18 RedLithium XC 5.0 compact battery packs, M12/M18 multi-voltage charger, 30T blade, and contractor bag.