Last Updated on September 16, 2021
We've visited several manufacturing facilities over the years, and each gives us a new take on the tool industry. We recently got to check out Milwaukee SawZall blade manufacturing in Greenwood, MS. Of course, they also make Milwaukee Hole Dozer hole saws here and handle a myriad of other tasks. We hadn't visited a reciprocating saw blade factory before, so this presented a unique opportunity. Scott Griswold, president of Power Tool Accessories at Milwaukee, opened up the Milwaukee manufacturing event with some general information about the Milwaukee Greenwood plant. This really set the stage for the event, by explaining the overall concept of the plant and what we'd see over the next few hours.
Milwaukee Greenwood SawZall Blade Manufacturing Facility
The Milwaukee Greenwood facility in Mississippi expanded by over 220,000 square feet in 2015, adding to the original 120,000 square feet of space located across the street. That original Greenwood factory opened in 2001 with 87 employees. Milwaukee now employs 670 people who typically work five days a week across three shifts. Even though there is a lot of automation, the employees take a very active role from what we witnessed. Machines are great, and they can take on a lot of repetitive and dangerous workloads. They still require supervision and interaction. Plus, a lot of application-specific blades don't benefit as much from automation. These smaller runs get produced with more manual processes. Automation can't occur without plenty of engineers and operators to ensure both productivity and quality control.
Milwaukee made over 15 million in capital expenditures as part of this recent expansion and has invested around $47 million overall in its U.S. operations in just the last 5 years. Milwaukee takes an "outside-in" approach, where they consider the needs of the Pro user and then work back to the manufacturing process. The idea is that you end up with products that really meet users' needs rather than coming up with something nifty and hoping people find it useful.
Milwaukee Greenwood Plant Tour
As part of our Milwaukee Greenwood plant tour, we got to see to see technology that's only been on the shop floor for 6-8 months. The entire facility maximizes production workflow with a truly functional configuration. When one process finishes, the next process is nearby. You hardly see any forklifts driving around except at the loading docks. It's extremely efficient, and it helps keep the manufacturing processes cleaner as well.
Milwaukee SawZall Ax Blade History
Product manager Brad Urban took us through a brief history of the Milwaukee Ax blade. Both the SawZall and SawZall blade originated back in 1951. The Milwaukee Ax blade came to market in 1999 specifically for demo applications. Variable TPI on the blade came about in 2002. This greatly increased material removal and efficiency. The Fang tip and nail guard technology arrived in 2012, and the company announced the Milwaukee Ax with Carbide teeth most recently in 2015.
The Milwaukee Ax with Carbide Teeth development process followed a lengthy interview process with Pros. Milwaukee Tool listened to what Pros needed in a demo reciprocating saw blade. They made over 1500 different prototypes in the course of developing this new line of blades. For blind testing, they removed all the markings and got feedback from their prototype designs—used alongside the competition. Feedback soon came in that Pros weren't switching out the blades. They were using the Ax with carbide teeth (a "wood" blade) to cut through things like rebar. That's what led to our funny Milwaukee Ax with Carbide teeth video review where we cut through everything but wood. In the end, we found that we had similar results.
Milwaukee SawZall Blade Manufacturing in Greenwood
Everyone, including Milwaukee Tool, started making reciprocating saw blades out of band saw blade strips. When you do this you don't get consistency on the teeth. This particularly affects how well the plunge works, but it also affects how well the blade clears material. Milwaukee switched to a grinding process that is far more consistent.
Milwaukee has invested considerably in small-batch heat-treating on their Ax blades. The process is complex, but it all starts with coil stock comprised of a welded strip of spring steel.
Twenty-four rollers are used to feed and straighten the steel, preparing it for the stamp press. This press stamps out the blade shape, which leaves a remarkably small amount of waste material.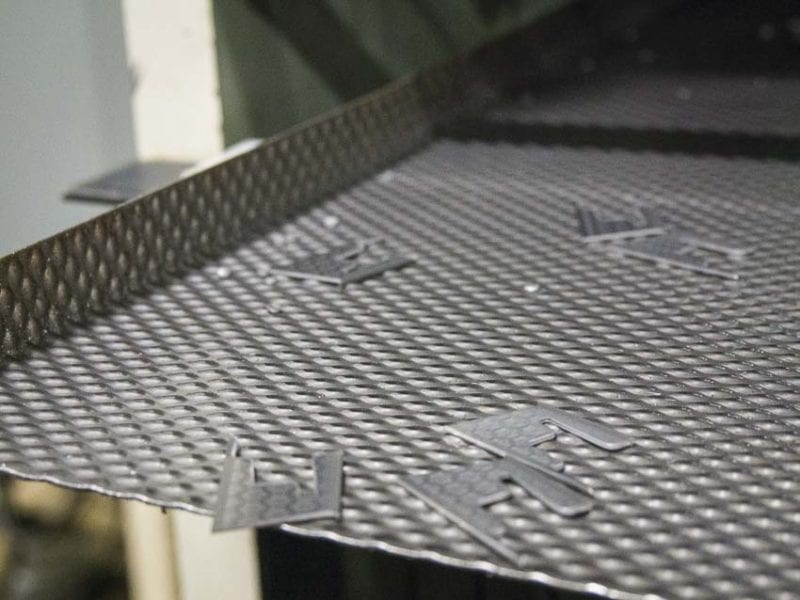 Grinding and Setting the Teeth
The next phase grinds out the teeth using a batch process that takes a couple of minutes to complete. Since Milwaukee grinds its blades, special tools are used to frequently sharpen the diamond grinding wheel. Of all the parts of the blade manufacturing process in Greenwood, this might have been the most visible.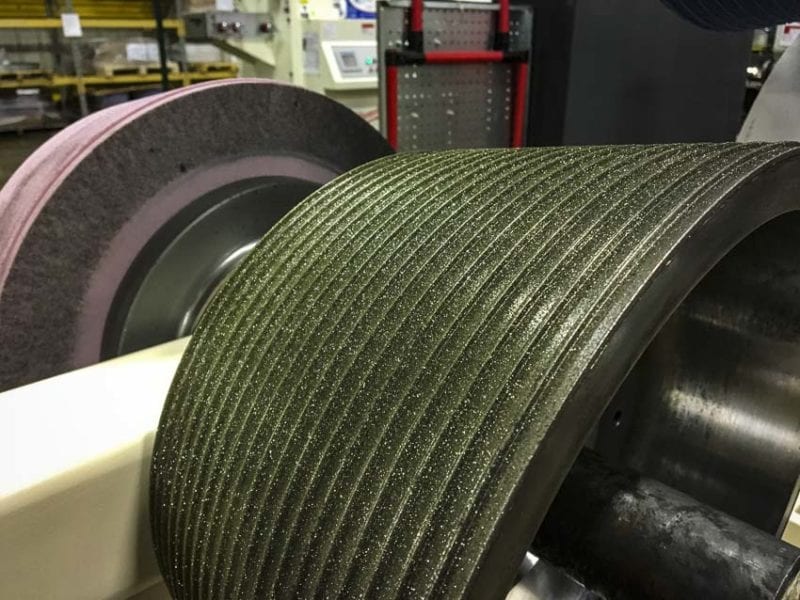 After the ground blades come through the washer, an automated robot picks up the stack of blades and puts them in a precision setter. This machine sets the teeth (the left and right offsets) so that the cutting area exceeds the blade width. This optimizes material removal. If the teeth on a reciprocating saw blade did not have an offset, the material would gum up, making the blade less efficient. The setters for their metal reciprocating saw blades have a much more dense mechanism as these blades have more teeth and much less of an offset. These machines can keep within a control limit of 1/20,000 of an inch!
We got to walk through this entire process which included:
Material supply
Stamping blank blades
Stacking
Grinding
Washing
Setting
Heat treating
Powder coating
Logo printing, and
Packaging
Before we continue the tour, we took a side trip to check out the special processes of the Milwaukee Ax with Carbide Teeth.
Milwaukee Ax with Carbide Teeth Tipping Process
The carbide tipping process is a challenging, destructive process that requires a lot of technology for it to be effective. Though carbide teeth aren't unique to Milwaukee Tool, here Milwaukee SawZall blade manufacturing departs from a lot of other manufacturing processes. Instead of a bimetal strip of steel, Milwaukee grinds the partial tooth form and then fusion welds on the tip. The carbide segments used are tiny—about 1/20th the size of a pencil eraser. These carbide tips use real welds and do not feature braised connections. Check out a close up of the welding process:
Tungsten carbide is used by Milwaukee which is twice as stiff and double the density of the steel. They play with the binder content (Cobalt) and the grain size by testing and testing again. The goal is to handle a hard shock against a sudden encounter with an obstruction vs just a smooth fast cutting application. That's the difference between, for example, the carbon teeth in a reciprocating saw blade vs. a circular saw blade.
After welding on the tip, these blades go through the same grinding, washing, and setting process as standard Ax reciprocating saw blades.
Powder Coating, Printing, and Packing
After setting, the blades manually get hung onto automated tracks and sent through a machine for the powder coating process.
The next step in Milwaukee SawZall blade manufacturing in Greenwood takes the raw metal and powder coats it. Here the blades move on a conveyer belt through the coating process. Once flipped, the other side receives the same powder coating. Needless to say, this was the hottest room in the manufacturing plant!
Next was UV printing which is like an industrial CMYK printer. They have units that do their high volume Ax blades as well as more specialty units for their flush cut blades and other products. The blades get picked and placed on a conveyor belt and sent to the printer. There, logos get printed and the blades cure with a UV process. As a result, the ink dries almost instantly.
Packaging came as the next step, and Milwaukee had this nicely automated with checks and balances to ensure the machine placed the proper number of blades in each pack.
Wrapping It Up
If I had to sum up blade manufacturing in Greenwood, I'd say the company excels at developing a positive culture. That culture seems unafraid to take risks. A family mentality arises as a result (as an example, they provide free on-site health care for employees). The plant uses advanced and aggressive forward-thinking processes which saves production costs. Where automation makes sense, they use automation. Where manned cell-based manufacturing works better, they use that. Above all, Milwaukee set up its well-managed systems to work with an extreme level of efficiency.
The hard-working Mississippi Delta crew seems more like family. It appears that Milwaukee has picked a great place to expand U.S. manufacturing. The experience gives me some hope that manufacturing can indeed expand and thrive in this country once again. It just takes the right people and a will to get it done.