Changing Professional Lawn Care Crews to Battery Power Takes More Than Just Different Equipment
As new regulations and customer interest continue to help battery-powered lawn mowers and other lawn care equipment gain traction, we decided to take a look at what it takes for a professional lawn care crew to kick the (gas) can. "Professional lawn care" can mean several things. For the purposes of this case study, we're sticking with residential lawn care and a little consideration for facilities and campuses that use traditional equipment.
Battery vs Gas Lawn Care Equipment
When we first started reviewing battery-powered OPE, there was a clear difference between the power you could expect compared to gas engines. That gap has largely been erased.
Entry-level products are still low on power for sure. However, trimmers and edgers often have 25cc gas equivalent power and Makita even has models that hit 30cc gas power.
Chainsaws are another success story. It's now common to find 30cc+ and 40cc+ power equivalents.
There are legitimate commercial-level battery-powered lawn mowers available and several high-profile lithium-ion zero-turn mowers as well.
Even blowers are jumping the gap. We've tested models that can hit a little more than 20 Newtons of blowing force—the same as entry-level commercial backpack blowers.
Of course, high-end gas equipment still greatly exceeds what battery power currently offers. And it's a heck of a lot faster to refill a gas tank than it is to wait for batteries to recharge. We'll go down that road in a moment.
Trailer Load Out
Take a look at your typical residential lawn care crew's trailer. You can replace every piece of equipment with a battery-powered option.
Equipment Loadout Options
Zero Turn Mower
Walk-Behind Mower
String Trimmer
Edger
Brush Cutter
Hedge Trimmer
Chainsaw
Pole Saw
Backpack Blower
Heck, you can even get a fully electric truck to tow the trailer with now.
How Many Batteries Get You Through a Day
The big question is how many batteries do you need to get through the day? See, the issue of using battery power isn't one of recharging throughout the day, it's leaving with enough packs so you don't have to recharge until you get back to the shop.
It's primarily a question of trigger time. How many minutes or hours of actual use does each tool get? To get started on that, we need to make a few assumptions. Just know that your actual needs will vary based on the customers you serve and the sizes of their properties. Here's what we're going with:
1/4-acre lot sizes
2-man crew
20 lawns per day
Cut, trim, edge, and blow
Lithium-ion ZT mower
Makita 18V X2 products
String trimmer: 30 active minutes per charge
Edger: 20 active minutes per charge
Blower: 20 active minutes per charge
| | | | |
| --- | --- | --- | --- |
| | Active Time | x 20 Lawns | Batteries |
| ZT Mower | 20 min | 6 hrs, 40 min | Internal |
| String Trimmer | 10 min | 3hrs, 20 min | 14 batteries |
| Edger | 5 min | 1 hr, 40 min | 10 batteries |
| Blower | 5 min | 1 hr, 40 min | 10 batteries |
Looking at this scenario, you'd need 34 batteries. For the sake of the argument, let's assume an even 40 to make sure you have spares if your day runs long or you run into unexpected additional work on one or more of your properties.
Behavior Change Requirements
Relearning Equipment Use
In our area of Central Florida, lawn crews tend to be a little…aggressive. We see them take string trimmer guards off and run 24 inches of line, and they like to run everything at full power.
If you can train your crew to use only the power the tool needs, it can drastically change things. For example, the string trimmer in our scenario above is Makita's XRU18. We like it because it can run up to a 0.105-inch line and has 30cc gas power. Running at full speed with a 0.080-inch line, it only gets about 16 minutes of runtime. But managing the power as we come across varying grass species and densities, we're able to get 30 minutes on a charge consistently, and often more.
The same goes for blowers. Our Makita XBU02 runs for about 12 minutes at wide-open throttle (WOT). But if you're just blowing grass off of hard surfaces, adjusting the power level makes it pretty easy to get 20 minutes out of it.
By making those adjustments, you do spend a little more time on site. We're talking no more than 5 minutes total on the size properties we're dealing with and still getting it done in a 30-minute window.
The Upside
There's an upside to this as well—no stops at the gas station. How much time do you spend each morning filling up cans and waiting for your helper to finish hitting the restroom, grabbing breakfast, and chatting with the attendant?
Makita tells us that some crews they've worked with can lose up to an hour every single morning! That more than makes up for the extra time you're spending managing battery power and may even leave enough time to take on another lawn per day. You spend less money paying your guys when they're not working and may even increase your profit margin.
Cost of Switching to Battery Power
There's no doubt the initial cost of switching to battery-powered lawn care equipment can be intimidating. Let's break it down and see what we're dealing with. The gas and battery options we're choosing are all professional-level.
| | | | |
| --- | --- | --- | --- |
| | Mid-Level Gas | Premium Gas | Battery |
| Zero Turn | $7,999 | $14,999 | $13,799 |
| Walk-Behind | $799 | $1,299 | $999* |
| String Trimmer | $289 | $419 | $469* |
| Edger | $299 | $419 | $199 |
| Brush Cutter | $349 | $469 | $579* |
| Hedge Trimmer | $399 | $579 | $389* |
| Chainsaw | $299 | $749 | $409* |
| Pole Saw | $479 | $629 | $699* |
| Blower | $249 | $599 | $329* |
| Batteries (20) | NA | NA | $2,000 |
| Total | $11,161 | $20,161 | $19,871 |
* Purchased as a kit with batteries and charger. Gas price ranges based on products from Makita, Echo, Husqvarna, and Stihl.
Out of the gate, getting started with a full battery-powered loadout is a similar price to starting with premium gas products. Notice that by buying kits with batteries and chargers, you reduce the number of additional batteries you need to buy.
Got Gas?
What you don't see (yet) is how the cost of gas comes into play. Conservatively, that's about 20 gallons per day in our scenario. Here's how it breaks down over time compared to batteries that are on a 3-year replacement cycle:
| | | | | |
| --- | --- | --- | --- | --- |
| | 1 Day | 1 Month | 1 Year | 5 Years |
| Gas Consumption | 20 gal | 417 gal | 5,000 gal | 25,000 gal |
| New Batteries | 0 | 0 | 0 | 40 |
Based on 3-year battery replacement cycle and 250 mowing days per year
| | | | | |
| --- | --- | --- | --- | --- |
| | 1 Day | 1 Month | 1 Year | 5 Years |
| Gas Cost | $40 | $834 | $10,000 | $50,000 |
| Battery Cost | $0 | $0 | $0 | $4,000 |
Based on gas at $2.00/gallon and $100/battery
| | | | | |
| --- | --- | --- | --- | --- |
| Equipment + Fuel | 1 Day | 1 Month | 1 Year | 5 Years |
| Mid-Level Gas | $11,201 | $11,995 | $21,161 | $61,161 |
| Premium Gas | $20,201 | $20,995 | $30,161 | $70,161 |
| Battery | $19,871 | $19,871 | $19,871 | $23,871 |
Initial cost of equipment plus fuel/batteries
Our final cost estimates don't include replacement batteries for your zero-turn because we frankly don't know how much to expect. Even if you assume a $6,000 replacement cost, you're still well under the 5-year fuel cost estimates.
This also doesn't take into consideration maintenance and repair costs, which may be significant over a 5-year ownership cycle, or the potential increase in the cost of fuel and batteries.
Benefits of Battery-Powered Lawn Care Equipment
There are some obvious advantages that come with battery-powered lawn care equipment: low noise, no emissions, and far less maintenance. Your crew is more productive and our case study also shows that the cost of ownership is also less over time.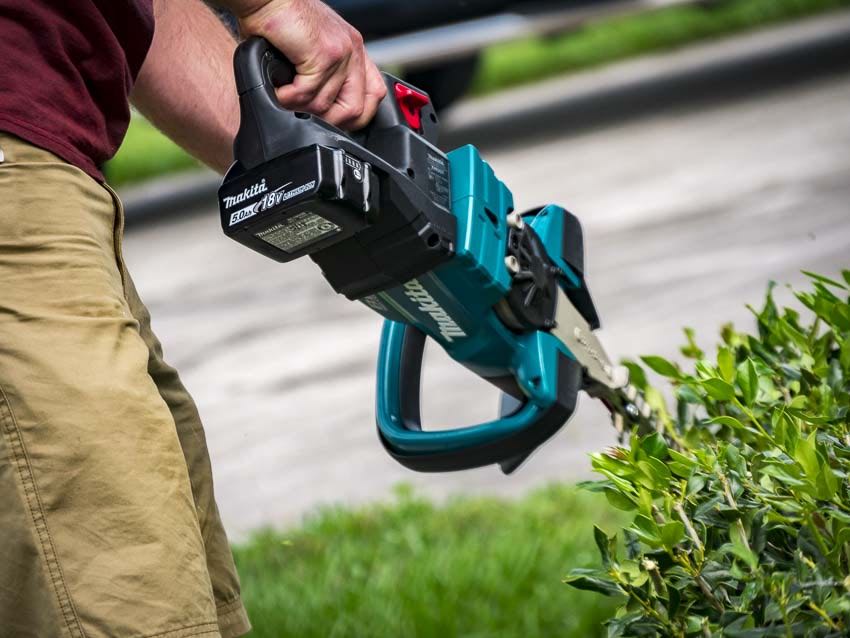 There's another major advantage as well—higher-paying clients. Depending on what part of the country you live in, local ordinances or HOA guidelines can prevent you from using gas lawn equipment. For some clients, they may just prefer that you take care of their lawns with less noise and emissions.
Regardless, that's a premium service they won't get from a traditional gas-powered lawn care business. Meeting those extra demands can and should come with a higher price tag. Not only does your cost of ownership drop, but your profitability goes up. Whether your goal is to expand your business or ensure you have the time and money for that 2-week vacation to Portugal, battery power has the potential to help you get there.
What are your thoughts on switching away from gas power to professional lawn care service using battery-powered equipment? Let us know in the comments below!