Battery-powered pneumatic nailers seem to have only one significant downside: weight. When I'm doing small amounts of work, a cordless pneumatic fills the role perfectly. For larger jobs, however, the additional weight adds up over time. The Ridgid Brushless 18V 1-gallon Air Compressor marks the industry's first cordless air compressor. Even better, the Ridgid R0230 uses a brushless motor for better run-time and less maintenance. Home Depot is the only place carrying the compressor at a price of $199 for the bare tool.
Check out our Best Air Compressors article for our top picks across a variety of applications and uses.
Ridgid Brushless 18V 1-Gallon Air Compressor Features
The Ridgid brushless 18V 1-gallon air compressor runs on either one or two Ridgid 18V Lithium-ion batteries. With a pair of 5 Ah batteries, Ridgid claims it will drive up to 1,200 brad nails. We were looking forward to testing it out and had the perfect project in mind. The motor speed drops a bit when using a single battery, but the big loss will be run-time and cycle speed. As you'd imagine, so long as the tank is topped off, there's no loss in output pressure.
Speaking of pressure, the Ridgid automatically fills the tank to around 115 PSI (in our testing it peaked briefly at the Ridgid-claimed 120 PSI before settling in). The regulator knob locks down when you press it so you don't accidentally bump your output PSI settings. You have a relief valve for dumping the high pressure from the tank before draining it with the 1/4 turn ball valve at the bottom. While some guys don't drain their tanks at the end of the day, it's all but mandatory in Florida. With our humidity, your tanks will rust in no time. In truth, they'll still rust, but draining after each use slows the corrosion process.
Below that, and next to the relief valve, sits the 1/4-inch Quick-Connect coupler. It worked quickly to connect our hoses and we would never expect to see a second coupler on a 1-gallon tank. A rubber hose wrap lets you secure a coil of hose to the compressor for easy transport.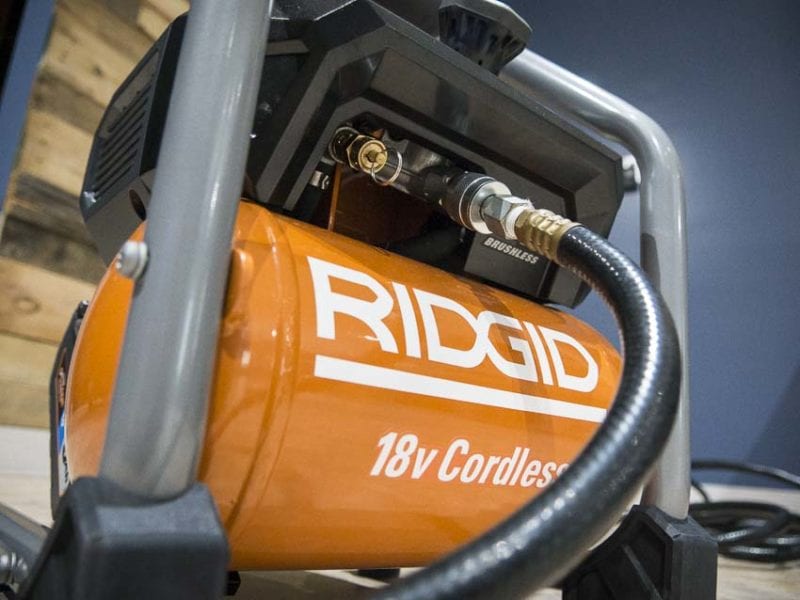 Dual-ing Batteries
The fact that the Ridgid brushless 18V 1-gallon air compressor will run on either one or two batteries impressed me. Even a compact 2.0 Ah battery will help you get the job wrapped up should the main batteries go dead. Slapping in whatever's available could just help you get those last few shots in rather than having to come back later, fire up your electric, or wait for a recharge cycle to complete.
Of course, this also begs the question of whether or not Ridgid will finally release a true (simultaneous) dual battery charger. I think it would make for the best battery charger to pair with this tool.
It's curious that the Ridgid brushless 18V 1-gallon air compressor is completely cordless. They didn't opt to make it a hybrid like the Ridgid 18V Hybrid Fan or the Ridgid Hybrid Folding Panel Light. Doing so would have allowed it to use either the 18V batteries or 120V AC power. I'd consider this a minor but notable drawback to an otherwise excellent tool. Likely, they were trying hard to hit that $199 price point. Perhaps a future model or second-generation unit will be able to add this feature.
Using the Ridgid R0230 Cordless Air Compressor
We decided to test out the Ridgid R0230 cordless air compressor on a pallet wall in our office. That's right, we put a "trendy" pallet wall in the Pro Tool Reviews office. It actually made sense as the room has high ceilings, and the aforementioned wall pokes into the room, breaking up the normal angle on the ceiling. Perhaps in five years the new thing will be tearing up old truck tires and using roofing nails to secure them to walls—who knows.
In either case, the Ridgid 18V air compressor made quick work of building the pallet wall. It tended to cycle back up after every 4 shots or so, but it got the job done. I set my output pressure around 90 PSI, and our pneumatic nailer performed as expected. No nails stood proud across the entire wall.
Clearly, Ridgid designed the R0230 cordless air compressor for single-person use. While they claim around 1200 shots on two Ridgid 5.0 amp hour batteries, we got around 400 using larger 15-gauge finish nails. That was the entire wall, by the way, and we still had a bar left on both our batteries. Ridgid also has 6.0 and 9.0 amp hour batteries in the works. When they release, Pros should expect a considerably longer run-time from this tool.
Ridgid 18V 1-gallon Air Compressor Specs
Model: Ridgid R0230
Power: Single or dual 18V batteries
Motor: 18V brushless
Tank: 1-gallon
Regulator: Push-locking knob
Connection: Universal push-to-connect Quick Coupler (compatible with 1/4-inch automotive and industrial plugs)
1/4-turn ball valve tank drain
Maximum Pressure (PSI): 120 PSI
Air Delivery SCFM @ 90PSI: 0.9 SCFM
Decibel Rating: 77 dBA
Hose wrap
Lubrication Type: Oil-Free
Warranty: 3-year limited
Price: $189 (tool-only)
Conclusion
The obvious strength of this tool centers around it allowing you to use the lightweight finish nailers you already own while cutting the cord. Sure, you still have the hose to contend with, but you can still work remotely without power and get a lot of work completed. Anywhere between 500 and 1200 shots (depending on the nailer and material) should get most trim carpenters through a sizable amount of work. If you fire more than that in a day, a larger compressor makes more sense. We have both on hand, and I think flexibility is the key.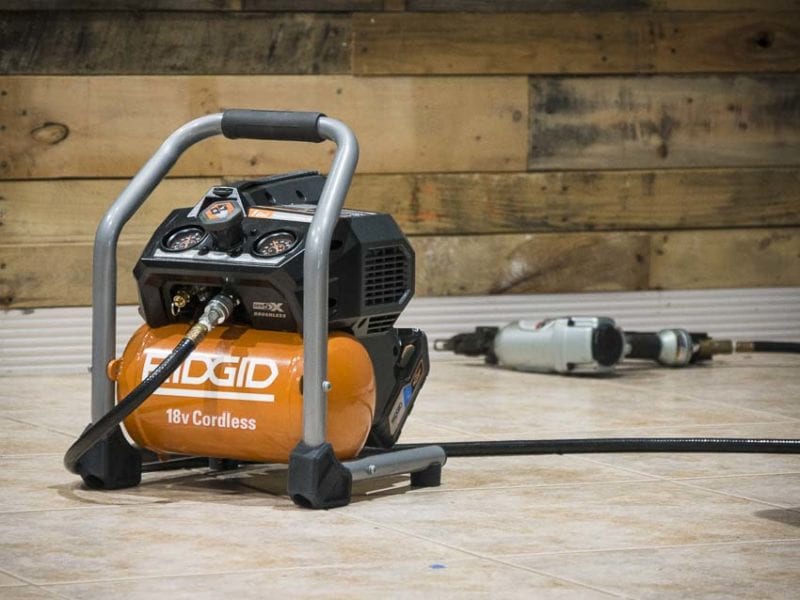 With a 1-gallon capacity, the Ridgid 18V battery-powered compressor can certainly handle most trim work. Because of the low fill rate (0.9 SCFM) and tank size, you won't want to use it for any roofing or framing applications. It may get some nails out, but the system won't tolerate it for long, and you'll be abusing the motor through constant cycling.
If you don't mind the extra weight, then picking up one or more of the Ridgid HyperDrive cordless nailers presents another option for cordless tool use. I find this battery-powered compressor fills a distinct hole in the market, however. It lets me use the pneumatic tools I already love on a job site with the freedom of battery power. Perhaps a model with more air capacity is in the works—that would make this an even better solution.