The Ryobi 18V Cordless Inflator / Deflator recently became part of the ONE+ line. We reviewed the similar Kobalt 120 volt tire inflator last year and genuinely liked it. The Ryobi P731 adds cordless freedom via the ONE+ battery. Pop in the battery and you're good to go. Walk around the house pumping up inflatables, or walk around the truck topping off your tires. It doesn't matter—you're free to move. You might be tempted to think that the Ryobi 18V ONE+ Dual Function Inflator/Deflator gets its name from being a hybrid battery-power/12V-power tool. You'd be wrong. This one is battery only.
Good for bike, motorcycle, and vehicle tires, the Ryobi P731 also doubles down as a high volume inflator. This is that unique dual functionality. It means the Ryobi cordless inflator can go from high PSI mode to low PSI, high volume applications. So you can, for example, use it to blow up the tube for a day at the lake. Or you can blow up your wife's exercise ball or that air mattress you now have to sleep on since you deflated her exercise ball for a product review. You can even quickly blow off the top of your workbench. It's all good.
The versatile Ryobi 18V Cordless Inflator / Deflator has a nice blue LCD display on top. It gives you easy-to-use controls but also lets you see exactly what's happening as you inflate something. The Ryobi P731 inflator lets you dial in the exact pressure you want. It then shuts off automatically when you reach that pressure. More on the specifics of how it does that later.
Check out our Best Air Compressors article for our top picks across a variety of applications and uses.
More Ryobi 18V Cordless Inflator Features
If dual inflation modes weren't convenient enough, Ryobi also gives you onboard storage for the included hose, nozzles, and adaptors. The hoses wrap around each side, and the nozzles/adapters store on the right side of the tool. I like this as it adds to the tool's convenience. It really is a grab-and-go. This is more convenient than, say, the capable Milwaukee M18 Compact Vacuum which lacks any parts storage. You load the ONE+ battery in the bottom, and—like all ONE+ tools, any ONE+ battery will do. NiCad, lithium-ion, nuclear…whatever. Right now in Ryobi, there's a lawyer freaking out over people who might try to create a fission-powered inflator… Relax, we used a 4 Ah lithium pack in our testing—and that's what we recommend.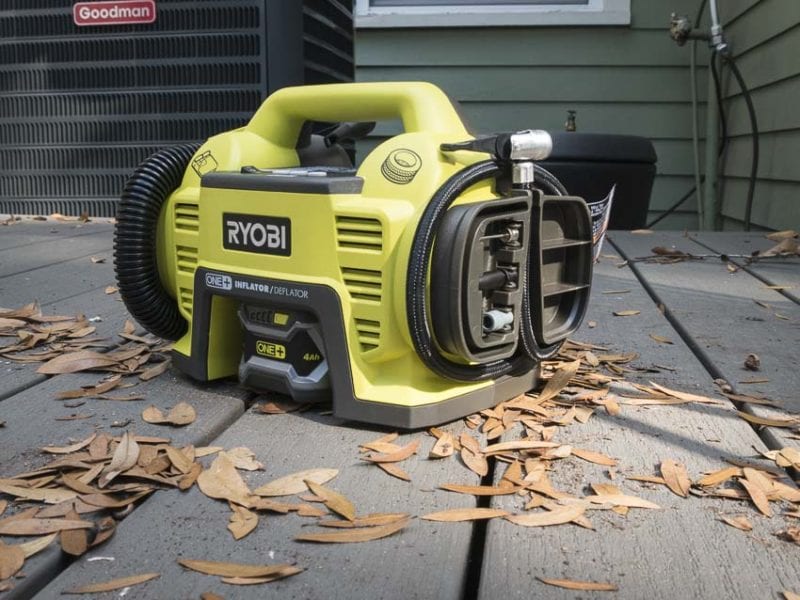 Know When to Quit
The Ryobi 18V cordless inflator has a nice automatic shut-off. This lets you set any pressure from 10 to 150 PSI in 1PSI increments. It will basically do your work for you. The digital LCD pressure display is accurate to +/- 1 PSI. A central rocker switch controls whether the tool is in high (II) or low (I) pressure modes. Place it in the center to start and get a read on current tire pressure.
Ryobi uses separate hoses and nozzles for high volume and high-pressure modes. The diameters make it easy to know which is which, and they plug into separate ports. The right side output is for high pressure, and the left side rear output gives you low pressure. The deflator simply has you move the hose to the extreme left side port. The low-pressure hose has a convenient twist-lock so it doesn't accidentally fall out of the port during use.
The only concern is that the low-pressure hose seems really fragile. We already saw it crinkling a bit after our initial use when we put it up.
Using the Ryobi 18V Cordless Inflator
The Ryobi P731 inflator really is easy to use and requires very little explanation. At the risk of insulting you, I'll go over my experiences briefly. The first use was inflating the tires on a Jeep Liberty. I test these devices on my secondary vehicle a lot since the tires don't contain ~100% nitrogen like my 2015 Ford F-150 work truck.
The coolest part of the Ryobi 18V Cordless inflator is that digital gauge readout. The LCD serves as your PSI pressure gauge. You press the Mode button to activate it and then use the Plus or Minus buttons to set the desired pressure. That pressure setting only stays in the gauge memory for 3 minutes, meaning you have three minutes to go from tire to tire. Connect the hose to your tire with the unit off. You'll get an immediate read of current tire pressure before you flip the switch.
Starting the Ryobi P731 Inflator
Next, you start the inflator. When the tire gets to i PSI above your setting, the Ryobi cordless inflator shuts off. You can then recall the last PSI setting by pressing the Plus or Minus button within that 3-minute window. You can also reset the pressure setting by pressing and holding the mode button for about 6-7 seconds.
After the Jeep was done we went to work on our neighbor's Mercedes. It was a good day for the neighborhood as I went around looking for tires to top-off. This car required just 30 PSI on the rears and 28 PSI on the fronts. I adjusted the target pressure and got to work. It delivers roughly 3 PSI per minute (give or take) on a 30 PSI tire.
For testing the low pressure, high volume mode I set up the hoses and grabbed the aforementioned exercise ball. I deflated it and then quickly re-inflated it. What used to take a very long time with the high-pressure inflator was completed in a few scant minutes. This tool will really come in handy.
Enough Hot Air
While Ryobi didn't give us an alternative power source on this cordless 18V inflator, they did manage to make an efficient, easy-to-use battery-powered model. We also love the convenience of this tool. It will serve as an easy add-on for anyone on the Ryobi platform. Honestly, though, it doesn't matter what brand of tools you already have, the price is hard to beat. Pros and anyone else will find this extremely handy to have around.
Ryobi P731 Inflator Pricing & Final Thought
What I learned is that the Ryobi P731 is smart. Because it overruns the set pressure by a full PSI it accounts for the ending process which tends to lose air. Remove the hose and you may lose up to an additional PSI. The nozzle can really grab your valve stem, so it may take a few uses before it wears in a bit. After my third tire, I was hardly losing any pressure. I also compared my results with a standard tire gauge. In every case, the measurements were within 1 PSI. From a $55 tool, that's accurate enough for me.
Ryobi sells the 18V ONE+ Inflator/Deflator as a bare tool for just under $55. This is something you can stick in the garage and pull out whenever you need to top something off or blow up an air mattress. It's also a deflator. When the lake trip is over, you can just as easily deflate that tube or raft by simply moving the hose from the back to the left (inlet) side.