Ryobi Offers Multiple Ways To Give Your Knuckles A Break
So you just banged the snot out of your knuckles against the engine block… again. Perhaps it's time you consider a Ryobi 18V cordless ratchet to help heal the pain—or at least prevent future pain. No matter what your needs are, Ryobi has at least one to help you on your next project or job.
Ryobi 18V Cordless Ratchet Similarities
There are several features each of these ratchets has in common. The first is a pneumatic-style metal trigger. If you're coming from the world of air power, it's a familiar feel. As we expect on cordless tools, it is a variable speed trigger to help you control how much of the ratchet's speed you want.
The other major feature is an adjustable head. Ryobi's battery design ensures that every 18V One+ battery works with every 18V One+ tool, but that pack sticking out can be an issue around an engine. Ryobi solves that challenge by making the head able to rotate into 4 different positions. Just pull the collet out, twist it to the angle you need, and let the collet drop back into place.
While it might not seem as significant as the other details, the ratchets have LED lights mounted on the top and bottom to light up your work area. They are very helpful, though.
Starting with the basics, Ryobi has two standard models to choose from. These models feature brushed motors.
These models are a great place to start if you're looking for a cordless option and don't want to break the bank. The speed and torque are both low enough that control and overtightening won't be an issue. The downside (and why Ryobi has other options) is that you might not be able to reach into some areas and longer fasteners can take a bit more time. For the fasteners you can reach, it's still better than 6 million cranks on a socket wrench.
1/4-Inch Vs 3/8-Inch
18V One+
1/4-Inch PRC01
18V One+
3/8-Inch P344
Top Speed
250 RPM
230 RPM
Max Torque
30 ft-lbs
35 ft-lbs
Length
11.5 in
11.5 in
Bare Weight
2.4 lbs
2.4 lbs
Bare Price
$99.00
$99.00
Kit Price
$188.00 (2.0Ah kit)
$144.00 (1.5Ah kit)
With the move to an extended reach design, there are a couple of significant changes. The first is 3 1/2 inches more in length and the second is the shift to a brushless motor.
Under load, both models have similar speeds to the standard brushed versions but more torque. in addition to being able to reach deeper areas around the vehicle, you also won't need to manually assist in breaking loose fasteners as often.
1/4-Inch Vs 3/8-Inch
18V One+ HP Brushless
1/4-Inch PBLRC01
18V One+ HP Brushless
3/8-Inch PBLRC25
Top Speed
260 RPM
230 RPM
Max Torque
40 ft-lbs
55 ft-lbs
Length
15.0 in
15.4 in
Bare Weight
2.5 lbs
2.9 lbs
Bare Price
$169.00
$169.00
Kit Price
$209.00 (2.0Ah kit)
$199.00 (2.0Ah kit)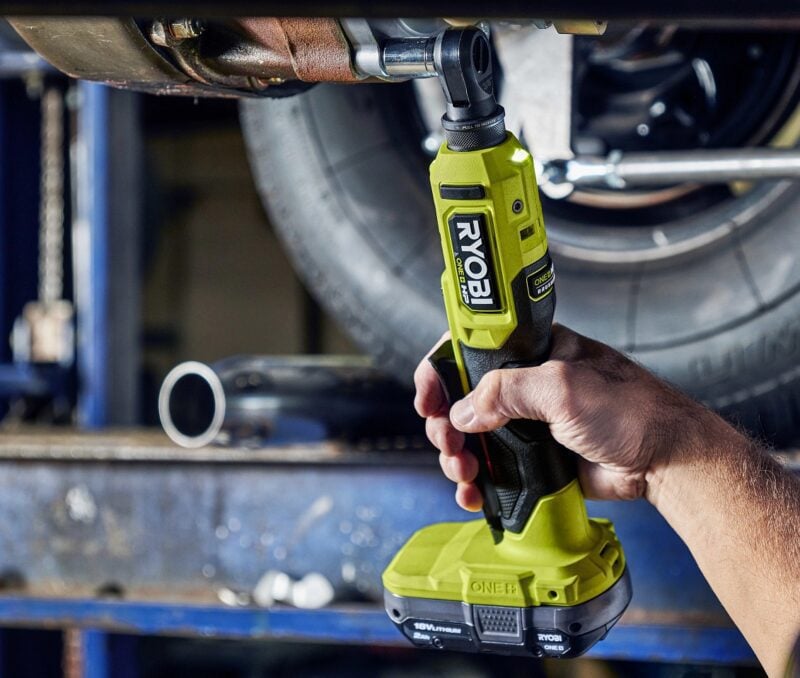 Ryobi's high-speed models gain about 50% in speed, depending on which model you're comparing. Both the 1/4-inch and 3/8-inch drive top out at 460 RPM with 40 ft-lbs of torque. That makes these your best bet for quickly dealing with longer fasteners.
These models also earn the designation of being the lightest in Ryoi's cordless ratchet lineup and the head is 20% more compact to help you reach tighter areas.
If we were only going to own one model to start with, it would be the 3/8-inch PSBRC26. Since you can feather the trigger to control the speed, we like the mid-range torque and lighter weight combination.
1/4-Inch Vs 3/8-Inch
18V One+ HP Brushless
1/4-Inch PSBRC02
18V One+ HP Brushless
3/8-Inch PSBRC26
Top Speed
460 RPM
460 RPM
Max Torque
40 ft-lbs
40 ft-lbs
Length
12.1 in
12.1 in
Bare Weight
2.1 lbs
2.2 lbs
Bare Price
$129.00
$129.00
Kit Price
$179.00 (2.0Ah kit)
$179.00 (2.0Ah kit)
Future Ryobi 18V Cordless Ratchet Models???
If things continue to develop the way they have, it makes sense that we'll see high-speed extended reach ratchets within the next year or so. Even though we haven't heard anything official yet, the smart money is on it.
Savvy folks might also notice there are no 1/2-inch models at the moment. I wouldn't hold my breath waiting for those, though. Our best guess is that Ryobi is going to stick with 1/4-inch and 3/8-inch drives only.
Is there anything you'd like to see Ryobi develop on its cordless ratchet line? Let us know in the comments below!
Take a look at more Ryobi 18V One+ cordless tools by clicking here!