A rock solid tool with a price that wont break the bank
Could you benefit from a battery-powered narrow crown stapler? We got our hands on the Ryobi 18V cordless narrow crown stapler (P361) to see if it might make for a good investment. At first glance, it looks like an affordable solution for DIYers or anyone working with wood fences, drawers, fascia, or other materials where crown staples make a great fastener choice. Our questions centered around runtime, and what materials it would work well with.
Pros
Single- and bump-fire modes
Supports 3/8-inch to 1.5-inch narrow crown staples
LED light
18V ONE+ battery system works with over 225 tools
3-year warrenty
Cons
1-inch fasteners was the deepest it will drive into oak
The Case for Using Narrow Crown Staplers
Have you ever put together IKEA furniture or a cheap bookshelf system? The frame of these shelf systems remains quite frail until you fasten the thin veneer back panel. That thin back panel typically attaches via small ring shank nails. Professional cabinet shops build their custom shelves a little differently—but with the same principle in mind. Instead of small individual nails, they tend to use narrow crown staples to attach the backs. It provides a more secure hold, and the tools used to fire the nails speed up the process.
Editor's Note: Check out our article on How to Use a Narrow Crown Stapler for some more great insights into using these tools.
Ryobi P361 Narrow Crown Stapler Performance
Pick up any of the Ryobi nailers and staplers, and you can really feel the excellent build quality. I am sure they can take a beating. It has rubber overmold in all the right spots both to protect the tool and also to protect the surfaces of any materials you may be working with. As long as you don't set this on the belt clip, you can safely lay the Ryobi narrow crown stapler on a client's countertop without fear of scratching it.
When it comes to driving the fasteners, I had no trouble driving 1.5-inch fasters in any material except hardwoods like oak. This should not be an issue as these are almost always going to be used in sheet goods, construction lumber, trim, paneling, or molding. In oak, I could drive any staple 1-inch or shorter.
Ryobi Narrow Crown Stapler Design Notes
Prior to picking up the P361, I already owned the Ryobi P360 "Airstrike" narrow crown stapler. It has worked well for me, so I was anxious to see any improvements Ryobi might have made. If you own the P360, you probably don't need to upgrade. However, if you're on the fence about buying a narrow crown stapler, the new P361 has a few welcome changes. Once Ryobi gets through their existing inventory this will be a rolling replacement to the older model.
The first "upgrade" is a simple sticker and a few other identifiers letting you know which Ryobi nailer you are picking up. You may not think it is all that important, but to me it is huge. I own five different Ryobi nailers and they all look alike. Having a way to tell them apart is very helpful.
Ergonomics
The handle is a little more ergonomic on the new Ryobi P361 stapler. Also, the power control on the top has been changed. Instead of a dial that was rather stiff and hard to turn (especially if you have arthritis as I do), it now features a lever that I found easier to adjust. When driving fasteners into harder wood like oak, turn the power up. When working with softer materials (or if your fasteners drive too deep), dial the power down.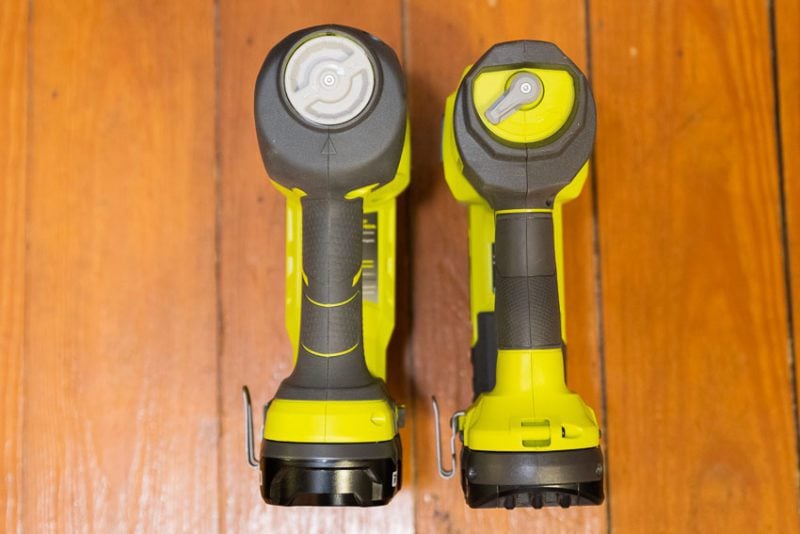 Loading the staples is very easy. Press the release mechanism located near the battery on the bottom of the tool. The magazine slide opens, and you can install a new magazine of staples by dropping them in place. Push the magazine slide closed, and you can begin firing staples.
Ryobi P361 Controls
The Ryobi P361 narrow crown stapler has two modes: single-fire and bump-fire. I leave mine in single-fire mode all the time for more accurate positioning of fasters one at a time. With bump-fire, you hold the trigger down and every time the nose of the staplers comes in contact with the material it shoots a nail. This is faster but not as accurate unless you do this all day every day like a roofer. This method also comes with some safety concerns since it makes it easier for accidental misfires.
Depth adjustment is very easy on all the Ryobi cordless nailers. Simply turn the dial on the side to make the head of the fastener sink deeper or stick up higher from the material. The dial on the P361 is smaller but much easier to turn than the oversized one on my P360.
Ryobi Narrow Crown Stapler Price
The Ryobi P361 Narrow Crown Stapler is available at the Home Depot as a bare tool for $149 (supply issues notwithstanding). You may even find it as a kit for a bit more. That will include a charger and 2.0 amp-hour battery.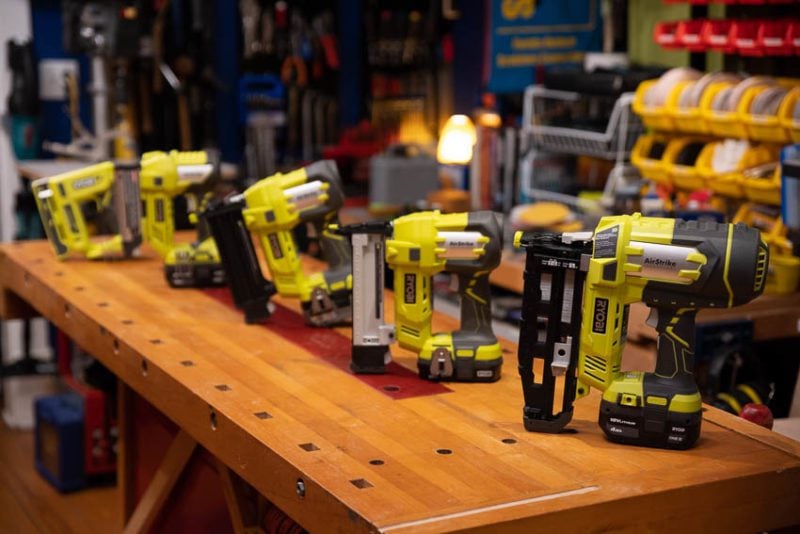 The Bottom Line
The Ryobi P361 Narrow Crown Stapler is an excellent tool for anyone who builds cabinet carcasses, bookcases or other box-type assembles and is tired of hand nailing the backs on. If you use a ring shank nail to hold thin sheet goods on, you are probably better off using a narrow crown stapler most of the time. Anyone with a lot of wall paneling or lattice to install should also give this a serious look. It even works great for installing or repairing fence pickets.
In my opinion, all of Ryobi's cordless nailers represent the best value for a good price. They do this so well, I bought almost the entire Ryobi line of cordless nailers/staplers for myself!
Ryobi Narrow Crown Stapler Specifications
Model: Ryobi P361
3/8-inch to 1.5-inch norrow crown staples (1/4-inch wide)
Grip-activated LED light
Single/bump-fire modes
3-year tool warranty
Price: $149