Have you ever noticed that the tools we use often must become more refined over the course of a job? What started with a chainsaw ends with 400 grit sandpaper. What was once dug up with a front-end loader is now gently screeded to a smooth surface. Even the social tools we use are similar. Ads for our services loudly proclaim, "Does anyone need this type of job done?!" while we'll give a friendly phone call to an existing customer such as, "Hey Mr. Smith, I just wanted to let you know I'll be by Tuesday to finish up that bathroom remodel." The Pros' nailers are no different. Enter the Senco FinishPro 30XP 15-gauge finish nailer (9P0002N)
The job started with a big framer driving 3+ inch nails through 2x and it finishes up with, well, finishing nailers. Today I have just such a finisher: the new Senco FinishPro 30XP 15-Gauge Finish Nailer. At the risk of hearing some age-related jokes, I remember using Senco nailers in the '80s. That's right, sonny. They were big, heavy things – but they were nearly indestructible. That was back when you were more likely to have a nailer rebuilt than replaced. Times have changed, but have Senco tools?
Senco FinishPro 30XP Top Features
Weight a Minute
The Senco 9P0002N finish nailer is the company's smallest and lightest 15-gauge nailer at 3.8 pounds. Unless I've made an oversight, that makes it a tie for the lightest 15-gauge nailer on the market with the Ridgid R250AFE and just edges out the Porter-Cable DA250C by a skosh. The Senco's designed for trim, fine woodworking, cabinets, paneling, and casing – no surprise there – and achieves its featherweight rating with a magnesium body measuring 12 inches long by 9-5/8 inches tall.
The weight is also achieved with the pneumatic design. The trade-off for being untethered to an air hose with a battery-powered nailer is a significant weight increase. Although not a perfect comparison, only the cordless Paslode 902400 – a 16-gauge nailer – achieves a remarkably light 4.5 pounds with a battery. The Senco F-15 Fusion 15 gauge cordless nailer weighs 6.2 pounds and many other cordless nailers will tip the scales at upwards of 8 pounds.
What's Your Angle?
If you haven't used a nailer very much, it might not be immediately clear why the magazine's angle is important. But get the nailer into a tight spot with a slack-angled magazine and you'll quickly realize how a steeper angle like the Senco 9P0002N at 34° is helpful. A slack-angled magazine – one that is near parallel to the nailer's handle – will be in the way of tight toenails and such. But a steep-angled magazine falls back and out of the way, increasing the nailer's maneuverability.
Fastener Range
As the fine gents at PTR noted when they previewed the Senco FinishPro 30XP 15-Gauge Finish Nailer, the fastener range of 1- to 2 inches is slightly narrower than its peers. Many competitors have ranges from 1- to 2-1/4 or 2-1/2 inches or at least 1-1/4 to 2-1/2. Two inches is typically sufficient for me, but it's something to keep in mind if you typically engage in heavy-duty work.
Other Notable Senco FinishPro 30XP Features
Like most new nailers these days, the Senco has a tool-free depth of drive adjustment. It also features the company's E-Z Clear latch for jam clearance and the NeverLube design means you never have to oil it – eliminating the potential leaks and spills.
Actuation is single fire only which is typically all I use with a finish nailer. I'm more likely to use bump fire with a framer or roofer. There's also a helpful belt hook and a 1/4-inch air inlet that does not swivel. Although the swivel can be a helpful feature, it's also a potential place for air leaks so I don't mind its omission.
By way of comparison, the Ridgid R250AFE – the Senco's closest competitor – is also oil-free, features single or bump fire actuation, and has a swivel air inlet.
Senco FinishPro 30XP Performance
I've mentioned in previous nailer reviews that teasing out the difference from one nailer to the next can be difficult because the differences really just tinker around the margins. But I also emphasized that weight is the most important factor and the Senco FinishPro 30XP 15-Gauge Finish Nailer is certainly at the head of the class in the category. But it also feels very comfortable in the hand and it's simple to load and operate.
We used the Senco on a home remodel that's filler work between large phases of other jobs. The home is really coming together now so we had all sorts of places to use the nailer. The utility of a 15-gauge nailer like this is that it can be your all-around, everyday workhorse whereas lighter gauge nailers might struggle to get the job done. For instance, the 15-gauge shot an oak staircase where a lighter gauge couldn't hack it.
The Senco 9P0002N can also handle Hardie Board trim where a 16 gauge or smaller would literally end up in a pretzel shape, not sinking into the material. Now, you have to be mindful of shooting smaller trim like shoe molding or quarter round – it can be done with the 15-gauge – but a smaller gauge is better suited for that stuff.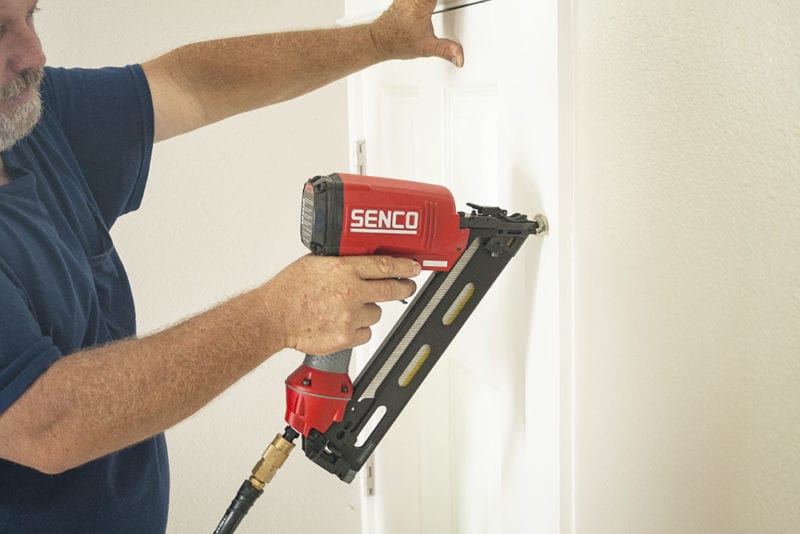 Being Nosey
The Senco FinishPro 30XP 15-Gauge Finish Nailer rubberized nose pulls double duty as it protects the finish work but also prevents slipping along the material. As I described earlier, the steep magazine angle allowed this rubberized nose to get in every tight place we needed it. I never experienced a jam, but the E-Z Clear latch is, well, E-Z to open in case you did have one.
Finish work is a little slower and more deliberate than framing and other rough-in work, so the single actuation is sufficient. Of course, it might be nice to have the option for bump fire just like having all the bells and whistles is usually nice. But that's not this Senco's style and that's fine. We were just thankful that it had a belt hook – sometimes omitted from other nailers – as that is far more useful than actuation options.
Getting Exhausted
Exhaust from a finish nailer is lower volume than a bigger nailer, so there typically isn't an adjustable deflector. The problem is that often you use a finishing nailer in a dusty, dirty environment instead of the relatively open air of a framing or roofing job. So dust and dirt are picked up by the nailer's exhaust and blown in your face and eyes.
I've always wished that nailers could exhaust through the handle like some pneumatic automotive tools. This isn't unique to Senco. It's the design of all nailers. However, if the manufacturers are listening, it would be a significant improvement and distinguishing feature.
Senco 9P0002N Bottom Line
The Senco FinishPro 30XP 15-Gauge Finish Nailer packs a lot of power in a well-balanced workhorse of a finish nailer. It's the right gauge to do a wide range of finish work where a lighter gauge would fail. It also shares the title of lightest 15-gauge nailer available with the Ridgid R250AFE at 3.8 pounds.
The Senco is quite capable and offers performance with no-frills at $256.49 with a 5-year warranty.
Senco FinishPro 30XP 15-Gauge Finish Nailer Features
Finish & Woodworking, Cabinets, Paneling, Casing
Never-Lube design. No oil required.
EZ-Clear eliminates downtime caused by fastener jams.
Ultra-lightweight for ease of use and maneuverability.
Senco FinishPro 30XP 15-Gauge Finish Nailer Specifications
Item Number: 9P0002N
Tool Weight: 3.83 lbs (1.73 kgs)
Height: 9 5/8″ (245 mm)
Length: 12″ (305 mm)
Width: 3 1/4″ (82.5 mm)
Warranty: 5 year
Technology: Pneumatic
Trigger Type: Sequential Actuation
Operating Pressure: 70 – 120 (PSI)
Operating Pressure: 4.8 – 8.3 (Bar)
Air Consumption: 2.16 (SCFM)
Air Inlet NPT: 1/4-inch
Capacity: 104
Range: 1″ – 2″
Price: $256.49