Simpson 3400 PSI Pressure Washer Balances Performance, Build, and Budget
Sitting between entry-level pressure washers and larger commercial models, you find the Simpson 3400 PSI pressure washer as part of the PowerShot line. With plenty of summertime cleaning to do, we set out to see if it's a better fit for homeowners or professionals. Our hope? Both.
Pros
Powered by a Honda GS190 engine
Compact frame has a small storage footprint
Post-pump chemical injection
Easy access to the engine and pump for use and maintenance
Good value
Cons
Handle position is a bit low for tall guys
Axial cam pump limits professional use
Check out our best pressure washer article to see our top picks
Simpson PowerShot 3400 PSI Pressure Washer
Power Plant
One of the major draws to this Simpson 3400 PSI pressure washer is its Honda engine. For the PowerShot PS61044, Simpson turns to the Honda GS190.
The GS series isn't one we see as often. Commercial units use the GX series and homeowner units typically use the GC series.
The GS190 sits in between the two, offering better durability than the GC but bringing down the price somewhat from a GX-powered unit.
With 187 cubic centimeters of displacement, it's a manual recoil start engine that should give you reliable starting and power for years.
Pump
Simpson pairs the Honda GS190 engine with a AAA axial cam pump to deliver its pressure. There's a water control twist valve you can adjust if you want to restrict water flow for any reason.
It's an interesting pairing that could go either way. Commercial pressure washers intended for heavy use get a triplex pump while axial cam goes on models that expect lighter use.
Overall, what we're looking at is a power plant and pump that fits the needs of homeowners with more surface area clean more frequently. It's also a good build for professionals that use pressure washers on a more limited basis rather than on frequent long days.
Performance
The pressure washer's engine and pump are capable of producing 3400 PSI and 2.3 GPM of water flow. That's a good middle ground between entry-level gas or electric pressure washers and stronger models that have a larger engine and triplex pump.
In terms of what you can clean, it's a long list. Fences, concrete, paint prep, roofing, and vehicle/equipment cleaning are all on the menu with plenty of other applications hanging around as well. The biggest difference you'll notice between this Simpson 3400 PSI pressure washer and something like a 4000 PSI model is how fast you can clean rather than what you can clean.
Accessories
Along with the pressure washer, you get a standard suite of nozzles, a wand, and a hose. The hose is a 5/16-inch, 25-foot long MorFlex that's abrasion-resistant and non-marring that pairs with a standard 2-piece wand.
The quick-connect nozzle group includes 0º, 15º, 25º, 40º, and a soap nozzle. They store on the plate near the top of the handle.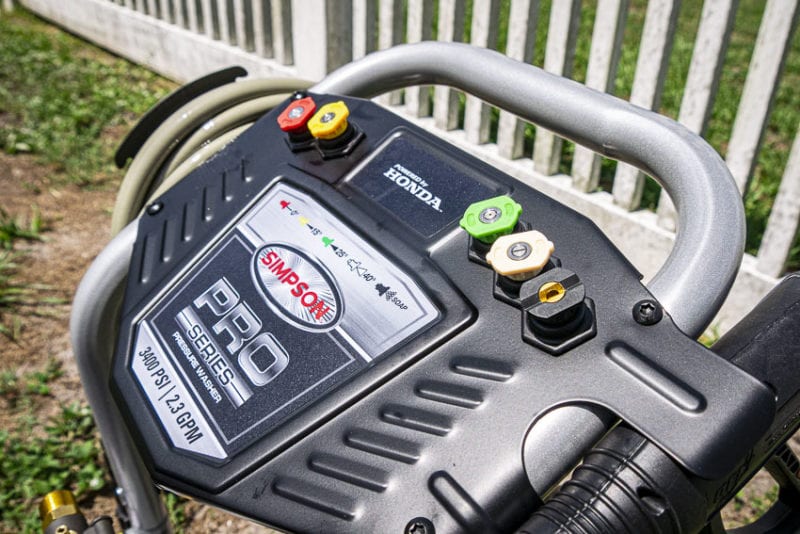 Additional Field Notes
Chemical Injection
If you're coming from the homeowner's side of pressure washers, you might be surprised at the lack of a detergent tank. They're convenient, but they can be a pain to clean out if you're switching between chemicals. For that reason, I'm good with the call to forgo it.
The solution injection point is on the output side of the pump. It's a great design that ensures whatever you're using doesn't go through the pump components first.
Hose and Lance Management
You should plan on transporting the hose and lance off of the unit. Both holding points on the frame work well for resting their respective accessories, but they'll bounce off pretty quickly as your trailer or truck is going down the road.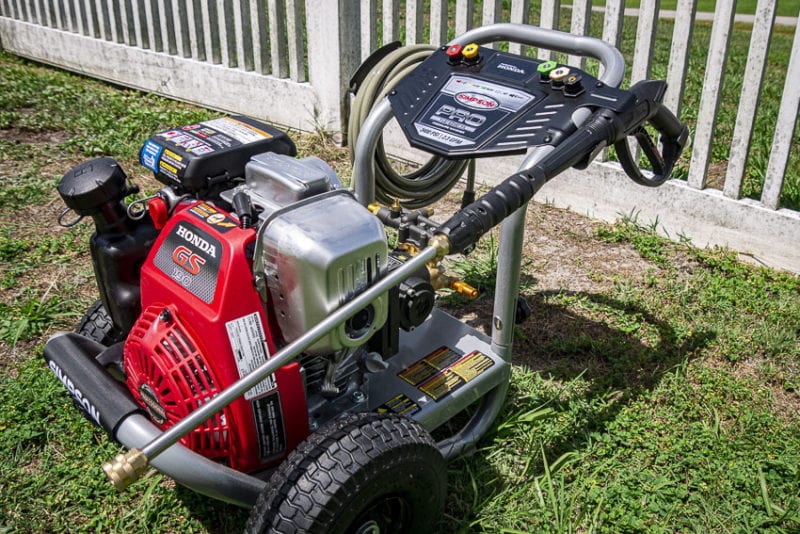 Compact Frame
The steel frame of the pressure washer is pretty compact. It's mostly positive with a couple of tradeoffs. On the downside, I have to bend down more than I'd like to grab the handle. The more minimal frame also doesn't provide as much protection as a full roll cage.
The pros outweigh the cons, though. I like how easy the engine and pump are to access for use and maintenance. It's also a big space-saver over bigger frames. To reduce the footprint even more, you can flip the handle around so it's over the center instead of sticking out the back when you store it.
Pneumatic Tires
Simpson opts for 10-inch pneumatic tires that are wider than a lot of the cheaper wheels rolling around. You might not notice it much on concrete, but it makes wheeling the pressure washer around on grass and soil much easier.
Price
The Simpson PS61044 3400 PSI pressure washer is $599 at Lowe's. That's right where we expect it to be, running about $150 more than bargain brand homeowner models and $150 less than Honda GX/triplex pump-driven professional commercial models with similar performance levels.
The Bottom Line
For homeowners that take pressure washing seriously and professionals that want a budget-friendly model for light to medium-duty use, the Simpson PowerShot PS61044 3400 PSI pressure washer is an excellent fit that's priced right.
If your professional needs have you spending several hours a day, multiple days a week with your pressure washer, you probably want to move up to a Honda GX engine and triplex pump.
Simpson PowerShot 3400 PSI Pressure Washer Specifications
Model: Simpson PS61044
Pressure Rating: 3400 psi
Gallons per Minute: 2.3 GPM
Engine: Honda GS190
Displacement: 187 cubic cm
Horsepower: 5
Pump Type: Axial Cam
Fuel Capacity: 0.475 gallons
Hose Diameter: 5/16 in.
Nozzle Type: Pro-style tips with quick disconnect
Warranty: 3-year limited commercial engine warranty + 2-year Simpson engine protection plan | 5-year limited pump warranty | 10-year limited frame warranty | 90-day limited accessory warranty
Price: $599 at Lowe's
Check out Simpson's entire line of pressure washers at their website.