Skil 12V Inflator Takes the Guesswork Out of Tire Inflation
The Skil 12V inflator is a relatively recent addition to the PWRCore 12 line. I've been using to fill bike tires and car tires to see what to expect from its design and performance.
Pros
Simple to use design
Automatically and accurately stops when you reach the target pressure
3 –160 PSI range
Compact and light form factor
Brass Presta adapter included instead of plastic (pinch valve adapter and ball needle also included)
Cons
The digital screen can be a little tough to read in bright light
Check out our Best Air Compressors article for our top picks across a variety of applications and uses.
How Much Pressure Does the Skil 12V Inflator Have?
The full range of this inflator runs 3 PSI – 160 PSI. That's a higher top-end than my other inflators that only hit 150 PSI.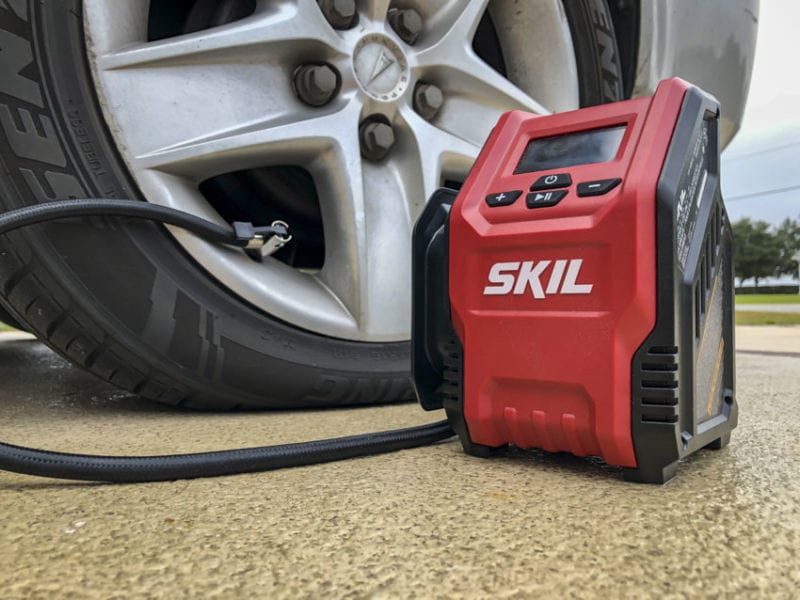 Realistically, most of us will never need pressure that high. Passenger vehicle tires are in the 40s, mountain bike tires can handle 50 PSI, larger trucks might need 100 PSI, and road bike tires can be 120 PSI. If you happen to have something that requires more pressure, it's nice to know Skil can handle it, though.
How Fast Will it Fill a Tire?
How fast the Skil 12V inflator fills your tires depends on the size of the tire and how much it needs. To test it, we took all the air out of a 205/55R16 tire. Going from flat to 44 PSI took 5 minutes, 57 seconds.
Realistically, you use an inflator to top off your tires more often than completely filling them, so I checked that scenario as well. Filling the last 5 PSI took right at 55 seconds.
A compressor is still a much faster way to fill tires, but this inflator holds its own among cordless options, especially considering it's a 12V product. Because you can set the pressure and it stops automatically, you can check your Facebook or Instagram feed while you wait, or just head to the Pro Tool Reviews home page to see what's new.
How Easy is it to Use?
This inflator is about as easy to use as you can hope for. There are only four buttons to worry about and they're all very self-explanatory. Start by hitting the power button to turn it on.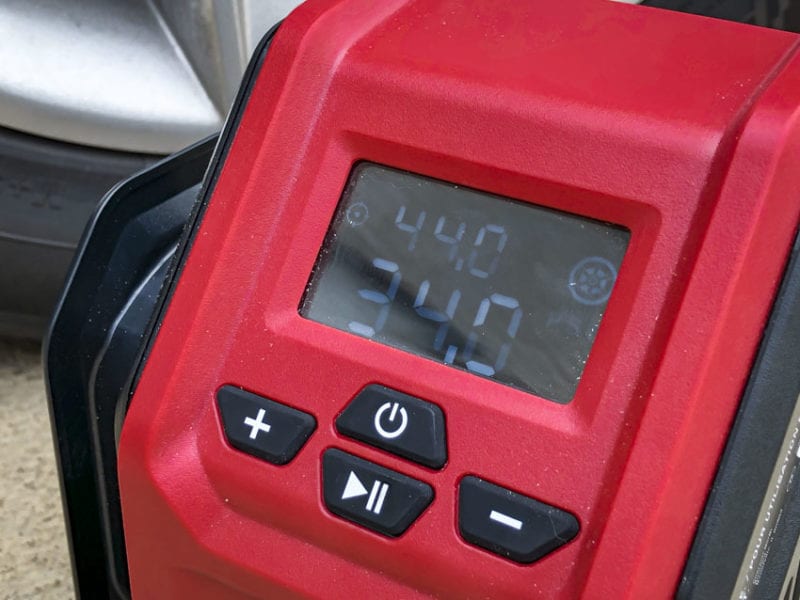 From there, press the + or – button to set the air pressure you need. If you hold down either button, it will move much faster. When you need pressure that's on the higher side, you can hit the – button and it will cycle up to the maximum pressure from the bottom.
Once you're set, just connect the hose to your tire, air mattress, pool toy, or whatever you're filling. With the power on, it will show you the current pressure even before you hit the play/pause button to start filling.
When the inflator reaches your target pressure, it automatically turns off.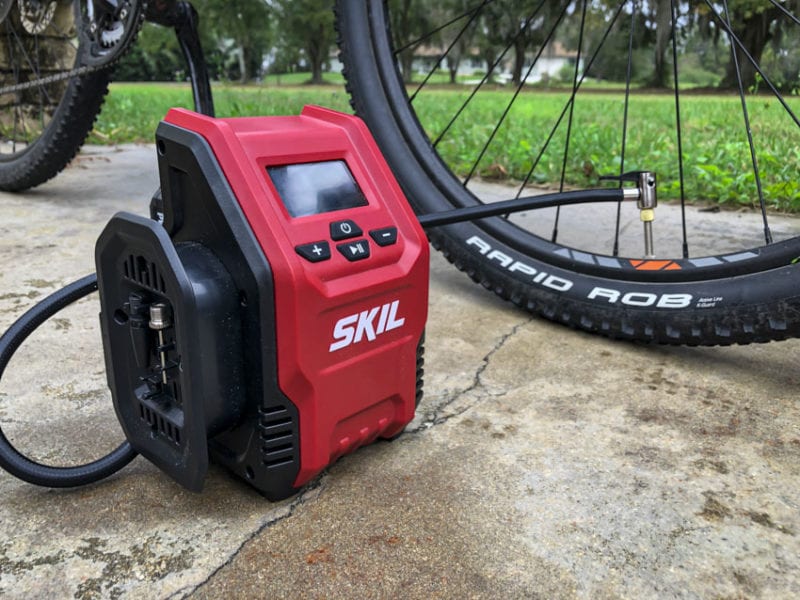 I've used several cordless inflators and a couple of things stand out. My road bike tires need 100 – 120 PSI depending on the road conditions, so being able to cycle back around from the bottom saves me some time getting it set. That's not something my Ryobi inflator does.
I noticed that it's more accurate, too. My other inflators usually overfill by a pound or two on my bike tires. It's understandable considering they're not high-volume tires. Skil's inflator stops dead-on the pressure I set, though. It's not something that's a big deal on cars and trucks, but I appreciate the level of detail.
What Else Should I Know?
Hose and Accessories
Skil does a good job with a side-mounted hose wrap, so I don't have any complaints there. The accessory storage in the same area is equally effective.
I have to give the Skil crew a shout out on the accessories. THANK YOU for including a brass Presta adapter! If you get one with an inflator, it's often plastic garbage and isn't effective on high-pressure bicycle tires. This small consideration keeps me from having to buy another one.
Yes, they're only $3 retail, but it saves me the trouble and that's something I appreciate.
Skil also includes a pinch valve adapter and sports ball needle.
Digital Screen
Skil's reverse-contrast screen is easy to read from straight above, but it loses brightness as you look from below it. Looking from the left, right, or above, it maintains its brightness well.
Outside, bright sunlight starts to wash the numbers out a bit, though it's still visible. While it's something you should know about, it's far from being a deal-breaker.
Size and Weight
This is a pretty compact inflator. It weighs 2.4 pounds bare and 3.0 pounds with a 2.0Ah battery. It doesn't take up a ton of room at 7-7/8″ tall and 5-5/8″ wide. You can easily keep the inflator in your trunk or toolbox for emergency use.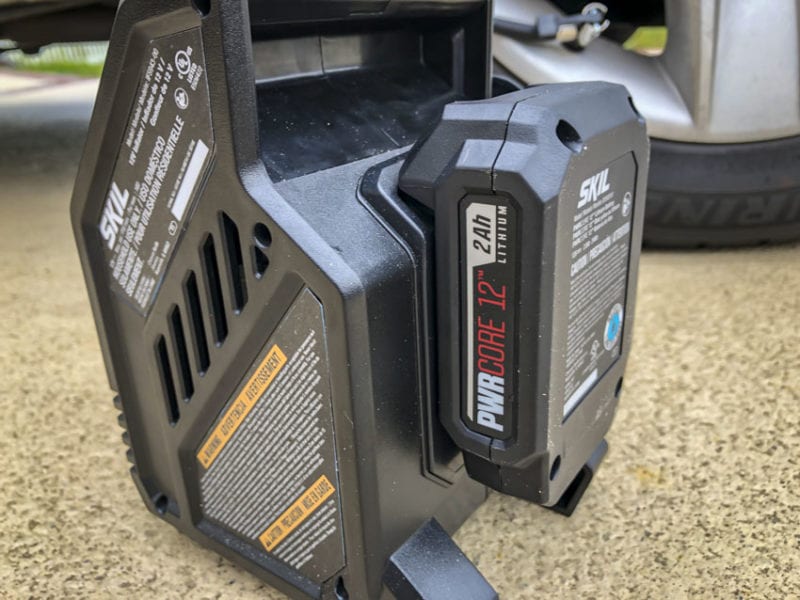 While it's small, it's not the most compact you can get. Ryobi's P737 takes on a more handheld design that's smaller but doesn't have the same convenience features.
How Much Does it Cost?
The Skil 12V inflator retails for $44.99 on Amazon. Right now, that's the only place you can buy it. It comes as a bare tool only and has a 5-year warranty.
There's not a ton of competition on the 12V platform, and none from the other DIY-focused brands. Milwaukee's M12 runs $99 as a bare tool and there's also a kit option that's $159. Makita's 12V CXT model is $99 bare and $169 as a kit.
Skil also has a 20V model for $69.99 if you're on their higher voltage platform.
The Bottom Line
The Skil 12V inflator is a great addition to the PWRCore 12 line of compact tools. If you're already on the 12V line, this sub-$50 tool is handy to have around the house or in your vehicle for a variety of uses.
Buy it if you're on the Skil PWRCore 12 platform and don't have a cordless inflator yet. Pass if you're looking for the filling speed of an air compressor.
Skil 12V Inflator Specifications
Model: Skil IF5943-00
Power Source: Skil PWRCore 12 battery
Pressure Range: 3 PSI – 160 PSI
Hose Length: 27″
Weight: 2.4 pounds bare, 3.0 pounds with 2.0Ah battery
Warranty: 5 years
Price: $44.99