Just as there are different strokes for different folks, there are different pliers for different electrical tasks. My analogies and rhymes might not be as smooth as my tool reviews, but I think you get the picture. Needle-nose pliers can reach, hook, and wrap; Linesman's grasp, crimp, push, pull, and cut; and Diagonal Cutters allow targeted wire snipping. We like to combine tool functions when possible, but each of these plier designs performs a function the others can't. Today I have a tool from one of my favorite companies – the Southwire 8-Inch Hi-Leverage Diagonal Cutting Pliers.
A plier's leverage is a function of handle length and rivet location. It's intuitive that longer handles result in higher leverage. But unless you're fresh out of a physics class, it might not be clear that the closer the rivet is to the jaws, the greater the potential leverage.
For a while, it seemed that plier manufacturers reserved "hi-leverage" for 9-inch long pliers, but now some 8- and even 7-inch pliers carry the designation. So what's the deal? Is that just ambiguous marketing jargon that can't really be measured? Or is there a noticeable difference in the Southwire's cutting power compared to the other pair in my toolbag?
Key Features
Blades
The business end of the Southwire 8-Inch Hi-Leverage Diagonal Cutting Pliers is made of two induction-hardened cutting blades. You can imagine how metal-to-metal cutting can take its toll on blade sharpness, so the hardening process is essential for Pro performance. Cut with unhardened blades for just a short time and you'll be able to tell the difference. In fact, I recently had a Jonard Linemans pliers with side cutters that had a lot of good features going for it – except hardened blades. And it was for that reason that I couldn't recommend them.
Steel Alloy
Drop forging is the way to make steel stronger and more durable – and alloying it ups the ante. The Southwire's body is drop-forged 6150 steel alloy which, for all intents and purposes, makes it indestructible. Your hands will give out long before you'll need a new pair!
On the Rivet, Easy to Handle
The plier pivots on a hot-riveted joint designed to make the action smooth. It should also keep the plier sides from wobbling over time.
Although it's usually rude to double dip, I'll give the Southwire 8-Inch Hi-Leverage Diagonal Cutting Pliers a pass as each handle is plastic dipped to offer a more comfortable grip.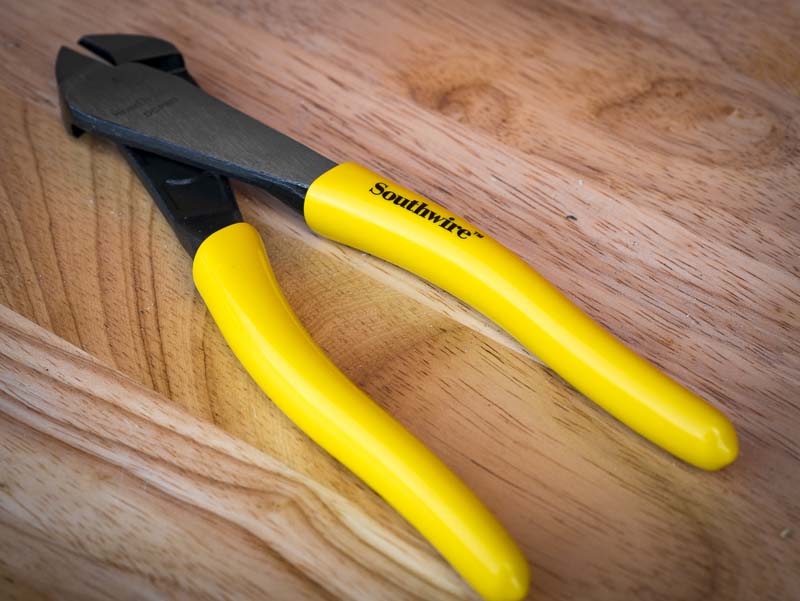 Performance
Making the Cut
Diagonal cutters are an essential tool in a Pro's toolbag, so Southwire's came along with me to every job. I had a lot of service work to do in mobile homes during the review which was particularly helpful. Several of these mobile homes had straps nailed instead of screwed – a bad way to do it – but I found that the pliers were particularly good at grabbing them and prying them out. They could also cut through them with ease if needed.
But the beauty of this tool isn't just the leverage for big cuts – it's the ability to cut small snips with precision. A sharp tip allows pinpoint accuracy and cutting. Case in point: I had to cut through a braided guidewire but it was too thick for the pliers as a whole. I was able to use the sharp, pointed knives to snip the individual strands until I got through it!
The hardened steel blades haven't dulled a bit. They are still cutting as well as the first cut I made.
Gaining Leverage
Believe it or not, I sensed that I had greater leverage with these Southwire 8-Inch Hi-Leverage Diagonal Cutting Pliers than I do with my typical 9-inch pair. It has everything to do with the location of the pivot point. I cut MC cable, Romex, and up to #6 wire with ease. They're comfortable in the hand, and even when it's sweaty, there's little chance of slippage.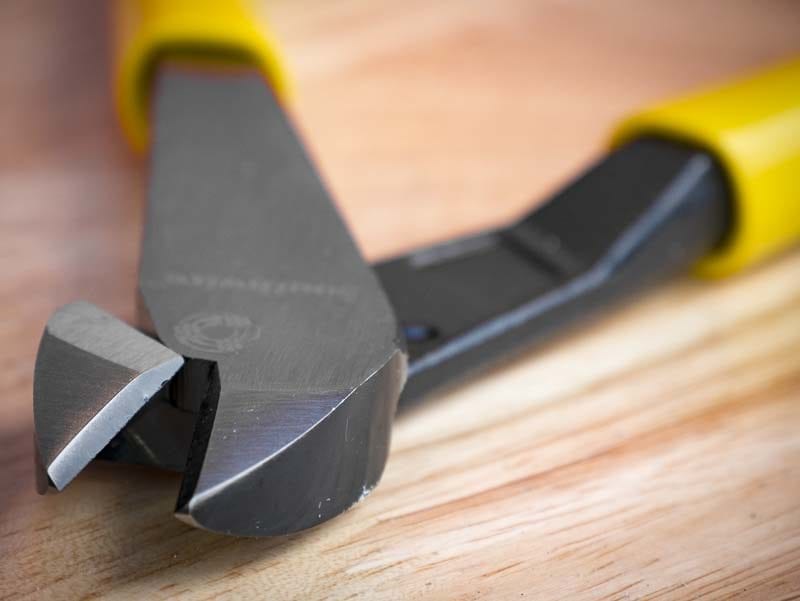 I think most of us would choose the shorter plier if we found the cutting power to be equal. Of course, every tool pouch is different, but a shorter tool takes up less space in it. I found that my 9-inch plier sticks out of it a little more than I'd like, so Southwire's option is a better fit.
Then I did something that surprised even me: I gave our first-year apprentice my 9-inch Kleins and kept Southwire's. You might recall that I love those Kleins, but having all their leverage in an 8-inch package appealed to me. Now, the Southwire pliers don't have Klein's angled head that I like so much, but I decided to give them the starting spot. We'll see in time if that was a good choice!
The Bottom Line
The Southwire 8-Inch Hi-Leverage Diagonal Cutting Pliers is an all-around star in its position. Pros will like its hardened, sharp blades that stay sharp and the leverage of bigger pliers in an 8-inch package. It's true you don't have the same reach (or the conveniently angled head from Klein that I like so much), but you can make pinpoint snips, cut nails, screws, ACSR, and the tool fits neatly in your pouch or bag.
I have an affinity for Southwire tools because they seem to consistently pack a lot of performance into the price. I typically find the value to be quite high, and these pliers are no different. At $18, they might just become your go-to pliers!
Southwire 8-Inch Hi-Leverage Diagonal Cutting Pliers Features
Induction-hardened cutting blades ensure efficient and lasting cutting surfaces for hard and soft wire
Drop-forged 6150 alloy steel for long-lasting durability and performance
High-leverage design provides maximum cutting power
Hot-riveted pivot joint for smooth action and no wobble
Effectively cuts most hardened wire, ACSR, bolts, screws, and nails
Southwire 8-Inch Hi-Leverage Diagonal Cutting Pliers Specifications
Item Number: Southwire DCP8D
Height: 8 inches
Width: 2 inches
Depth: 0.63 inch
Weight: 9.8 ounces
Head Type: Standard
Handle: Yellow, Dipped Grip
Price: ~$18