Stihl Gives Homeowners A Value Option With The 16-Inch MS 170 Chainsaw
Stihl has an outstanding chainsaw reputation among professional users, but homeowners typically don't need that level of performance. They also tend to go for saws that are lighter and more compact. Can a Pro-focused brand like Stihl dial it back for the needs of homeowners while maintaining a reputation for quality? We took a closer look at the Stihl MS 170 16-inch chainsaw to find out.
Check out our picks for the best Stihl chainsaws here!
Stihl MS 170 Chainsaw: The Big Deal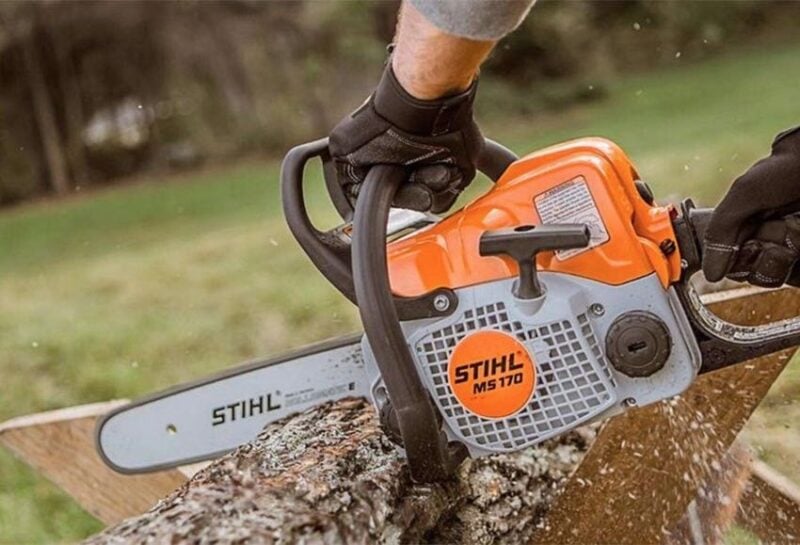 This gas-powered Stihl chainsaw features a 16-inch bar length and is compatible with 12 or 14-inch bars as well. With the homeowner market as its target demographic, Stihl designed it to be more compact and lightweight than a lot of Pro-level chainsaws. In fact, its powerhead weight stands at just 8.6 pounds.
It's no slouch in the performance department, though. Stihl uses a 30.1cc engine that produces 1.7 brake horsepower.
Ideal applications include trimming or cutting small trees, fallen limbs, and other tasks around the yard. It's excellent for occasional property maintenance and storm cleanup. Stihl recommends a 17-inch maximum diameter.
Additional Features
The MS 170 employs includes an IntelliCarb compensating carburetor, which automatically adjusts the air/fuel ratio when the air filter becomes clogged or restricted, maintaining the engine's correct RPM without pulling in dirty air to deal with it.
Additionally, Stihl's anti-vibration system helps reduce operator fatigue and gives you a more comfortable working experience.
When you combine the Ematic guide bar with Stihl's Oilomatic saw chain (both come with the saw), you'll get the proper lubrication with up to 50% less oil consumption than other designs. The magic is in ramps on the bar rail. They contain the oil flow while getting it onto the parts that require it.
One area where you see a departure from professional models is in fuel and oil capacity. With an 8.5-ounce fuel tank and 4.9-ounce oil reservoir, you're going to fill up more frequently than with other models.
Stihl MS 170 Chainsaw Price
This chainsaw retails for $199.99. That's more than you might pay for budget brands at big box stores, but you get a higher-quality saw plus the backing of your local dealer for the price. Stihl backs your purchase with a 1-year warranty.
The Bottom Line
In its stock 16-inch bare configuration, the Stihl MS 170 has the performance and size to meet the needs of homeowners without being overly intimidating. Combined with features inspired by Stihl's line of professional-grade models and being made in America with global materials, it's no wonder the MS 170 is one of the top-selling homeowner chainsaws in the market.
Specifications
Model: Stihl MS 170
Power source: Gas
Bar length: 16 in
Oilomatic chain: 3/8 in
Chain oil capacity: 4.9 oz
Fuel capacity: 8.5 oz
Displacement: 30.1 cc