We caught our first glimpse of the Stihl GTA 26 garden pruner at GIE in 2019. The demonstrations certainly drew a lot of attention from attendees and we decided to dig a little deeper to see what all the hype is about.
WARNING! Don't fall for the Stihl scam where unauthorized sellers will try and sell you either a knock-off garden pruner or chain for "70% off" or something similar. Thousands have lost money on these scams! Always buy Stihl products from an authorized retailer.
Pros
Low vibration
Lightweight and compact
Easy to use
Excellent ergonomics
Cons
Manual oiling
Tough to find in stock
Niche chain size
Stihl GTA 26 Garden Pruning Chainsaw Basics
The Stihl GTA 26 is essentially a 12V mini chainsaw sporting a 4-inch bar for pruning work.
Its 12V battery power source is very similar to other stick pack batteries such as Milwaukee's M12 line.
Unlike most chainsaws we come across, there's no auto-oiling on this model. Instead, you need to manually apply oil to it every few cuts.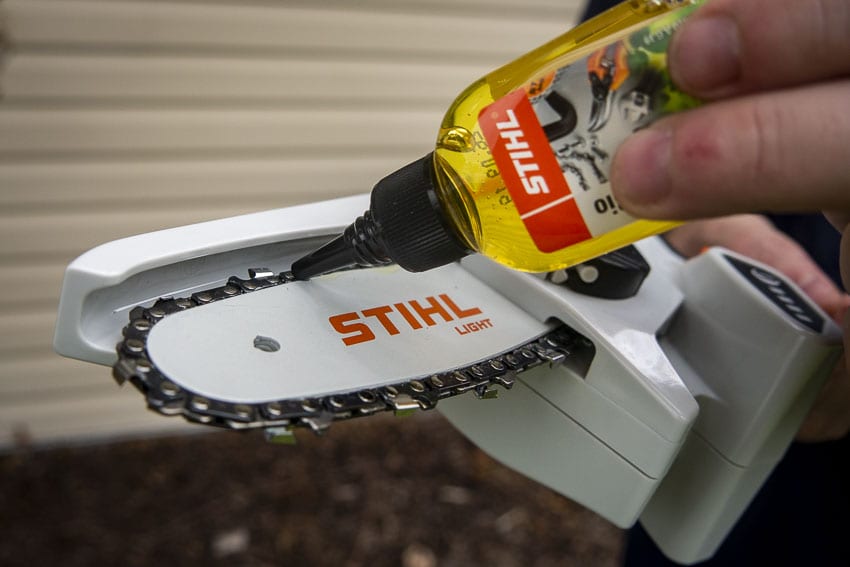 Safety
There's a simple thumb switch for the trigger safety and one-finger trigger for operation.
As you cut, a protective guard over the top of the chain glides up and springs back into place once the bar is clear.
While the 12V battery and small bar might seem like it's not a big safety risk, the reality is that it's still a chainsaw. Losing your focus or not keeping a secure grip on the tool still carries a risk of injury.
The overall design is reminiscent of a one-hand reciprocating saw. However, Stihl recommends you cut with two hands to reduce injury risk. That said, it is controllable with one-hand and the handle shape feels comfortable in my hand.
Stihl GTA 26 Garden Pruner Performance
In practice, the Stihl GTA 26 cuts very well and it's certainly much easier to use on 3-inch branches than even a 12-inch chainsaw. It's also just plain fun to use.
However, I find that it's more convenient to grab my M18 Fuel Hackzall and a carbide pruning blade to accomplish the same tasks. I get a bit more power and cutting capacity and I don't have to remember to oil the chain.
I'll grant you that there's quite a bit more vibration in the Hackzall, though. The 1/4 PM3 saw chain is remarkably smooth compared to the reciprocating saw.
Considering Stihl's 12V lineup is still very small (just this and a hedge trimmer), adding a one-hand reciprocating saw might be a good move forward.
Additional Features
Tool-free bar and chain replacement—just loosen the wing nut by hand
LED light
Price
Grab Stihl's 12V garden pruner for $149.95 at your local Stihl dealer. It comes with the tool, a battery, charger, bar, chain, oil, and carry case.
Call ahead, though. This has been a very popular release for Stihl. Between that and the supply chain interruptions the country is experiencing, many stores are having trouble keeping it in stock.
The Bottom Line
At the end of the day, the Stihl GTA 26 is a lightweight, compact pruning tool that's easy to use. For what it is, it's a win. And for now, it's one of the only battery-powered models we're aware of that you can get in the US.
However, a one-hand reciprocating saw with a pruning blade, though it has more vibration, might be more productive in terms of its cutting speed, capacity, and runtime.
Which one would you rather use? Let us know in the comments below!
Stihl GTA 26 Garden Pruner Specifications
Power Source: Stihl 12V AS 2 battery
Bar Length: 4 inches
Chain: 1/4 PM3
Chain Speed: 26.3 ft/sec
Weight: 2.7 lbs bare, 3.1 lbs with battery
Oiling: Manual
Price: $179.99 (kit); $139.99 (bare tool)
Find a Stihl dealer near you.