Last Updated on August 6, 2022
Most of us want our tools to last as long as possible and so every tool needs a little TLC (Tool Longevity Care) sometimes to remain at its working best. Here are the best tool maintenance tips to help you get the most life out of your tools.
Tried and True Rust Prevention Tool Maintenance Tip
SC Johnson Paste Wax, yes the same stuff your great, great grandmother used on her furniture, has been used by woodworkers for decades. It works as a rust preventative for their cast iron and steel table saws and other tools. Museums even use it safely on their antique tools because it prevents rust for months at a time.
Applying Paste Wax
Simply wipe on a liberal coat, let it dry, and then wipe off any excess. It works great on hand saw blades, hammer heads, chisels, or any metal tool that is prone to rust.
Removing Rust
But what if you already have rust on your tools? Light rust can be removed with WD-40, a Scotch Bright Pad or fine grade steel wool, and a little elbow grease. For heavy rust, pick up some navel jelly, found in any hardware store.
Tape Measure Check
Every time you drop a tape measure, check that the hook is not bent and that it still slides properly back and forth. Even the best tape measure loses calibration when it takes a fall. If you perform work that requires pristine accuracy, you may even want to use a Lixer tape measure calibration tool.
A Blow Out Tool Maintenance Tip
Sawdust happens. Metal dust happens. Concrete dust happens—just don't tell OSHA. If it didn't we would not be doing our jobs, we would be using our tools for decorations. Keeping the inside of your power tools clean is important to keep them running for years to come.
Periodically use an air compressor or even a leaf blower to blow the dust out through the vents. If you use your equipment heavily, blow it out daily. The only caveat is don't blow so hard that you blow any grease out or blow dust particles in your eyes or in your lungs.
Don't Forget the Outside Tool
While you are cleaning your tools inside, don't forget the outside too. Most of the time our tools can be dirty and dusty, but when you go into a client's home and set your impact driver down on their carpet and leave a nice grease spot that won't come up, they are not going to be happy and someone (i.e. you or your company, is going to have to pay for it.) Products like Simple Green are safe and make short work of cleaning the plastic housing of power tools.
The Fix It Once and for All
Is a part of your tool broken just enough that it still works but it is annoying to use? Does the tool work as intended but a design flaw makes it not quite as useful as it could be? With this tool maintenance tip, use some of that contractor ingenuity to fix it or modify it once and for all. That could mean putting blue Loctite on the screw that keeps coming loose, wrapping the handle in hockey stick tape that keeps giving you blisters, or making an extended table and fence for your tool.
Take the time to improve your tools so they work better which makes you work more efficiently and faster. Just please don't go modifying the safety features of the tools like removing guards.
Cord and Cable Maintenance Tips
Periodically inspect the power cord if your tool has one. Look for frayed or worn insulation. If there is supposed to be a ground on the plug, make sure that is still there. If not, it is time to replace the plug or send it to be serviced if the cord is damaged. It is also a good idea to check your extension cords periodically as well.
Also, make sure you have the right types of cords for the work you do. Check out our handy extension cord sizing chart for more tips on that.
Daylight Savings Time Battery Check Tool Tip
We all know that you are supposed to change the batteries in your smoke detectors every time daylight savings time change happens. That is also a good time to check the batteries in your testers or meters such a multi-meter, gas tester, or other testers. You could be risking a severe shock if the battery in your non-contact voltage tester gets too weak. Alkaline batteries are notorious for leaking, so it is a good idea to replace the batteries before they leak in your expensive tester.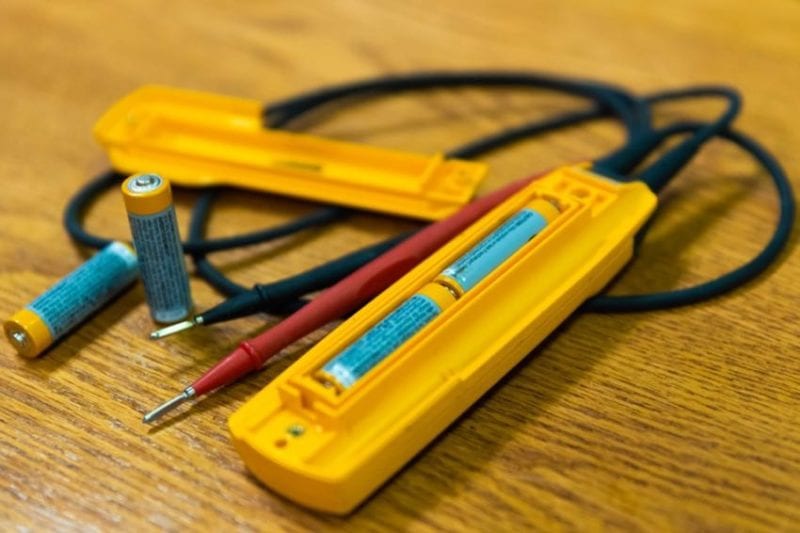 May I See Your Proof of Tool Insurance Please?
When you think of "tool maintenance tips" you might not think of insurance, but no one likes to deal with insurance companies, especially after your tools have been stolen, or you have had a fire or some other disaster. When you make a claim with your insurance company, they are going to want proof that you own all the tools you say you own.
Now is the time to make a list, take photos and videos and record all the serial numbers. Whether you use an Excel spreadsheet or one of the numerous apps for your phone that help you inventory your tools, you need some way to keep track of them.
Inventory – There's an App for that
Of course, having a good inventory system helps you with more than just insurance. For the contractors out there, ShareMyToolbox is available for both iOS and Android and will not only keep an inventory of your tools but keep track of which of your workers is using it. For the individual tradesmen or DIYers, HouseBook! will inventory everything in your house for your insurance and items can be grouped into categories like tools, electronics, jewelry, etc.
Of course, you can always go download the Milwaukee One-Key app which also provides tons of inventory features in addition to tool-tracking capabilities.
Your Happy Place
When I was an apprentice, I was told if I didn't have anything to do, clean and organize the shop. It was my boss's job to make the mess and my job to clean it up. Now that I am on my own, all the mess I keep running across is mine. The more I can keep my tools organized the less mess I have to clean at the end of the day.
Whether you have to take your tools to the jobsite or you have a workshop, keeping your tools organized will keep your tools from getting lost, damaged and save you time and, to use the cliché, time is money.
If you have a tool maintenance tip, please leave it in the comment section below.