There's some skepticism surrounding the idea of the Klein Magnetic Wristband. Maybe it's about the look. Just fasten the hook-and-loop band around your wrist and you'll immediately look cooler than Kenny's recent selfie submission in the TrueWerk T.5 Werkhoody to Vogue. Sort of.
Maybe it's about understanding where the wristband does its best work.
Pros
9 rare earth magnets hold strong
Breathable, softer mesh interior
Tough 1680d ballistic nylon build
Keeps fasteners and accessories close by in tight workspaces
Cons
Price is on the higher end of the scale
Recommendation
Nearly every tradesman will be able to use Klein's magnetic wristband at some point. It does its best work in situations like overhead, under a car, or in a crawl space where dropping a fastener becomes really inconvenient. It's also handy for simply keeping fasteners and accessories closer and more secure.
Features
The standout feature of the bracelet is its rare earth magnets sewn into the wide hook and loop wristband. Klein starts with 1680d ballistic nylon and combines it with a breathable mesh to keep it comfortable. Here's a look at the entire feature set:
Strong rare earth magnets
1680d ballistic material with breathable mesh interior
Wrap around hook and loop closure
Fits most wrist sizes
Contoured for a comfortable fit around the wrist
Wrap around your wrist, belt, or tool bag and keep small parts easily within reach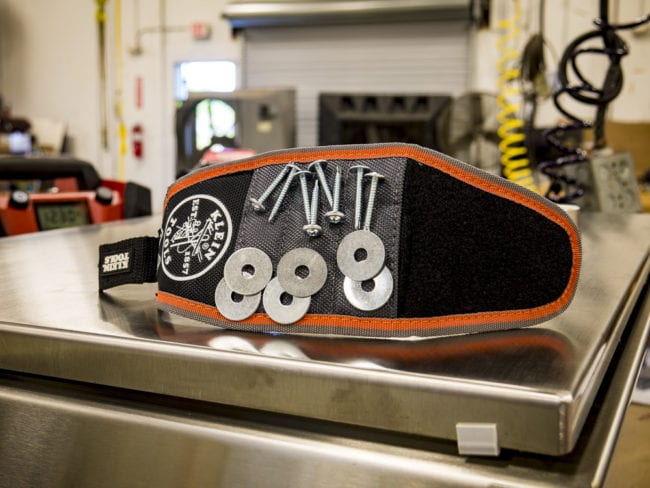 Saddle Up
Hopefully, it's obvious that the band won't be much help for stainless or aluminum fasteners that some of us typically use in the workshop. Out in the field, though, it's a different story. The wristband is exceptionally helpful, and so much so that I've wondered why I haven't seen more guys wearing something like it.
Its strong rare-earth magnets excel in dim/dark areas because I don't have to fumble around with a flashlight and my tool case. Those silver fasteners stand out in beautiful contrast to the black ballistic nylon.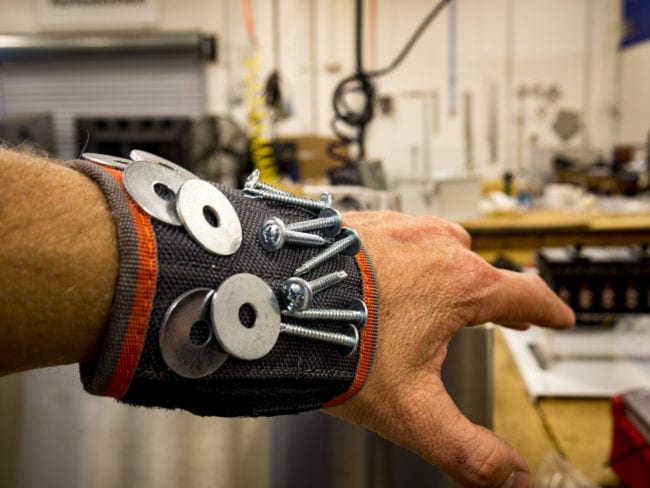 How You Wear it Matters
Unlike wearing a watch, wearing the band on your dominant wrist is your best bet. That way, you can grab and position the fastener or washer with your non-dominant hand and drive it with the drill or impact in your dominant hand.
If you choose to wear it on your non-dominant hand, be aware that your watch might get in the way and force you to shift it up your arm a hair.
When you're working overhead, spin the band so the magnets are on the downside of your wrist. That keeps your fasteners pointing in toward you where they're easier to see and grab.
You'll be working faster right away. It takes time to look down and grab another fastener from your apron. If you work with magnetic bits, pulling a screw off the Klein Magnetic Wristband and setting it onto your magnetic bit keeps you moving with surprising efficiency.
Hold Me
Most reasonably sized accessories, fasteners, and washers will stick on the wristband easily. Drill bits, driver bits, nuts, bolts, screws, and nails are all fair game.
There's even enough ferrous metal in a large wire nut to stick pretty well. However,  the smaller ones tend to shake off easier. I'll take the wins where I can get them, though.
Wearing the Klein Magnetic Wristband
The wristband is pretty comfortable, but it gets a little itchy over time. It happens quicker when you're sweating.
Over long-term use, expect it to pick up some odor as well. There's no instruction when it comes time to wash it, though. To play it safe, I'd hand wash it and let it air dry.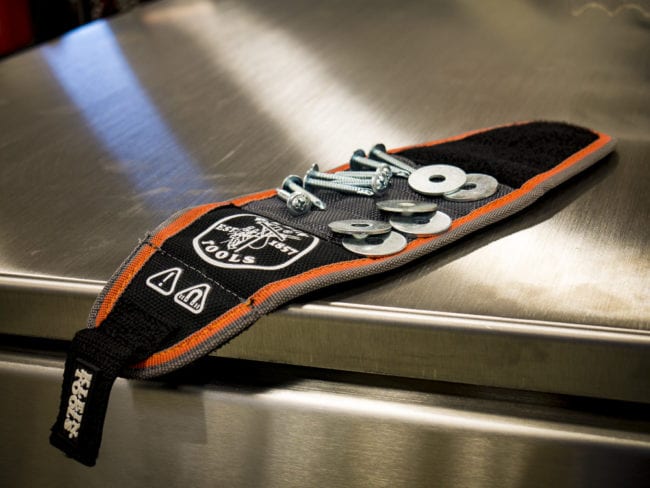 Open to Other Options
You don't have to be an electrician to get the most benefit from this magnetic wristband and it doesn't have to live on your wrist, either.
I love the concept for electricians, HVAC, MRO, and automotive at first blush. However, there are so many different scenarios I can imagine where keeping accessories and fasteners on your wrist can be helpful. Its potential goes far beyond the electrical field.
The other side of the conversation is that the hook and loop strap gives you plenty of other options to strap it. It can go on your toolbox or bag, hook around your belt, or anywhere else that's convenient when you're working in an area that eliminates your wrist as the best place.
When you drop a fastener, the magnets give you a fighting chance to find in carpet, insulation, or grass as well.
Price
The $20 Klein Tools Magnetic Wristband is on the high end of the competition's price range. A quick search reveals a surprising number of magnetic wristband options ranging from around $6 to $25, but none from well-known manufacturers like Klein.
The Bottom Line
The Klein Magnetic Wristband is one of those accessories that doesn't seem like a big deal until you try it for yourself. Think about it the next time you're up on a ladder or under a car and drop a fastener.
Klein Magnetic Wristband Specifications
Model: Klein 55895
Application: Small Part Accessibility and Storage
Rare Earth Magnets; Contoured Shape
Material: 1680d Ballistic Weave, Mesh Interior
Color: Black with Orange/Gray
Length: 13.25 inches
Width: 0.75 inches
Height: 4 inches
Weight: 4 ounces
Price: $19.99 (Amazon)
Shop Amazon