We'll probably never see the impact driver and recip saw combination tool because some things just don't go together. On the other hand, some tools within the same class are often separated when there's a good reason to combine them. A good example is the Klein 5-in-1 Multi-Nut Driver, a sensible and clever consolidation of similar tools.
An electrician runs into multiple nut sizes as often as any Pro tradesman, so having the right driver at hand is, well, very handy. One of the major concerns with any multi-tool is the Swiss Army Knife Principle – is a combination of good tools replacing several individual great ones?
Going from great to good isn't a trade-off most Pros want to make, so I'm out to see if the Klein 5-in-1 Multi-Nut Driver is as great as their individual drivers. I took the Klein along with me for a few weeks to see if it is as helpful as I suspect it will be.
First Impressions
The Klein 5-in-1 Multi-Nut Driver covers 3/16, 1/4, 5/16, 3/8, and 9/16-inch nut driver sizes nested within one another. Ball-bearing tension keeps the pieces together, but you can access the sizes simply by pulling the sections apart and inserting them back into the handle for use.
The handle itself is the 9/16-inch driver. The driver also boasts a wrench assist section whereby you can gain leverage on the driver's shaft with the appropriate sized wrench – something we saw with Klein's Heavy-Duty Nut Drivers and really like.
Another subtle, yet nice touch is the color coding on each driver. After you've been around the industry a while, you get used to knowing what size you're holding by sight. Even the best of us get it wrong once in a while, so the color coding adds the additional visual verification that our sight is indeed in check – or perhaps that it's fading.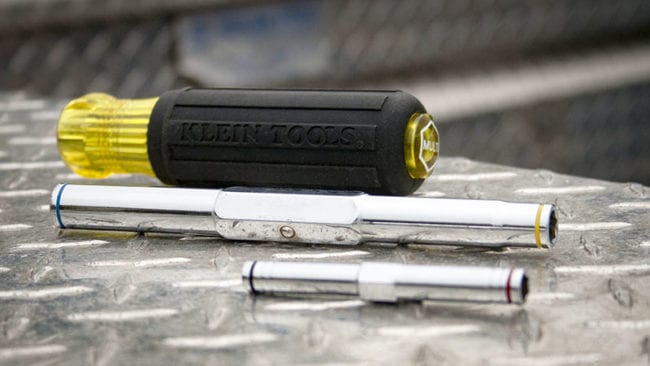 Driving You Nuts
The Klein 5-in-1 Multi-Nut Driver obviously saves precious room inside your toolbag or box. It makes sense to consolidate the tools this way, especially since the wrench assist is available for tough nuts. I didn't run into many nuts that I needed the wrench assist for and that's thanks in part to the excellent cushion grip all Klein tools have. It's comfortable and non-slip, so you can always have a secure hold. They are the best grips on any tool, I'd say. I also really like how snugly the pieces fit together.
I wish this set included an 11/32-inch driver since that's the size you need when taking out a light's ballast – a pretty common task for me. In fact, I'd gladly forgo the seldom-used 3/16-inch in favor of the 11/32. This driver is very useful, but swapping those sizes would make it a home-run in my eyes.
In addition to space, this convenient tool also saves you quite a bit of time. I used to do a lot of bucket truck work, and we'd often go up to pylon signs to remove the variously sized. I wish I'd had the Klein 5-in-1 Multi-Nut Driver then. Now other members of our crew get to take advantage of the space and time savings up there.
Whenever you have multiple parts, especially ones that depend one one another to fit together, the danger is losing any of them. The smaller driver shaft fits into the 3/8-inch shaft and sits inside the handle when using the 5/16-inch driver. However, it won't fit in the 5/16-inch side, so it's running around loose when using the 3/8-inch driver. Obviously, both shafts are out when using the handle alone as a 9/16-inch driver, Having a zippered pocket during these times is very handy.
The Bottom Line
The Klein 5-in-1 Multi-Nut Driver is a convenient and versatile tool. I like how snugly the parts fit together, the wrench assist, and the grip. However, I'd ditch the 3/16-inch driver and swap it with an 11/32-inch.
The big deal is that Klein found a way to get five tools on one driver without compromising on the quality and stability of each piece. In any configuration, the shaft being used is solidly locked in place and the cushion grip gives you the same secure handle you expect from Klein hand tools.
I would recommend this to other Pros. In fact, I've already been singing Klein's praises to the other guys on our crew. One of my co-workers immediately went out and got one of his own. It's quite handy and less than $25, certainly a solid value considering other nut driver sets can cost double that or more.
Klein 5-in-1 Multi-Nut Driver Features
Multiple sizes in one convenient tool
Includes interchangeable 3/16-, 1/4-, 5/16-, 3/8-, and 9/16-inch sizes
Heavy duty handle and shaft exceed the torque performance of regular nut drivers
Wrench assist feature for torque when needed
Cushion-Grip handle for maximum torque and comfort
Klein 5-in-1 Multi-Nut Driver Specifications
Model: Klein 32801
Hex Size: 3/6-, 1/4-, 5/16-, 3/8-, and 9/16-inch
Shank Length: 4-inch (101.6 mm)
Overall Length: 9-1/2-inch (241.3 mm)
Blade Material: Steel
Handle Color: Black
Shank Type: Round
Warranty: Lifetime
Price: $22.48