Last Updated on January 22, 2021
Empire Level tape measures have recently been upgraded with the introduction of a new series of autolock and chrome designs. All new tape measures feature a nylon-coated blade, reinforced 5-screw housing, a marking surface, and a belt clip. The autolock series also includes an auto locking brake and fractional printing. Empire Level tape measures are backed by a limited lifetime warranty.
Our Take
If you remember, back in 2014 Milwaukee Tool acquired Empire Level. One of the great things about these kind of transactions is that both companies can benefit from trickle down technology.
Until Milwaukee launched the Redstick level lineup, they didn't have much of a presence when it came to levels and layout. Empire immediately gave them innovative products backed by a solid reputation. Products like Empire's e75 series levels and laser etched squares have enjoyed a presence at PTR since their respective launches.
But now the flow reverses and hints of Milwaukee's innovation is showing up in Empire's new tape measures. Specifically, the new measures feature a nylon coated blade and 5-point reinforced housing. Neither Milwaukee nor Empire has publicly claimed that the two are directly related, but it's a coincidence that is hard to ignore.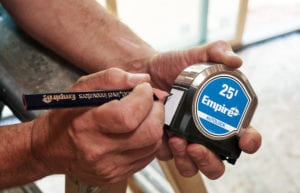 Aside from these two durability features, the new Empire Level tape measures offer impressive value with the 35-foot chrome tape coming in as the most expensive at $15.99.
The marking surface is a particularly interesting feature to see and we're curious how well Pros will accept it into their routine. It certainly makes things easier to remember between the work piece and the notepad and most Pros have several contractor pencils handy.
From there it's a matter of style between the auto locking models that look a little more modern and the chrome versions that give a nod to the classic design. Empire tells us that both versions have been designed to fit better in hand than their predecessors.
New Empire Level Tape Measures
Empire Level Autolock Tape Measures
12' Empire Autolock Tape Measure (500AL-12)

$7.99

16' Empire Autolock Tape Measure (500AL-16)

$8.99

25' Empire Autolock Tape Measure (500AL-25)

$9.99
Empire Level Chrome Tape Measures