Advancements in battery technology are leading to cordless tools that match some of the strongest 15-amp corded tools available. In this Pro Tool Reviews Thursday Throwdown, we're going to look at one of the original advanced systems and see how it stacks up against one of the newest. The irony is that both tools are multi-voltage systems in this DeWalt FlexVolt vs Metabo HPT MultiVolt Reciprocating Saw head-to-head review.
DeWalt FlexVolt Vs Metabo HPT MultiVolt Reciprocating Saw
Here are our two competitors for today's matchup:
DeWalt FlexVolt 60V Max Reciprocating Saw DCS388
Tested Battery: DeWalt FlexVolt 2.0/6.0Ah (108Wh)
Motor: Brushless
Stroke Length: 1 1/8-inch
Stroke Speed: 0 – 3000 SPM
Read our review here.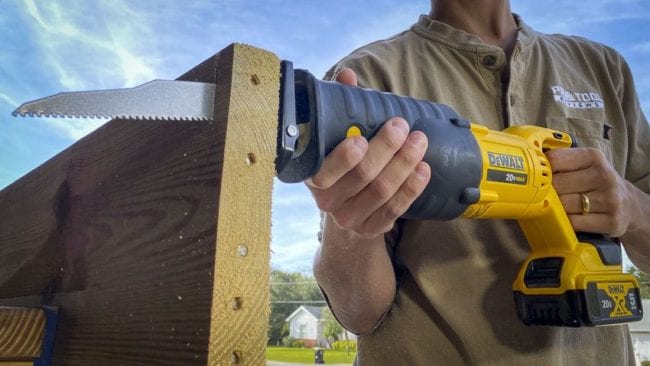 Metabo HPT MultiVolt 36V Reciprocating Saw
Tested Battery: Metabo HPT MultiVolt 4.0/8.0Ah (144Wh)
Motor: Brushless
Stroke Length: 1 1/4-inch
Stroke Speed: 0 – 1700/2000/2500/3000 SPM
Read our review here.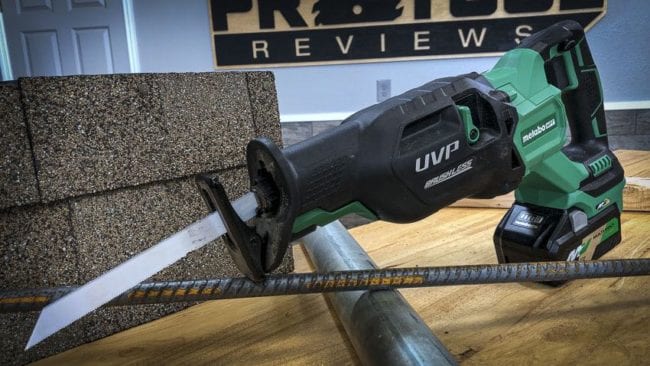 Size
These two saws are pretty close in length and they're on the more compact side of the group. DeWalt is just 17.7 inches long with Metabo HPT stretching a little longer to 18.0 inches. It's probably not going to change your opinion on buying one or the other, but for the purposes of our scoring, it's a win for DeWalt.
Verdict: DeWalt
Weight
DeWalt enjoys a full 1-pound advantage in weight without a battery installed. With Metabo HPT's smaller and lighter battery form factor, the gap closes. However, it's not nearly enough. DeWalt's 9.8-pound full weight is noticeably lighter than Metabo HPT's 10.7 pounds.
Verdict: DeWalt
Feature Set
When it comes to features, here's what we look for:
From the basics, Metabo HPT has a clear advantage. The only thing DeWalt offers that you don't get on the MultiVolt is a blade release lever instead of a twist release on the shaft. In DeWalt's defense, that's a feature we really like, though.
There are a few things worth digging deeper on. Metabo HPT's variable speed selection is an electronic control that cycles four speeds. It's an important feature if you're the kind of Pro that's going to slow the blade speed down when you're cutting tough materials such as stainless steel or black pipe. Some materials actually cut faster that way and you'll get more cuts out of your blade.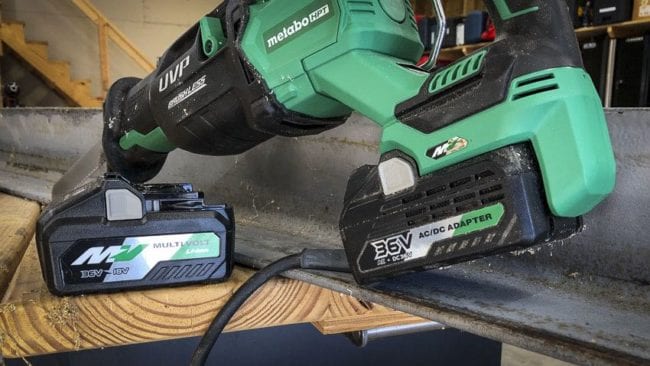 What doesn't show up in this chart is Metabo HPT's AC adapter. You can use your saw corded or cordless depending on the situation. We hear people ask for AC adapters frequently for the FlexVolt table saw and some of the other tools, making it a significant factor for some folks.
Verdict: Metabo HPT
Nail-Embedded Wood Cutting
One of our standard benchmark tests for all reciprocating saws is a nail-embedded wood test. Using 2 x 10 pressure-treated pine with five framing nails fired in from our cordless framing nailer, we add 5 pounds of weight to each saw and see how fast each saw can cut through. We take the average of at least 5 tests, throwing out any outliers.
The DeWalt FlexVolt reciprocating saw needed just 11.90 seconds. Metabo HPT set a much higher bar, though, finishing with an average of 7.6o seconds.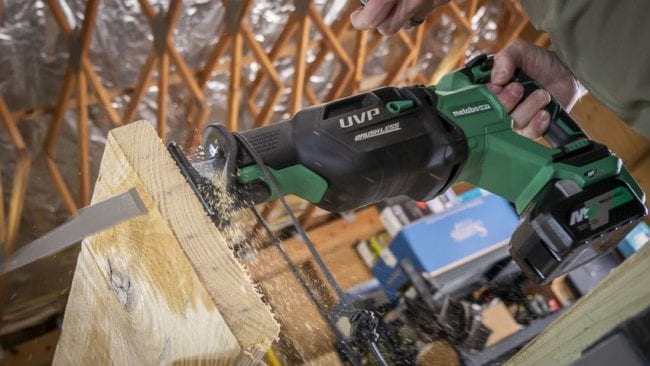 That's not a surprising result considering Metabo HPT has a slightly longer stroke length of 1 1/4-inch compared to DeWalt's 1 1/8-inch and it has orbital action.
Verdict: Metabo HPT
Metal Cutting
After cleaning up the sawdust, we turned Metabo HPT's orbital action off and switched over to 2″ EMT.
In this test, the DeWalt FlexVolt posted an average cut speed of 6.19 seconds—the slowest of the group. Metabo HPT's MultiVolt accomplished the same cut nearly twice as fast, finishing with a 3.58-second average—the fastest of the group.
Verdict: Metabo HPT
Rebar Cutting
Flipping over to a Lenox Lazer CT thick metal blade, we started cutting 5/8″ (#5) rebar.
DeWalt's average of 11.87 seconds maintained its position at the bottom of the table. Metabo HPT slipped away from the top, but its 8.91-second average was still significantly faster.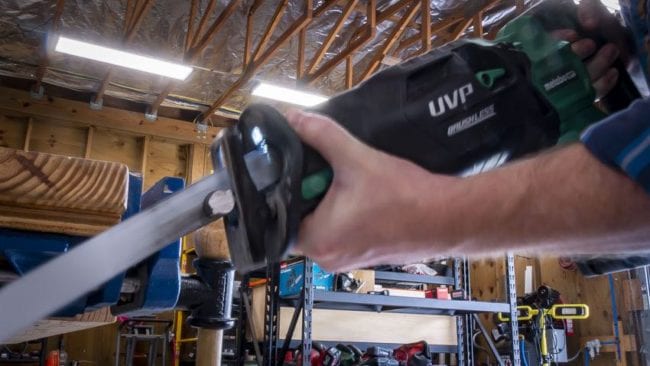 Verdict: Metabo HPT
Vibration
For our vibration testing, we had each member of our testing team score every saw in the class on a 1 – 4 scale. We cut wood, metal, and PVC, focused on how good the vibration control is in each.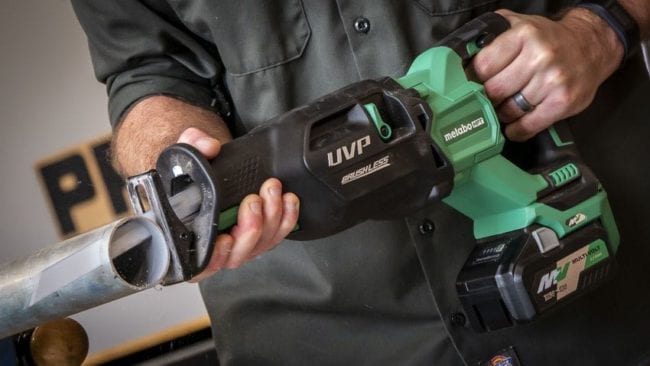 DeWalt doesn't advertise any particular vibration control system and it showed. It finished with 60 points while Metabo HPT's UVP (user vibration protection) system scored 100 points as the top in this class.
Verdict: Metabo HPT
Compatible Tools
When it comes to compatible tools, both of these tools open up some significant opportunities. Both are backward compatible with their lower 18V/20V Max tools with the advantage of a big gas tank at the lower voltage.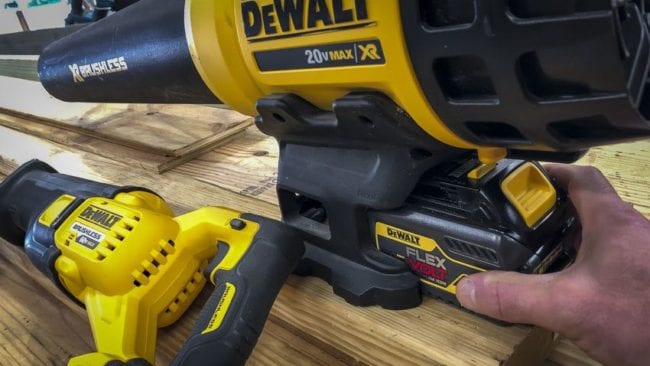 They both cover all the basics well and go deeper with table saws, miter saws, rotary hammers, nailers, and more that work on the same battery.
When you look at the total number of products, DeWalt goes deeper, though. Either one will take care of just about anything a general contractor needs, but DeWalt has more options in some of those classes and they're getting into some trade-specific tools and a few niche categories that Metabo HPT isn't currently in.
Verdict: DeWalt
Value
The DeWalt FlexVolt 60V Max reciprocating saw runs $179 as a bare tool, $299 with one 2.0/6.0Ah battery, or $379 with two batteries. Metabo HPT is $249 as a bare tool and you'll need to pay another $169 for a battery/charger starter kit or AC adapter. Keep your eyes open for sales, though. Metabo HPT has been running several promos each year to get you a battery or adapter as part of the tool purchase.
DeWalt obviously has a better price, but is it the better value? We put the numbers into our value algorithm along with a host of performance data and other characteristics to find out.
DeWalt came away with 81 points on our value scale—just 3 points short of Metabo HPT's 84. What pushed Metabo HPT ahead was how much better its performance is. That along with its incredible vibration control and lifetime warranty was enough to overcome the price difference.
Verdict: Metabo HPT
DeWalt FlexVolt Vs Metabo HPT MultiVolt Reciprocating Saw Final Verdict
Adding up the final scores, we end up with Metabo HPT winning 6 – 3. DeWalt has a few advantages, but Metabo HPTs focus on performance and vibration control really dominate the contest.
That's not the final word though. DeWalt has a Gen 2 FlexVolt Reciprocating Saw coming soon. Once we get it in, we'll see how it competes against the best!
Buy the DeWalt FlexVolt 60V Max reciprocating saw if size and weight are your biggest priorities in an advanced saw, or you're looking for a deeper line of compatible tools.
Buy DeWalt
Buy the Metabo HPT MultiVolt 36V reciprocating saw if you're looking for the best cutting speeds and vibration control, or having an AC option appeals to you.
Buy Metabo HPT