Milwaukee M18 Fuel Compact Band Saw Boasts Fastest Cutting in Class
Milwaukee is introducing a pair of compact band saws optimized for the trades. The Milwaukee M18 Fuel Compact Band Saw and Milwaukee M18 Fuel Compact Dual-Trigger Band Saw are due out in February 2020 and Milwaukee claims that these new tools will offer the fastest cutting speeds and the largest cutting capacity of any compact band saw on the market.
10-Second Summary
Model Numbers: 2829-22 (Standard); 2829S-22 (Dual-Trigger Design)
Brushless motor
Cuts up to 3-1/4″ x 3-1/4″ material
20% lighter than the previous model
Composite material and crush zone barriers provide protection
Variable speed trigger
LED light
All-metal direct drive
Tool-free locking adjustable shoe
Price: $449 (standard kit); $499 (dual-trigger kit)
Get to Know the Milwaukee M18 Fuel Compact Band Saw
The difference between these two saws is a traditional trigger system versus a dual trigger system. The dual trigger model requires you to keep both hands on the saw and is a safety feature that's gaining momentum.
Both of the new Milwaukee M18 Fuel Compact Band Saw models run on the M18 Fuel battery platform. They feature brushless motors and use Milwaukee's Constant Power Technology to help maintain cutting speeds in tougher applications.
The saws have a 3-1/4″ x 3-1/4″ cut capacity to allow for more cut capacity than other compact band saws. Most "compact" models have a 2-1/2″ capacity, so it really is a nice boost. If you're looking for more capacity, deep cut band saws can get you 4″ or 5″ without moving to a benchtop or floor model.
Milwaukee uses proprietary composite material for the construction of these saws that increases the overall durability. In the case of accidental drops, both saws feature crush zone barriers for impact absorption.
The updated models are lighter, too. With a total weight of 7.7 lbs (without the battery attached), they weigh 20% less than the original M18 Compact Band Saw (2629-20).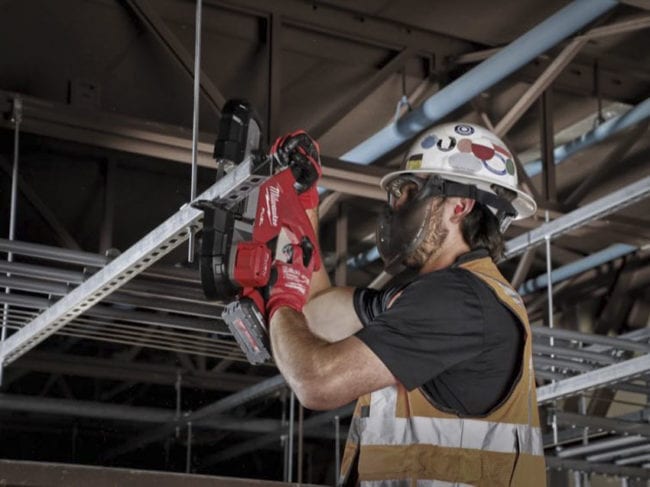 There's a variable speed trigger worth pointing out. Many band saws don't have one and you're always cutting at the maximum speed. It's effective in most situations, but having the extra control is helpful when the material or space calls for it.
Additional Features
Tool-free adjustable shoe
LED light
Rafter hook
There are a couple of cool accessories to go along with the saw as well. There's a pipe reamer attachment that provides you with the ability to cut and ream with one tool. The reamer installs without the need for a tool and can ream 1/2″, 3/4″, and 1″ conduit.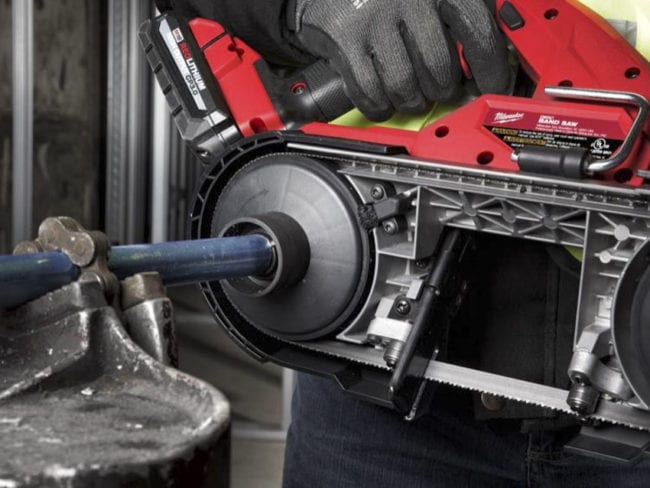 Optional blade covers are available as well. These protect the blade track from damage, as well as minimizing blade exposure. Like the reamer attachment, these have tool-free installation and removal.
Pricing and Availability
The M18 Fuel Compact Band Saw and M18 Fuel Dual-Trigger Compact Band Saw will make their debuts in February. They both come with Milwaukee's 5-year limited warranty.
The standard M18 Fuel Compact Band Saw is slated to retail for $449 with two 3.0Ah High Output batteries, a rapid charger, bag, Extreme blade, and blade covers. It will also be available as a bare tool for $279.
The M18 Fuel Dual-Trigger Band Saw Kit will run $499, though it looks like this one will be sold without the bare tool option.
The optional reamer attachment will be available for $34.99, and the optional blade covers will run you $54.00.
Keep your eyes on Acme Tools for ordering availability.
Milwaukee M18 Fuel Compact Band Saw Specs
Model Numbers: 2829-22 (Standard); 2829S-22 (Dual-Trigger Design)
Power Source: M18 battery
Cut Capacity: 3-1/4″ x 3-1/4″
SFPM: 540
Blade Length: 35-3/8″
Weight: 7.7 lbs (without battery)
Warranty: 5 years
Compact Band Saw Price: $449 (kit); $279 (bare tool)
Compact Dual-Trigger Band Saw Price: $499 (kit)
Reamer Attachment (49-90-2029): $34.99
Blade Covers (49-90-2829): $54.00