Last Updated on April 6, 2020
Those looking for a cordless and OSHA-approved solution to power cutting through concrete, keep your eyes peeled this spring. The XEC01 Makita 36V 9-inch Power Cutter, which made its debut at this year's 2020 World of Concrete, looks like it should tick all of the major boxes.
10-Second Summary
Model Number: XEC01
Eliminates gas, using two 18V LXT batteries (36V)
Lower noise, immediate startup, and reduced maintenance
No emissions, so you can use it indoors safely
Compact size and weight allow for wall and above-chest-level work
Integrated water delivery system
OSHA Table-1 compliant
Available spring 2020
Is the Makita 36V 9-inch Power Cutter as Strong as Gas?
We got our hands on the Makita XEC01 power cutter at the 2020 World of Concrete. We used it to make several cuts in fairly dense concrete pavers with a lot of aggregate. While you can stall out any saw if you push it hard enough, we felt the Makita 36V 9-inch power cutter allowed for reasonably quick cutting speeds. When pushed really hard, you could engage the electronic clutch (Automatic Feedback Technology or AFT) which safely stops the blade.
Of course, this is actually a feature. One that we hope to see on more cordless power cutters. It protects the user against bind-ups and potential injury due to encountering something in the cutting path. This feature kicks in when something causes the blade to suddenly stop spinning. Since it's an electronic clutch, it uses the brushless motor to engage the "brake" as opposed to a spring-loaded clutch systems you see on many 14-inch power cutters. We tried out the feature several times and Makita hits a nice blend of safety and performance. The AFT system doesn't prematurely engage, so you stay cutting at a decent pace without feeling as if you need to back off. Letting the blade do the work, it cuts quickly.
A Familiar Powerplant
The Makita 9-inch battery-powered concrete saw uses the same 80mm brushless motor as their XRH07 1-9/16″ 18V X2 rotary hammer. This motor provides ample power for drilling applications and seems to do equally well applied to this saw.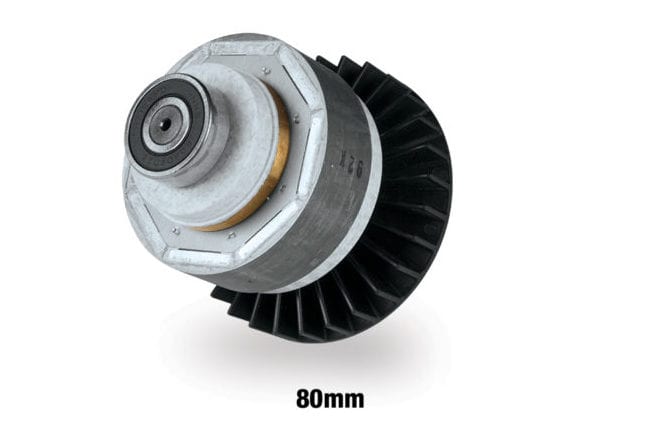 The XEC01 Makita Cordless 9″ Power Cutter operates on the brand's 18V X2 LXT battery platform. It combines two 18V batteries to deliver 36V of power. This lets the saw cut through concrete slabs, walls, pavers, or block. Because it uses battery power, it starts up immediately and requires less maintenance. The top of the tool features a pair of battery level indicators so you don't have to guess if you have enough juice to finish the job.
The batteries also slide in on each side of the handle—similar to the Makita XCU03 chainsaw. Makita then provides a gasketed cover that keeps out water and debris, so the batteries stay protected. A separate control for an onboard LED light sits just above the rear handle.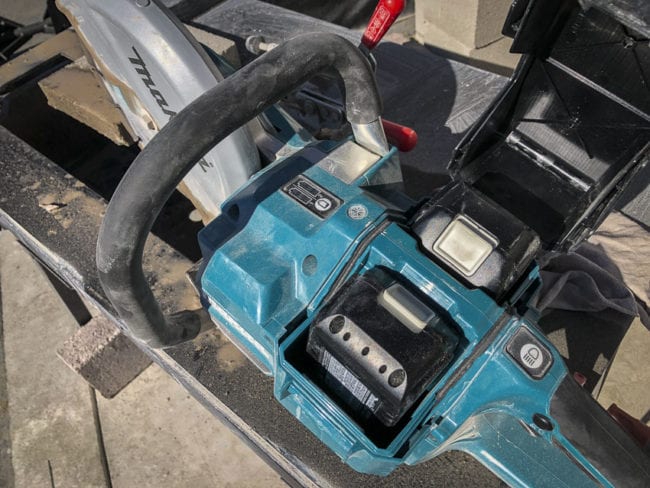 The Makita Cordless Power Cutter is OSHA Table 1 Compliant
The 18V X2 power cutter also includes an integrated water delivery system with a water adjustment knob. Continuously feeding itself water, the Makita XEC01 maintains OSHA Table-1 compliance for all concrete cutting applications. The system is simple to connect and use and works as you'd expect.
Additionally, because the Makita 36V 9-inch concrete saw runs on batteries, you get zero emissions. This means that you can operate it safely indoors without breathing in the exhaust. We've been on our fair share of job sites, and this alone should stir up tremendous interest in considering a battery-powered power cutter when the job allows it.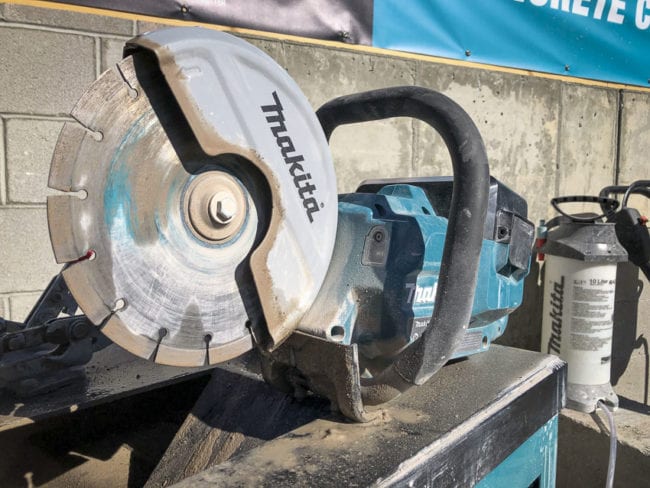 How Heavy is the Makita XEC01 Power Cutter?
The last thing worth mentioning is the weight. We're currently waiting on feedback from Makita on the exact specs. For now, the claim is that the Makita XEC01 power cutter weighs less than a 14-inch gas-powered saw. Those typically run right around 20 pounds. We can at least confirm that from having used it—the saw feels very manageable. The big question is how much weight do you save over those 14-inch gas concrete saws?
With a 3-1/2 inch depth-of-cut, you do get roughly 70% of the cut capacity of a 14-inch blade—in a greatly-reduced package. This lets you more easily use the Makita 9-inch concrete saw on walls and for above-the-chest cutting applications. Of course, the 3.5-inch depth-of-cut works really well for patio block, smaller slabs, short joints, etc.
As mentioned earlier, this saw also lets you cut with less total noise. Battery-powered electric motors produce much less sound output on their own than gas engines. Most of the XEC01 noise gets generated by the cutting action of the 9-inch concrete blade.
Keep an eye out for the XEC01 Makita Cordless 9″ Power Cutter to hit stores this upcoming spring. Pricing is still TBA.