Klein Test and Trace Kit Highlights Simple Multifunctionality
The Klein Tone and Probe Test and Trace Kit gives users an inexpensive inroad to a variety of VDV installation tasks. It tackles toning and tracing, as well as wire map testing of non-energized wire. And, while all of this functionality sounds like a lot to pack into one unit, Klein seems to have designed this test kit with ease-of-use in mind.
10-Second Summary
Model: VDV770-855
Multifunctional: tone generator, wire tracing, continuity check, pin-to-pin wire mapping
Tone generator traces wire when used with probe
Probe features non-metallic, conductive tip
Includes alligator clips for unterminated wire
Includes RJ45 to RJ45 test cable
Toner and probe together perform pin to pin wire map test on RJ45 terminated cables
Work light
Headphone jack and adjustable volume control
Drop tested to 3 meters
Warranty: 2 years
Price: $42.99
In creating this kit, we wanted to provide a simple-to-use device that was also multi-functional. This kit functions not only as a tone generator and wire tracing probe for non-active wire runs, but also performs pin-to-pin wire mapping testing.

—Karen Alpan, product manager with Klein Tools
Key Features
The Klein Tone and Probe Test and Trace Kit ticks a lot of boxes for such a simple kit. Let's start with wire tracing. This unit features a tone generator that works with the probe to give you an audio indication of where you're at with your unterminated wire tracing. The probe features a non-metallic conductive tip and a work light.
You can adjust the volume on the tone generator via the dial on the side of the probe. However, you also have a headphone jack available for more discreet tone generating in noisy environments.
For pin-to-pin wire mapping of terminated ethernet cables, the Klein VDV500-705 toner and probe work together to show you your continuity across simple-to-read LEDs.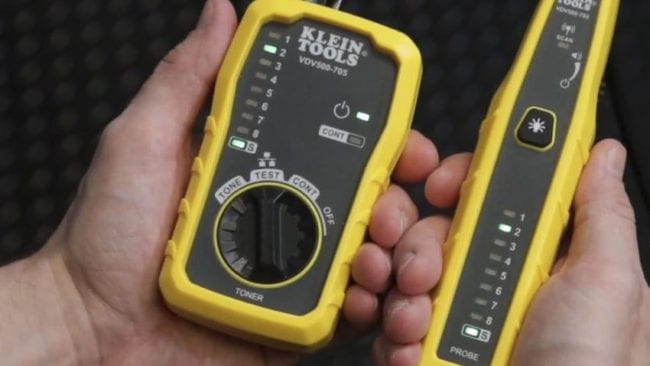 The Klein Tone and Probe Test and Trace Kit retails for $42.99. It comes with alligator clips for unterminated wires, an RJ11 plug, an RJ45 to RJ45 test cable, and 4 AAA batteries. The VDV500-705 features impact protection up to 3 meters as well. All Klein test and measurement devices come with a 2-year warranty.
Klein Tone and Probe Test and Trace Kit Specs
Model: VDV500-705
Type: Tone Generator Tracing Probe
Application: Wire Toning and Tracing
Special Features: Alligator Clips, RJ11 Plug, RJ45 to RJ45 Test Cable
Dimensions (LxHxW): 10.6 x 1.6 x 6.9 in.
Material: ABS
Batteries: 4 x AAA
Included: RJ45 Cable, RJ12 and Alligator Clip Cable, Batteries
Standard: REACH, RoHS3, CE-EMC
Weight: 10.1 oz
Price: $42.99
Get It On Amazon!