I had the good fortune to attend Southwire's annual tool showcase earlier this year (which I hope to make an annual trip!) and my experience underscored two things. First, with two wonderful young kids and one on the way, I don't think I've slept in five years. Second, reviewing Southwire tools is really a highlight of my Journeyman career. The company is committed to making tools that make me more productive and my customers happier – everyone wins. Sometimes it's the sophisticated stuff like a new clamp meter or knockout set that make the job better. But often it's the simple hand tools that make the difference. You might be familiar with the 750MCM cable cutter that's been out a little while. The Southwire 600MCM Ratcheting Cable Cutter is a bit smaller and less expensive – and likely just right for service Electricians who don't have to cut 750MCM very often.
Key Features
Blades of Glory
The Southwire 600MCM Ratcheting Cable Cutter features hardened steel blades designed for both copper and aluminum. The cutting blade pivots around the rest of the tool on a screw. This screw is easily removable when it's time to replace the blade.
Making a Ratchet
The cutter accomplishes the tough task of cutting thick cable by way of a two-step ratcheting mechanism design to minimize the strokes needed to cut. The blade encloses around the cable in the way handcuffs work around a wrist. The blade freely pivots around the replaceable screw so it's easy for the blades to encircle even existing wire (needless to say, make sure it's not live!). It's more likely that you be cutting uninstalled wire to length. Just like any ratcheting system, squeezing the insulated handles advances the ratchet and blade. A pawl holds the mechanism in place and a spring between the handles returns the tool to its original position for the next advancement.
New Release
Once you've cut through the cable, you can simply retract the blade with the use of the quick release lever. Sure, you could make it ratchet all the way around again, but that would be annoying. There's also a lock to prevent squeezing the handles. As you might imagine, a tool that can cut 600MCM copper wire could do a number on a finger – even if very slowly.
This is where there's one slight shortcoming I found on the Southwire 600MCM Ratcheting Cable Cutter, and it's admittedly a little nit-picky. Like any ratcheting system with a release, you have to first remove the pressure from the pawl. That means you have to advance the ratchet – squeeze the handle – one more click in order to free the blade. With the release being up near the blade, this combination of motions can be a challenge if you're working in a tight area. But most of the time it won't be an issue.
Performance
Doing The Two-Step
If you haven't read some of my reviews this year, you'll know that I spent months on big commercial installation in a building refurbishment. The Southwire 600MCM Ratcheting Cable Cutter – and its big brother – are particularly handy for jobs like this. Large diameter cables abound and you'll of have the opportunity to use the ratchet's two-step mechanism to sever them to length. Even though that job's over, I've been able to use the cutter on several large cables, and it went through them like butter. The ratchet gives you a huge mechanical advantage.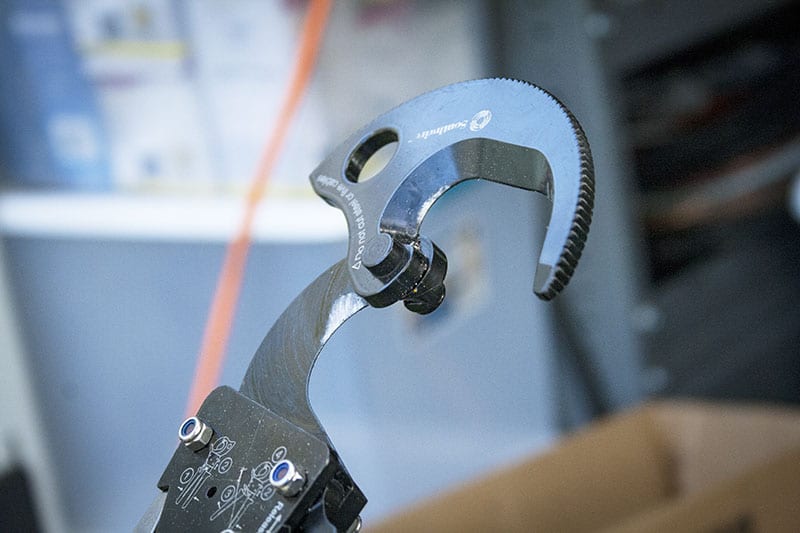 But what about the tool and the service Electrician – does it have a place with him or her? Frankly, you don't encounter as many large wires but yes, the folks on this side of the business should still consider them. Think of it this way: big commercial work with many cables might justify the purchase of power cutters that can run into the hundreds or even thousands of dollars. But it would be silly for a service Pro spend that much only to use it very infrequently. The service Pro can still accomplish big cuts – and spend a small fraction – with Southwire's ratcheting solution.
Cutting It Down To Size
The most current service job had 4/0 aluminum cable to cut – just shy of a 1/2 inch in diameter. It might as well have been a thread with how the Southwire 600MCM Ratcheting Cable Cutter made quick work of each cut. Its action is very easy, with the spring between the handles allowing it to rebound and instantly be ready for the next step. Of course, aluminum cable is softer than copper, but cutters sever that just as easily.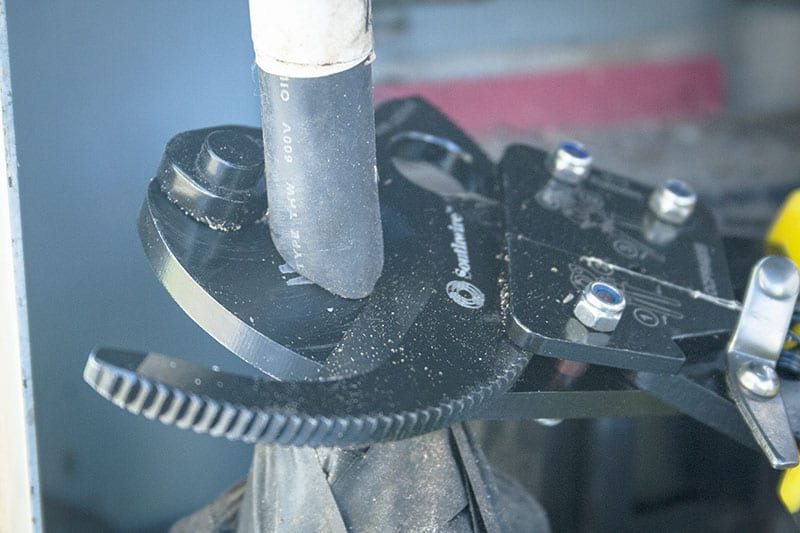 The rubberized grips are comfortable and seem to be well insulated. Of course, all bets are off if you cut live wire, especially without gloves. But the handles will likely mitigate some current unless your hand is in contact with the metal part of the tool – just don't let them be an excuse for letting down your guard. Although the large blade makes it slightly top-heavy, overall the cutter is well-balanced.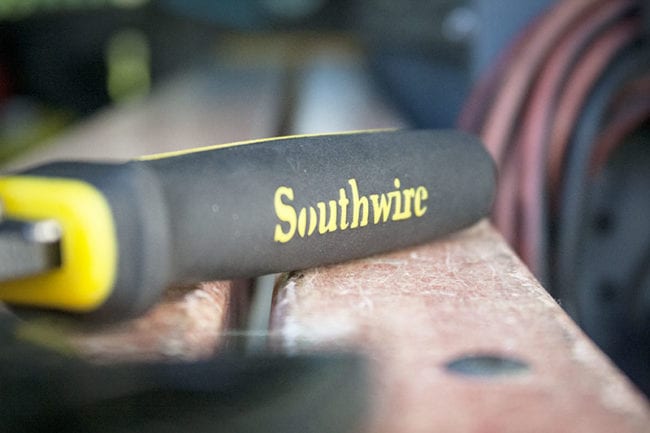 In addition to the easy cut, the Southwire cutters leave a perfectly round cable behind. That is, the tool doesn't smash, flatten, or distort the cable in the act of severing it. You'll be glad the cable is still perfectly round when you're attaching a lug or making another connection.
The Bottom Line
The Southwire 600MCM Ratcheting Cable Cutter is an excellent tool for service Electricians who seldom deal with large diameter cable. At roughly $120, it's even an option for commercial work where it's just not economical to spend many hundreds or even thousands on a power cutter. It's also a bit smaller and less expensive than Southwire's 750/1000 MCM copper/aluminum version.
Blade replaceability makes this tool an even better deal. I don't think you'll dull up the hardened steel blade very quickly. When you do, you can swap it out in a snap. You might find it a little difficult to operate the quick release in a tight spot, but that's rarely a concern. It makes smooth, easy cuts and doesn't distort the cable – and you can't ask for much more than that!
Southwire 600MCM Ratcheting Cable Cutter Features
Hardened steel-cutting blades provide sharpness and lasting strength
Cuts up to 600kcmil copper and aluminum cables
Two-step ratching mechanism for few strokes per cut
Quick-release lever opens blade at anytime during operation
Southwire 600MCM Ratcheting Cable Cutter Specifications
Item Number: Southwire CCPR400S
Height: 9.25 inches
Width: 4 inches
Length: 2.25 inches
Weight: 1.5 pounds
Price: $165.99 online