Porter-Cable recently unveiled a new saw in their lineup, a 10″ miter saw that – get this – makes full-size cuts, but also folds over on itself. Through an innovative folding head design, the Porter-Cable Folding Miter Saw folds up for more compact storage and transportation. With an additional list of features to support it, Porter-Cable looks to enter this saw as a must-have addition to the DIYers' home improvement arsenal.
How Does It Work?
The user starts by placing the saw on a flat, stable surface, like a table or stand. After loosening the bevel lock handle at the back of the base, a red safety lock pin is pulled out to allow the cutter head to be lifted up. The cutter head will move a bit past 90 degrees, but a detent block slides around to allow the cutter head to rest on top of it in the desired position.
Simple transportation, as well as out-of-the-way storage, seem to be the operative characteristics that Porter-Cable are shooting for with this design. Transporting this miter saw becomes a relatively simple affair. As opposed to having a saw blade sticking up from an altogether awkward shape to try to carry, the cutter head design allows for this miter saw to fold into a compact, less cumbersome shape. No tools are required to fold the Porter-Cable Folding Miter Saw, and it can be carried with one hand.
Additionally, the space-saving design allows this saw to be stored flat, possibly under a workbench or in the back of the truck. It also includes a support stand with the saw, which is necessary for vertical storage as the folded saw sits inside it. The support stand also acts as a support base on the job for larger pieces of lumber.
What Else Is Going On?
This new miter saw features a 15-amp ball bearing motor. Capable of some compound cuts, the Porter-Cable saw has a maximum bevel (left bevel only) of 47°, and a maximum miter of 47° to the left and 55° to the right. It also has a maximum cutting capacity of up to 2″ x 6″ or 4″ x 4″ lumber at 0°.  At 45°, This saw is capable of a maximum 2″ x 4″.
The Porter-Cable Folding Miter Saw also features a tool-free adjustable, front-mounted laser to help with cutting accuracy. A dust bag clamps to a 2-1/2″ dust port for keeping the shop from becoming a sawdusty mess.  In addition to the dust bag, the Porter-Cable Folding Miter Saw comes with the support base, carbide blade, blade wrench, and a material clamp. It comes with a 3-year limited warranty, and it retails for under $200.
Final Thoughts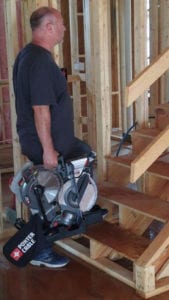 The Porter-Cable Foldable Miter Saw might raise some eyebrows around professional circles. Where they have succeeded with this release, and what is the major talking point of this new miter saw is that, well, it folds up.  This innovation, in and of itself, probably sets the saw apart in the DIY/consumer demographic. It stores away easily and looks really simple to manage on a transportation level.
The most significant limitation for Pro users is that this is a chop saw – there's no sliding action to extend the capacity. And at less than 28 pounds, there's definitely some jobsite survivability to consider.
There are some other unknowns to think about, like, how precise is the cut? How stable is the cutter head when locked into position? How accurate is the laser guide, and how easy is it to keep aligned? Most likely, this is a competent and capable product for the occasional miter saw user. But the real selling point for revolves around Porter-Cable's innovative idea to store and carry it easily.
Porter-Cable Folding Miter Saw Features
Innovative folding head design allows for a compact size for transportation, no tools required to fold
Space savings design allows the saw to be stored flat, reducing space required for storage in garage or work truck
Included support base provides platform for storage of saw, which also provides additional support for long work pieces during operation
Tool-less adjustable front mounted laser for increased cutting accuracy
Powerful 15.0 Amp ball bearing motor, cuts through a wide variety of materials
0-47° bevel left and 0-47° miter left and 0-55° right, makes compound cutting quick and easy
Cutting capacity up to 2-in x 6-in or 4-in x 4-in dimensional lumber at 0° and 2-in x 4-in at 45°
2-1/2-in Dust port keeps work area clean when used with vacuum or included dust bag
Includes: miter saw, support base, carbide blade, blade wrench, material clamp, dust bag
Porter-Cable Folding Miter Saw Specs
Model: Porter-Cable PCXB115MS
Power Source: 120V AC
Saw Blade Diameter: 10″
Maximum Speed: 4,500 RPM
Arbor Size: 0.625″
Length: 22″
Width: 19.5″
Height: 21″
Weight: 27.24 lbs.
Warranty: 3-Year Limited
Maximum Miter Cut – Left: 47 Degrees
Maximum Miter Cut – Right: 55 Degrees
Bevel Capacity: 47 Degrees Left
Price: TBD