Klein Tools recently introduced a new tool to their line of Slide Drivers. Similar to the 2-in-1 Hex Head Slide Driver, the Klein 8-in-1 Hex Head Slide Driver features a patented sliding, magnetic tip that transitions between 1/4″ to 5/16″ hex sizes. It also includes six other bits and nut drivers that make it an ideal tool to have around for HVAC applications.
From Klein
"Due to the popularity of our Slide Driver line, we released our latest HVAC 8-in-1 Hex Head Slide Driver Screwdriver/Nut Driver to offer tradespeople the convenience of having a magnetic nut driver along with six other useful bits and nut drivers. This tool is the perfect screwdriver/nut driver for HVAC applications, including thermostat installations and control work. All customers will enjoy the powerful, patented magnetic tips for maximum fastener retention and ease while on the job."

-Raul Rosales, senior product manager at Klein Tools
Klein 8-In-1 Hex Head Slide Driver
The big, innovative feature on this driver, much like the other Slide Drivers in the Klein toolbox, is in the tip. The patented tip slides back and forth between 1/4″ to 5/16″ hex sizes, and locks into place with a twist of the thumb nut. Klein uses rare-earth magnets to hold the hex head screws in place while fastening.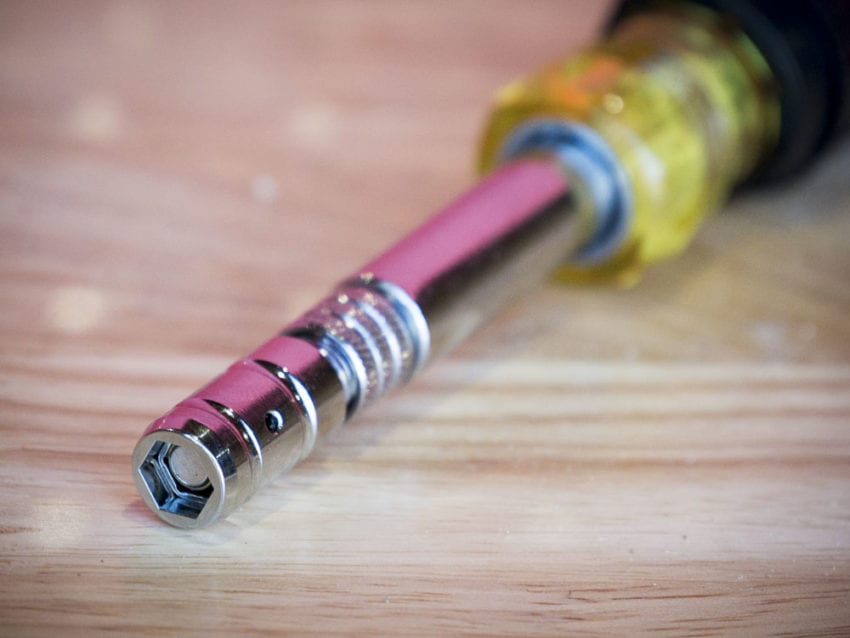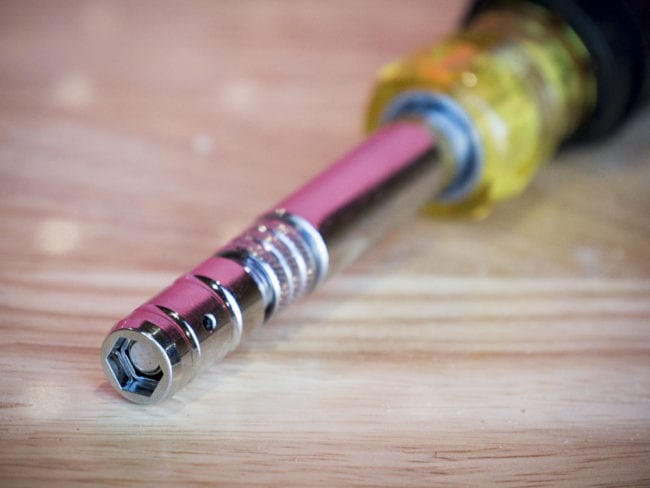 In addition to the two hex head fittings, the HVAC Slide Driver features a hollow shaft that fits 1/4″ and 3/8″ hex nuts, though these tips are not magnetized. The hollow shaft nut driver houses two double sided bits, which includes a #2 Phillips head, 1/8″ and 1/4″ slotted screwdriver tips, and a specialty bit for the installation and removal of TR-4 Schrader valves.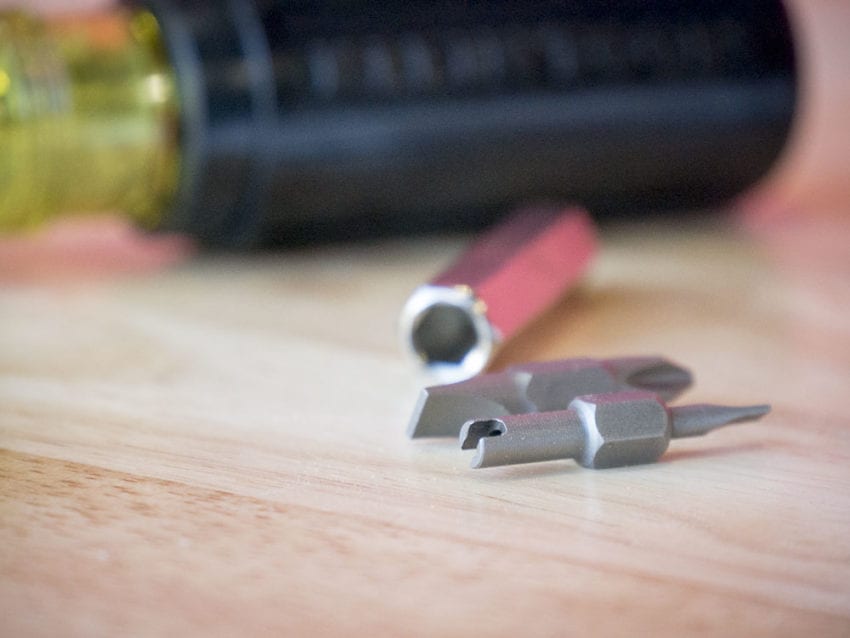 And just like their other hand tools, the Klein 8-in-1 Hex Head Slide Driver features a cushion-grip handle for increased torque and comfort. The dome end of the handle is also stamped for easier identification in the tool bag.
Bottom Line
The Klein 8-in-1 Hex Head Slide Driver feels like the screw/nut driving equivalent of a Russian nesting doll. Only, instead of housing smaller and smaller wooden dolls, this versatile hex head driver houses a variety of different bits that would all find regular use in HVAC applications. This tool just seems all sorts of useful.
Like most of Klein's cushion grip tools, it's soft without feeling squishy, and grooves along the handle help me apply more torque if I need to. The dome end of the handle is clearly labeled, which means it won't be too difficult to find in the tool bag or belt.
My only critique, and it's a minor one, is that while the shaft feels securely locked into the handle, and the bits feel like they're firmly locked into their respective positions, there is still the smallest bit of shaft wobble when I move the hex head driver around. I reckon this only bothers me because it triggers my neurosis in some minor way, but it doesn't actually affect the functionality of the tool. All in all, I'd say that Klein produced another versatile and helpful tool.
We'll have to get this is in the hands of one of Pros on the HVAC side for a while to see just how useful it really is. But first impressions certainly indicate that this is a winner. All in all, I'd say that Klein produced another versatile solution to save space in your tool bag.
Klein 8-in-1 Hex Head Slide Driver Features 
Unique, patented tip slides back and forth from ¼" and 5/16" hex sizes
Thumb nut twists to lock in tip setting
Six-point hex drivers exceed ASME torque requirements
Rare-Earth magnetic tips in slide driver hold hex head screws in place while fastening
Dome stamped for easy identification
Cushion-Grip handle for added torque and comfort
Solid shank feels like a traditional screwdriver/nut driver
Features a specialty bit for the installation and removal of common TR-4 Schrader valves
Includes additional hollow shaft nut drivers plus Phillips and slotted double-ended bits
Includes a #2 Phillips, 1/8" and ¼" slotted screwdriver tips plus ¼" and 3/8" hollow shaft nut drivers (non-magnetic)
Klein 8-in-1 Hex Head Slide Driver Specs
Application: HVAC
Handle Length: 4-5/16" (109.5 mm)
Handle Type: Cushion-Grip
Overall Length: 7-1/2" (190.5 mm)
Shank Length: 3-1/4" (82.6 mm)
Special Features: Slide Drive
Tip Size: Magnetic Hex Head: 1/4", 5/16"; Nut Driver: 1/4", 3/8"; Phillips: #2, Slotted: 1/8" (3.2 mm), 1/4" (6.4 mm)
Weight:0.50 lb (0.2 kg)
Cat. No. 32596
Price: ~$25 – $30 online
Shop Amazon